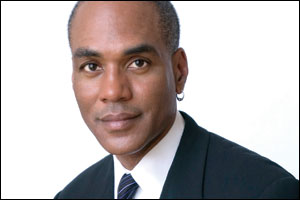 I just finished watching The Blind Side, which one reviewer described as, "The remarkable true story of Michael Oher, a homeless African-American youngster from a broken home, taken in by the Tuohys, a well-to-do white family who help him fulfill his potential."
I'm sure Leigh Anne and Sean Tuohy are remarkable people, and when you are drowning, it really doesn't matter who throws the life preserver. Still, I could live the rest of my life without seeing another movie in which the Great White Savior rescues Black people.
You might think this is how every Black person feels -- but you would be wrong. I'll always remember a young man in Baltimore who said to me, "Phill, you just don't get it. Nobody cares about us, especially us." That comment stuck with me because it expressed an all-too-common defeatism, a paralyzing sense among Black folks that we cannot or will not help one another.
Advertisement
Of course, the best rejoinder to that defeatism was given by the late Calvin Rolark, founder of the
United Black Fund, Inc.
, who quipped, "Nobody can save us from us but us."
I can't stop thinking about that young man in Baltimore, Rolark and The Blind Side whenever I think about AIDS in America, which is now a Black disease. I know some Black people believe that AIDS is man-made, the product of some great conspiracy to take us out. I don't believe that's true, but it doesn't matter.
Even if HIV was created by a mad, White scientist in some government lab in Washington, D.C., he is not in our bedrooms at night. He doesn't prevent us from using condoms or asking our partners to get tested for HIV before we have sex with them. He's probably not in the shooting galleries in Harlem, Baltimore and southeast D.C., nor the crack houses in Los Angeles and Oakland, encouraging addicts to share needles. HIV preys heavily on the poor and the ignorant, but that White man is not buying our children $200 Nikes or Wii gaming consoles instead of books or tutors. He is not using the television to babysit our kids instead of reading to them or taking them to museums or art galleries.
And even if there is a conspiracy to take us out, since when do we have to partake of it?
African Americans make up nearly half of new HIV/AIDS cases, nearly half of all the estimated 1.2 million Americans now living with AIDS and nearly half of our nation's annual AIDS death toll. If there was ever a crisis worthy of community-wide response, this is it. Every Black institution, every Black church, every Black civil rights organization, every Black elected official, every Black-owned or Black-focused business, every Black celebrity, every Black professional athlete, every historically Black college or university -- every one of us -- should be engaged in efforts to end it.
And this is a battle we can win. AIDS is completely preventable, easily diagnosed and eminently treatable. Of course the first step to winning any fight is facing reality. Yet whenever I say, "AIDS is a Black disease," I get a flurry of angry emails from Black people who feel that I'm further stigmatizing our community. That's code for, "White people will think worse of us, fueling additional discrimination against Black people." Or, "If it becomes widely known that AIDS in America primarily attacks Black people, then White people won't care and the money will go away."
Well, when have people who wanted to discriminate against Black people ever needed facts -- or any reason whatsoever -- to do so? And sadly, the money has already pretty much gone away. But more important, we should care less about what other people think about or do for us, and more about what we think about ourselves and do to save our own lives.
Don't get me wrong -- a lot of structural determinants contribute to the disproportionate impact that HIV and other social ills have on Black communities. You don't have to look hard to see discrimination and social injustice in the world. But the horrible yet glorious truth is that no Sandra Bullock is going to save us from AIDS. If HIV/AIDS is going to end in our community, we are going to have to be the ones to end it. That might be scary, but it is an extremely powerful thought. Because if we can do that, just imagine what else we can accomplish.
There are a number of true and profoundly wise moments in The Blind Side. One of them occurs when Sandra Bullock's character, Leigh Anne Tuohy, tells her friends that her new son, Michael, contributes as much to the lives of her other family members as they do to his. Another takes place during a conversation between Leigh Anne and Michael, when she reminds him that this is his life and he should do what he wants.
Amen.
Phill Wilson is president and CEO of the Black AIDS Institute.