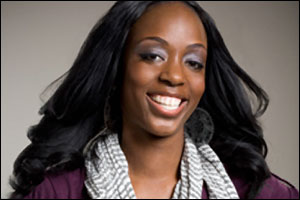 In February I had the honor of delivering the keynote speech at the "LIFE (Leaders in the Fight to Eradicate) AIDS Black Student Mobilization Summit" at Clark Atlanta University. The conference educated Black college students about HIV/AIDS; created comfortable dialogues about sex and sexuality; and encouraged young people to become activists on campus, in their communities and within their social networks to help us end the AIDS epidemic.
As happens after about 75 percent of my speaking engagements, a young person whispered to me that they, too, were HIV-positive. Because of time constraints and confidentiality issues, I'm usually unable to talk to the person at that moment, so I usually just jot down my contact info or give them a business card. But if I could talk to them or any other newly diagnosed young Black person, here's what I would tell them:
Advertisement
1. HIV is a noun, not an adjective.
It does not describe or define who you are. You were somebody before HIV, and you are somebody now. Your character did not change; your awareness of your health status did.
2. HIV is a serious virus, so do not take it lightly. It does not waste time before attacking your immune system, so you can't waste time by letting it get a head start. Although the disease can't be cured, it is manageable and treatable. This takes complete cooperation and participation from you and may require you to step outside the box -- out of your comfort zone. Taking HIV medication is only half the battle; maintaining a positive attitude and keeping stress to a minimum are also important. I suggest finding a hobby that includes body movement, and seeing a therapist to help you cope.
3. You have to be responsible for your virus. From the beginning, you have to be 100 percent committed. Your actions will help determine what HIV will and will not do to your body, and can keep the virus from controlling and consuming your life. For example, choose foods that boost the immune system so that they can join forces with your medicine to help you combat the virus. Also talk to your doctor, and research vitamins that you can take.
4. Behave proactively so that you stay a step ahead of the virus. Find and locate a doctor -- usually an infectious-disease specialist -- whom you respect and trust enough to talk to about all of your problems and concerns. You will have good days and bad days; days when you want to comply with your treatment regimen and days when you don't. Communicating openly with your physician is important. Health providers will know about your test results, but aside from that, they can help you address only what you choose to share with them.
5. All of these suggestions are easier said than done. Still, nothing and no one but you can hold you back from carrying them out.
No matter who you are or how you became infected with the virus, I want you to know that you are greater than AIDS. You can live a fulfilling life that overcomes this disease.
Marvelyn Brown, the author of The Naked Truth: Young, Beautiful, and (HIV) Positive, has been living with HIV for seven years.