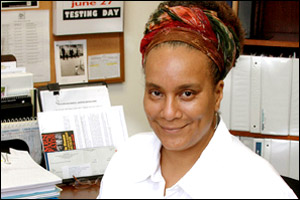 This is the second in a series exploring the etiquette associated with telling other people that you have HIV/AIDS.
I was hurting, I was scared out of my mind, and I was desperate to connect with the land of the living. My then-partner and son's father lay in intensive care in the hospital. One of the residents had pulled me aside and suggested that I get HIV-tested. I did. The results came back positive. To this day I can't remember quite how I got home. I do remember that the sounds on the subway had turned into one big hum; that the world wasn't the same; that I wanted to call my mother.
"Mom, I am sick."
Advertisement
"What do you mean, you are sick?" she responded.
"I have the AIDS virus," I told her with fear in my voice. "I am so sorry for disappointing you."
"Is there any medicine that they can give you?"
"No."
"I am on my way there," she said. "You just hold it together."
Neither of us remembers the rest of the conversation well, but my mother tells me that she didn't comprehend the severity of the situation. She didn't understand it until she talked to my siblings. At that point she became overwhelmed by fear and guilt. "If I had protected and prepared her better, she would have been able to take better care of herself," she thought. Later that evening, Mom suffered a severe anxiety attack and landed in the emergency room.
Whether we are newly diagnosed or have had the disease for a while, every person who is HIV-positive faces decisions regarding whether to share their serostatus with others. In Part 1 I reconsidered my previous belief that I always had to tell everyone, whether or not I was intimate with them. Yet who you decide to tell isn't always as important as what you need to consider before revealing anything at all. Particularly if you are newly HIV-positive, consider this basic advice:
Prepare Yourself Before Talking to Others
While writing this article, I decided to call my mother; I realized that I owed her an apology. On that fateful day some 20 years ago, my urge to tell someone had been as strong as my partner's desire to stay silent. I had been fairly certain that I could share with my mom, but I didn't realize the toll that my news would have on her.
My mother's anxiety arose from her own lack of information about HIV/AIDS as well as from my ill-informed responses to her questions -- I did not know the answers either! Only after her frightening anxiety attack did my sister educate her about HIV in a way that relieved some of her fears.
There is a good chance that the person you are disclosing to may need more support at that moment than you do. So before you inform anyone, make sure that you understand the disease well enough that you can educate that person and ensure that they have or can obtain support if they need it.
Honor Your Instincts
Not everyone whom we want to disclose to is ready to hear what we want to say. So instead of just compulsively blurting it out, survey your surroundings and the situation. If you sense that the timing is not right, or the other person's vibe indicates inattentiveness, untrustworthiness or emotional and/or physical danger, trust your gut; now may not be the time.
Get Ready to Become One With the Universe
Realize that some of the people you tell about our HIV status will inevitably tell somebody else. Who knows why folks decide to re-disclose? Their reasons are as unique and personal as are ours for sharing our status in the first place. What is important to know is that it may happen. So don't reveal the fact that you're positive until you can live with other people knowing.
Know That the Person Will Share a Part of Your World You May Not Want to Be Reminded Exists
Once people know, at any point they may ask you about your doctor's appointments, your medications (if you are on them) or the question I get asked the most: "How are you feeling?" I don't always want to answer, although even on those days, I am very glad that I have someone who asks.
We all need someone to help us in our time of need. For me, that someone was my mother. Despite the risk that disclosure involves, I hope that if you haven't already shared your status with another person, you will find someone to reveal it to. And if you've already disclosed but didn't have the experience you expected, I hope that you will try again so that you get the support you need and deserve.
Vanessa Johnson, J.D., who has volunteered and worked in the HIV/AIDS field for approximately 14 years, is executive vice president of the National Association of People With AIDS (NAPWA).