Disclosure Etiquette, Part 2: Preparing Yourself to Tell Others
March 22, 2010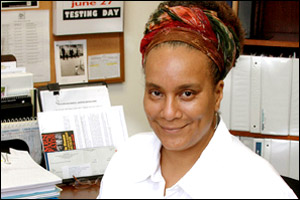 This is the second in a series exploring the etiquette associated with telling other people that you have HIV/AIDS.
I was hurting, I was scared out of my mind, and I was desperate to connect with the land of the living. My then-partner and son's father lay in intensive care in the hospital. One of the residents had pulled me aside and suggested that I get HIV-tested. I did. The results came back positive. To this day I can't remember quite how I got home. I do remember that the sounds on the subway had turned into one big hum; that the world wasn't the same; that I wanted to call my mother.
"Mom, I am sick."
View Full Article
---

Visit
Black AIDS Institute's website
to find out more about their activities and publications.
---
Comment by: Kevin
(Utah) Sun., Jun. 27, 2010 at 10:47 pm UTC
I have found that my friends, who have stuck around, are still not willing to discuss the hard facts about my disease or how it effects my life. They try, I'm not blaming them, but they have a really hard time with it. The family is not even willing to listen. They ask how I am "feeling" occasionally, but I know they don't really want to hear about it. But, for me, the lesson I learned is that I have to keep persevering and finding other ways to express the effects of my disease. I can't force my friends to talk about it and deal with it the way that I do. I know it frightens them that I might get sick or die. So that is why I have learned to find other ways to vent. It's important to deal with it. But you can't force others to deal with it. You can ask for help and keep pushing a little at a time and that is all. I have found that being on the speaker's bureau of the local AIDS foundation has helped immensely. Also therapy helps and I have sought that several times over the last 25 years that I have been positive. One other way to find that outlet is to write. I've kept a diary for over 23 years where I get to write about whatever I am going through. Even the hard stuff gets put into words. And believe me even really foul language gets put there! I have even decided to put aside the novel I'm working on to work on a memoir of how I deal with it and keep on being strong and healthy through all of this! You too can be strong and healthy and all you have to do is listen to your heart and find your strength.
Comment by: Lou
Fri., Jun. 25, 2010 at 11:49 pm UTC
When I first found out I was devastated. I chose my dearest and closest friends to disclose my status to. Each was told individually so it was personal. Each time was as painful as cutting myself with a knife. Within 6 months, one by one I lost my dearest and closest friends. I don't blame or hold anger against them. They were afraid the same as I would have been in other shoes. Its been 12 years now and none of these people are in my life anymore. I've disclosed to a handful of friends. It's easier to say the words now but even now I'm quick to say I understand if its an issue for them. No animosity. Most say its not an issue then walk away. I smile...but inside it still hurts.
Comment by: maria
(windhoek) Fri., Jun. 25, 2010 at 7:54 am UTC
I have learned alot from you..................
Add Your Comment:
(Please note: Your name and comment will be public, and may even show up in
Internet search results. Be careful when providing personal information! Before
adding your comment, please
read TheBody.com's Comment Policy
.)