In Africa, a Step Backward on Human Rights
Opinion Editorial by CEO and Founder Phill Wilson
March 22, 2010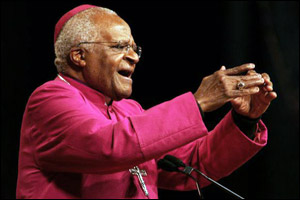 Hate has no place in the house of God.
No one should be excluded from our love, our compassion or our concern because of race or gender, faith or ethnicity -- or because of their sexual orientation. Nor should anyone be excluded from health care on any of these grounds. In my country of South Africa, we struggled for years against the evil system of apartheid that divided human beings, children of the same God, by racial classification and then denied them fundamental human rights. We knew this was wrong. Thankfully, the world supported us in our struggle for freedom and dignity. It is time to stand up for another wrong.
View Full Article
---

Visit
Black AIDS Institute's website
to find out more about their activities and publications.
---
Comment by: Georg Parthey
(Bremen, Germany) Mon., Apr. 12, 2010 at 1:34 pm UTC
Archbishop Tutu has a bright sight and a clear view and the power and strength, to look on the situation in the continent of Africa and the realation to minority groups. And even the same happens in our homes, town, areas and countries, too. Let us be the multiplicator of diversity of gods creatures.
Comment by: Thomas
(Tanzania) Sat., Apr. 3, 2010 at 2:04 am UTC
I find it very heartening that an African leader such as Desmond Tutu recognizes the humanity of the gay community even in the deeply homophobic sub Sahara region. There seems to be so much hate towards gays being reinforced by local politicians and hypocritical religious leaders. Tutu offers a ray of hope for the gay community to eventually be released from the shackles of fear they endure in Africa.
Add Your Comment:
(Please note: Your name and comment will be public, and may even show up in
Internet search results. Be careful when providing personal information! Before
adding your comment, please
read TheBody.com's Comment Policy
.)