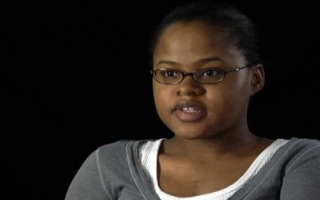 Four years ago, Tamira Noble was sitting in her high school biology class when a smiling woman with dreadlocks invited students to participate in a film project dealing with HIV. Tamira, who considered herself a nerd, had dreams that reached beyond her struggling, all-Black Westinghouse High School, located in one of Pittsburgh's poorest neighborhoods.
Scores of her peers declined to take part in the film, fearing it would be just "another project about everybody Black having AIDS." Tamira shared their concern and also worried that she would be teased and stigmatized if she got involved. But she didn't say no; she took home a permission slip to share with her mom. After the two of them talked it over, Tamira decided that she should participate.
The smiling woman in the classroom turned out to be former ABC News journalist Claudia Pryor, who produced the 90-minute film, Why Us? Left Behind and Dying. Tamira ended up becoming the narrator -- "the voice" of inner-city young people -- and also helped write and produce the documentary, an innovative effort to explore why HIV disproportionately affects Black people. In total, twenty students braved the stigma to become researchers, speaking to scientists, public health workers and people living with HIV/AIDS about the deadly intersection of race, science and culture. Although Black Americans ages 11 to 25 are only 16 percent of the U.S. population, they account for 65 percent of new HIV infections.
Advertisement
By the time the project was finished, Tamira was a junior in college. Since working on the film, she has traveled to the Bronx, New York, and other communities to spread the word about the documentary. We spoke with her at a Pittsburgh screening.
When did you first meet someone with HIV?
Once in JROTC class, an HIV-positive woman visited. When she talked, the class sat in dead silence. She touched my desk, and I remember thinking, "I am going to die!" I felt so bad. I think that Claudia and I just had a connection. Even before she hired me, I really liked her. I was just really amazed that there was a woman who was well spoken and intelligent and in charge of something about us, about Black people. And I was very curious about what would come from my involvement in the project. But I don't know if that had any influence on Claudia choosing me. Claudia told me that she wanted the film's voice to come from a young person. She said she wanted it to be in my voice, and I said okay. I was not sure if I would do a great job, but I knew I would try. I think it makes the documentary more accessible to young people to hear me speak. And we wanted to avoid sounding like a bad health-class video.
Did other students know you were participating?
Yes; they thought it was weird and that I was crazy for lining myself up with anything that had to do with HIV.
What did you learn?
I learned that I can be a listener and a speaker. That everyone has a story, and to be careful when listening to someone tell their story. I also learned not to judge people so quickly.
What about HIV surprised you most?
I was astounded by how much denial there is in the Black community. We don't affirm ourselves, or each other. If you are having relations with someone, you should want them to know you and your status. But some people with HIV [that we interviewed] denied that they had the disease. I think they didn't want to admit that they were infected.
At first you were concerned about being labeled "one of the AIDS kids." Why?
Because of the stigma that surrounds HIV. I didn't want to get caught up in it.
Why is the stigma so harsh among Black teens?
It's almost like we need a way to hurt each other -- like we've been oppressed and hurt for so long that we don't have any power or know how to get it or be powerful. When someone has a disease that is considered embarrassing, that's just another way to tease them. Because if you can hurt someone, you have power over them. It's sad, but I really believe this is true.
At the end you got an HIV test. Why?
I had met so many people with HIV and had heard their stories. It hurt me to think that I could be in their position. So I needed to know where I stood.
How have you changed as a result of your experience?
I'm more informed, and I feel like I understand my people better than ever. I also feel that I'm really becoming okay with all the issues we have in our community. I think we have the power to change individually and collectively, if we try.
What's next for you now?
My plans are to continue to go to screenings wherever we have them and to keep talking about this, because if we don't talk about it, people can't get the knowledge they need to protect themselves.
Ervin Dyer is a writer who covers the African diaspora.
Editor's notes:
DVDs of the film will be available for purchase by the end of June. E-mail the filmmakers to reserve a copy before then, or go to the film's Web site -- currently under construction -- after June.
You'll be able to purchase either the consumer version -- which includes the documentary feature and is for private home use (86 minutes); or the educational version -- which includes the documentary feature, 12 extra video segments which explore, one at a time, the specific issues that impact HIV/AIDS in the black community, and a legal license to use the material in an educational, instructional, free public setting. (approx. 3 hours).
E-mail the film's director, Claudia Pryor, to set up a screening and Q&A with her and/or her students.
Comment by: me2juicee@gmail.com
(NEWARK,N.J.) Fri., May. 21, 2010 at 9:49 am UTC
I AM SOOOOO PROUD OF YOU,AND I DONT EVEN KNOW YOU. JUST FOR STEPPING UP AND GETTING INVOLVED REGARDLESS OF WHAT YOU KNEW OR THOUGHT WOULD OR COULD BE THE END RESULT OF YOUR BEING A PART OF THIS PROJECT. I COMMEND YOU,AND ENCOURAGE YOU TO CONTINUE.I AM A OLDER BLACK WOMAN WHO HAS FOR 13 YEARS LIVED WITH HAVING THIS VIRUS,AND I AM VERY INVOLVED WITH ADVOCATING,SUPPORT GROUPS,AGENCYS' THAT SUPPORT AND RENDER SERVICES TO US,i.e. FOOD PANTRIES,TRANSPORTATION,SUPPORT GROUPS,COUNSELING THROUGH CASE MANAGEMENT,MENTAL HEALTH,AND SUPPORT WITH MEDICATION FOR THOSE WHO MAY BE UNFORTUNATE TO NOT HAVE INSURANCE TO PAY FOR MEDICATIONS OR HAVE TO PAY A CO-PAYMENT WHEN PAYING FOR THE MEDICATIONS. IM ALSO A EXPERIENCIAL SPEAKER,AND IM ON TWO BOARDS,REPRESENTING ESSEX COUNTY THAT COME TOGETHER TO HELP THOSE STRUGGLING WITH ISSUES WHILE TRYING TO DO WHAT THEY HAVE TO DO,AND THE OTHER BOARD IM ON GATHERS DATA,AND PUT TOGETHER THE BI LAWS,AND TAKE COUNT OF THE CLIENTS INVOLVED WITH THE EXISTING AGENCYS' IN ORDER THAT THE PLACES WHERE HELP/MONEY IS NEEDED MOST AND ALLOCATE WHICH DIRECTION WE NEED TO ADDRESS FIRST WHERE MEDICAL NEEDS ARE CONCERNED. I'VE BEEN INVOLVED FOR UP TO 12YEARS. AND I SAY 12 BECAUSE,MY FIRST YEAR AFTER BEING DIAGNOSED WAS SPENT GOING THROUGH DENIAL. BUT AFTER GAINING AND ACQUIRING ACCEPTANCE BY THE GRACE OF GOD,I HAD TO GET INVOLVED. FOR MYSELF,BUT ALSO FOR ALL THE FAMILY MEMBERS THAT I KNEW WERE AFFECTED/INFECTED,IN HOPES OF MAKING A DIFEERENCE BUT ALSO TO NURTURE AND REDEEM MYSELF FOR WHAT I HAD ALLOWED MYSELF TO BECOME A PART OF. I REFUSE TO SAY,A VICTIM OF BECAUSE THAT IN MY OPINION WOULD BE ME SAYING IM DEFEATED AND SUFFERING,AND IM NEITHER. I AM A WINNER IN THIS BECAUSE I'VE TAKEN RESPONSIBILITY,AND I EXTEND MY ALL TO THE SUPPORT OF OTHERS LIVING WITH THIS.