Young People Help Make a Movie About Blacks and HIV/AIDS
March 8, 2010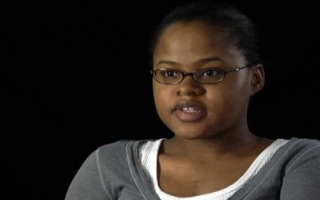 Four years ago, Tamira Noble was sitting in her high school biology class when a smiling woman with dreadlocks invited students to participate in a film project dealing with HIV. Tamira, who considered herself a nerd, had dreams that reached beyond her struggling, all-Black Westinghouse High School, located in one of Pittsburgh's poorest neighborhoods.
Scores of her peers declined to take part in the film, fearing it would be just "another project about everybody Black having AIDS." Tamira shared their concern and also worried that she would be teased and stigmatized if she got involved. But she didn't say no; she took home a permission slip to share with her mom. After the two of them talked it over, Tamira decided that she should participate.
View Full Article
---

Visit
Black AIDS Institute's website
to find out more about their activities and publications.
---
Comment by: me2juicee@gmail.com
(newarrk,n.j.) Fri., May. 21, 2010 at 10:01 am UTC
PLEASE EMAIL ME AND LET ME KNOW WHERE I CAN PURCHASE OR HOW I CONTACT THE PROPER PEOPLE INVOLVED TO GET THIS FILM? IM SOOOO INTERESTED WITH THIS AND ANY OTHERS DONE.I CAN TELL YOU THAT THE REASON BEHIND ALOT OF THOSE YOU INTERVIEWED DENYING THEIR STATIS IS THE SAME AS YOUR HESITATION ABOUT GETTING INVOLVED WHEN YOUR CLASS WERE ASKED WHO WOULD. IT'S THE STIGMA AND LABELING OF THE PERSON. AND MORE IMPORTANT EXACTLY,IS THE FEAR BEHINDHE THOUGHT OF GIVING SOMEONE THE POWER THEY THINK THEY GAIN BY HAVING SOMETHING OF THIS NATURE TO BE ABLE TO MAKE FUN OF/PICK ON. JUST LIKE YOU SPOKE OF. KUDOS YOUNG LADY....KEEP UP THE GOOD WORK!
Comment by: me2juicee@gmail.com
(NEWARK,N.J.) Fri., May. 21, 2010 at 9:49 am UTC
I AM SOOOOO PROUD OF YOU,AND I DONT EVEN KNOW YOU. JUST FOR STEPPING UP AND GETTING INVOLVED REGARDLESS OF WHAT YOU KNEW OR THOUGHT WOULD OR COULD BE THE END RESULT OF YOUR BEING A PART OF THIS PROJECT. I COMMEND YOU,AND ENCOURAGE YOU TO CONTINUE.I AM A OLDER BLACK WOMAN WHO HAS FOR 13 YEARS LIVED WITH HAVING THIS VIRUS,AND I AM VERY INVOLVED WITH ADVOCATING,SUPPORT GROUPS,AGENCYS' THAT SUPPORT AND RENDER SERVICES TO US,i.e. FOOD PANTRIES,TRANSPORTATION,SUPPORT GROUPS,COUNSELING THROUGH CASE MANAGEMENT,MENTAL HEALTH,AND SUPPORT WITH MEDICATION FOR THOSE WHO MAY BE UNFORTUNATE TO NOT HAVE INSURANCE TO PAY FOR MEDICATIONS OR HAVE TO PAY A CO-PAYMENT WHEN PAYING FOR THE MEDICATIONS. IM ALSO A EXPERIENCIAL SPEAKER,AND IM ON TWO BOARDS,REPRESENTING ESSEX COUNTY THAT COME TOGETHER TO HELP THOSE STRUGGLING WITH ISSUES WHILE TRYING TO DO WHAT THEY HAVE TO DO,AND THE OTHER BOARD IM ON GATHERS DATA,AND PUT TOGETHER THE BI LAWS,AND TAKE COUNT OF THE CLIENTS INVOLVED WITH THE EXISTING AGENCYS' IN ORDER THAT THE PLACES WHERE HELP/MONEY IS NEEDED MOST AND ALLOCATE WHICH DIRECTION WE NEED TO ADDRESS FIRST WHERE MEDICAL NEEDS ARE CONCERNED. I'VE BEEN INVOLVED FOR UP TO 12YEARS. AND I SAY 12 BECAUSE,MY FIRST YEAR AFTER BEING DIAGNOSED WAS SPENT GOING THROUGH DENIAL. BUT AFTER GAINING AND ACQUIRING ACCEPTANCE BY THE GRACE OF GOD,I HAD TO GET INVOLVED. FOR MYSELF,BUT ALSO FOR ALL THE FAMILY MEMBERS THAT I KNEW WERE AFFECTED/INFECTED,IN HOPES OF MAKING A DIFEERENCE BUT ALSO TO NURTURE AND REDEEM MYSELF FOR WHAT I HAD ALLOWED MYSELF TO BECOME A PART OF. I REFUSE TO SAY,A VICTIM OF BECAUSE THAT IN MY OPINION WOULD BE ME SAYING IM DEFEATED AND SUFFERING,AND IM NEITHER. I AM A WINNER IN THIS BECAUSE I'VE TAKEN RESPONSIBILITY,AND I EXTEND MY ALL TO THE SUPPORT OF OTHERS LIVING WITH THIS.
Comment by: Kirk
(Dallas, TX) Thu., May. 20, 2010 at 10:45 pm UTC
I am so happy that this film has been made. It is even more important that it is coming from the young. I think the infection rate may decrease because of people like you.
Grateful!
Comment by: Deddie
(Nevis W>) Thu., May. 20, 2010 at 3:13 pm UTC
I commend you young lady, you are a role model for other black youth. Stay strong sisrer believe in what you stand for. You can make a difference in the fight against HIV and the way other people treat positive people.
We have feelings too.
Thank you
Comment by: GERALD JAMES
(JACKSONVILLE ,FLORIDA) Thu., May. 20, 2010 at 2:03 pm UTC
WHERE CAN I PURCHASE THIS FILM ?
THANK YOU
Add Your Comment:
(Please note: Your name and comment will be public, and may even show up in
Internet search results. Be careful when providing personal information! Before
adding your comment, please
read TheBody.com's Comment Policy
.)