This Positive Life: An Interview With Gary
March 10, 2010
This podcast is a part of the series This Positive Life. To subscribe to this series, click here.
Listen to Audio (46 min.)

Please note: These files can be quite large. Allow some time for them to download.
Keeping Healthy, Following New Paths
What else do you do to keep healthy? Do you exercise or do you eat healthily or anything like that?
I only live about a mile from the ocean, so I try to get out there as much as I can, maybe at the minimum once a week. I like to take walks in the sand. That's good exercise.
Do you swim at all?
Yes. I'm also very careful about what I eat and my diet.
There's a history of heart disease in my family. Back in my early 30s I eliminated salt, and since then I've been very conscious of having a heart-healthy diet.
How's the heart condition shaping up?
It's called cardiomyopathy, which is a slow thickening of the heart muscle, which could take 20 years to develop. It was recently found, because I'd had some lightheadedness and the heart wasn't beating quite right. It's nothing that is life threatening currently. I mean it could take, like I said, 10, 20 years before it develops into anything. Eventually, it could get into congestive heart failure because the heart couldn't pump enough, but at this point, I just have to try and keep my heart level below 120. There really isn't much else I can do.
When were you diagnosed with cardiomyopathy?
That was a year and a half ago. In the history of my dad's side of the family, no male ever lived past 65. They had all died of heart attacks before 65. My dad's first heart attack was at 58. But he lived to be 85. [Laughs.] He was the one exception.
Both his brothers passed away early. His father was 56 when he passed away. The family was very aware of heart conditions and heart situations, so I've always been also.
Was it a preventive measure to cut salt from your diet when you were 30?
Yes, exactly.
Switching gears again: I know that you live in Fort Lauderdale, Fla. How long have you lived down there?
About two and a half years.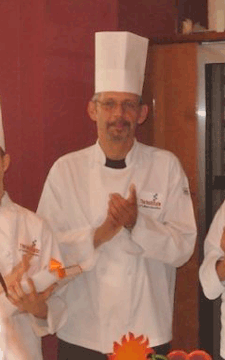 Gary at his graduation from the Institute of Culinary Education in 2006.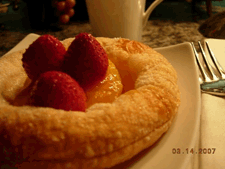 A new dessert Gary created -- sweet puff pastry, peaches and strawberries.
Did you move there straight from New York?
Yes.
I was working at POZ Magazine, but had always been interested in baking and cooking. I decided to go back to school. I left POZ and I went to the Institute of Culinary Education in New York. I graduated from their pastry and culinary arts program. I had wanted to open up my own shop, and I always planned on retiring in Fort Lauderdale. I thought, "Why do I have to wait until I retire to move to Fort Lauderdale? Why don't I just move there and buy a shop?" Which I did. [Laughs.]
Unfortunately, about a year into that was when I was diagnosed with a heart condition and it was not something that I could continue. Even though you don't think of a bakery as hard work, there's a lot of hard work. [Laughs.] We baked around 300 bagels a day. It was just something that I wasn't able to continue. So I had to sell the shop. That's when I went back to work for POZ.
It seems that, except for the bakery, you've stuck with working in HIV/AIDS in some capacity. Do you ever get tired of talking and thinking about HIV/AIDS?
I think that was part of the reason I went back to school and studied pastry. You do run into a little bit of a burnout, but I'm not anymore. I had a couple of years off. I guess maybe that was what I needed.
It's such an important part of your life. It's important that you maintain information and your knowledge base about how to deal with HIV and the side effects.
As I'm aging, too, that's another aspect that's becoming something that people are paying more attention to now, as people with HIV are aging and surviving. What does aging and HIV mean, in combination? What are you going to have to deal with? What are the effects of aging with HIV?
I think that's an important new direction that studies are going into now, because those of us that have survived and are HIV positive are getting older. As you get older, you have health problems anyway. But researchers are trying to learn more and more about the effects of getting older with a weakened immune system, how that's going to affect that process.
Turning 60: Aging With HIV
Do you ever encounter any ageism, whether within or outside the HIV/AIDS community?
As you get older, you're not as desirable. I don't mean in all aspects of employment and society. I have found that people defer to me a little bit more, now that I'm older. [Laughs.] But society is so geared towards youth. I'm not old, but 60 was a big year, this year, for some reason. It bothered me. [Laughs.]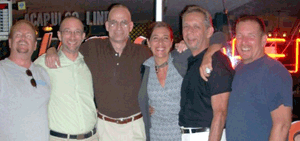 Gary (second from the right) and his friends, celebrating his 60th birthday in Fort Lauderdale, Fla.
Can you talk a little about that?
When you're growing up, 60 is old. [Laughs.] But it's not that old when you get here. I still feel like I'm in my 40s or early 50s. I forget that I'm 60. I'm glad I'm here. I never thought I would be here.
At the birthday, I said, "Good. I'm celebrating. I'm 60. I made it to 60. I've lived these years. I never expected to be this alive at this point." But then it's a double-edged sword. [Laughs.] Because, "Oh, I'm 60!"
Did you have a party? Did you celebrate your birthday?
Yes.
Fort Lauderdale, and Florida in general, has a reputation for being full of beautiful, young people. Have you ever faced any ageism specifically down there?
I've been very surprised with Fort Lauderdale. I thought it was a very youth-focused culture, but it's not. Actually, a lot of older gay men have moved to Fort Lauderdale. It's actually quite enjoyable because there are a lot of people here who are my age. There's also the young crowd, but there's quite a large community here of 50-and-older gay men and HIV-positive men.
I didn't expect it. It was something that I hadn't thought about, but if you think about it, people come to Florida and retire. [Laughs.] You know?

Gary, dressed up in "leathers and feathers" in front of rainbow Pride flags for the "Wicked Manors" Halloween 2009 celebration.
Did you know anyone in Fort Lauderdale when you moved?
Yes, I had some friends here. I'd vacationed here for years and had several friends that lived here.
Is that how you found the larger community that you've gotten involved with? How did you meet people?
Through the shop I met some people, and through my friends, and just socializing. I got involved actually through an openly gay candidate who was running for mayor of Fort Lauderdale. He was a customer of mine at the shop that I got to know. I volunteered on his campaign and made pastries for the community meetings we had every Saturday morning. I got involved in that and met some people through that.
Lessons Learned in Living With HIV
Nowadays, how do you decide to tell someone that you're HIV positive?
It depends whether they need to know.
I'm very open about it. I think everybody knows. I don't know if I've come out and told everybody, but I just kind of assume that people know at this point. In business situations, it depends on the situation.
With my bakery, I did not make that public knowledge because there's still some stigma associated with that, as far as people coming into that type of situation. My shop wasn't in Wilton Manors, which is the gay community. It was in Fort Lauderdale, and Fort Lauderdale's very open as far as a society goes. There really isn't a problem, but I just didn't feel it was necessary to have that out as public knowledge in my business.
Advertisement
Who would you consider someone who needs to know?
Someone that I'm dealing with on a regular basis in more of a social situation. If it's a job, it depends on the type of job. Several jobs that I've interviewed for, I've been open about it. Others I haven't. It's on an individual basis.
Thinking back on all the years that you've been living with HIV, what's the best response you've ever gotten from telling someone that you're HIV positive?
I don't know if there's ever been a best response. [Laughs.] It's not something that generates a good, positive discussion.
I've always had good support, most of the time, other than from my sister. But I think that it's just really a situation where people are more aware of HIV/AIDS. But I still find that if they're not affected by it personally, they don't know much about it.
What about a worst response, or least supportive response, you've had to telling someone?
Probably from my sister.
Have you ever felt a lack from not having that support from your family; or do you feel as if you get it from other places and from chosen family?
I feel like I get it from other places. I mean it was my choice not to involve my parents with it. That was something that I decided. I did expect more support from my sister, but you never know. But I've had very good support. Especially since I've worked within the HIV community -- that's very liberating and very empowering. Living with the disease and then also working in that arena, you find out a lot more than you would normally do. That's been a part of my good support group.
What do you think are the biggest issues in HIV today that need to be addressed?
To me, the most important message that we still need to get out is that safe sex works and that unsafe sex doesn't work. It's not just a manageable disease. It's not like diabetes. There are a lot of things that you have to deal with. Just the physical cost of it. Even if you have insurance, you've got co-pays, you've got your doctor's co-pays, you've got your pharmacy co-pays, which could add up to a couple of hundred dollars a month. Financially, it's not something that's just an easy thing to deal with. Then physically and mentally, dealing with living with the disease and the side effects of the medications and being susceptible to a lot more things as far as opportunistic infections, you have to be very careful about that.
"When I find out that somebody was just recently infected, in my mind, I'm going, 'Why did you put yourself in that position? You should know about it. Why weren't you being careful? Why weren't you practicing safe sex?'"
I think that people who just look at the fact that, "I can just take some medications and then I'll be able to live with it" -- well, that's not true. You enter into a whole new world when you find out you're HIV positive. It just totally changes your life. That's the biggest thing to me that still needs to be worked on, and it's something that's been going on for decades now.
What do you think can be done to get the word out? What more do you think can be done?
I think it's a constant effort that just can't be let up.
When I find out that somebody was just recently infected, in my mind, I'm going, "Why did you put yourself in that position? You should know about it. Why weren't you being careful? Why weren't you practicing safe sex?"
I just can't understand, with all the information that's out there, why people are still getting infected. But I guess that goes back to the same point that there isn't enough information out there. People are still getting infected, even though everybody's aware of HIV. I just don't know that the message has gotten out strong enough. I don't know how else it can get out any stronger. When you're young, you think you're not going to get anything. You're impervious. But yet, it does happen.
I don't have any answer. I don't have a solution other than just constantly, constantly getting that message out there.
Can you compare how you feel about having HIV today to your feelings when you first found out that you were HIV positive? What are the differences there?
At the time, I just totally shut it out, didn't pay any attention to it whatsoever. Now I'm completely the opposite of that. I try to learn as much as I can, keep up to date. Any time I have an opportunity to learn something more about it, I do. That's just part of being very proactive in your own health care. I would hope that that would become a model for people with other diseases; they need to become more active and more participatory in their health decisions.
"You deal with what you have and you live with your circumstances. That is what your reality is. I don't know what I would have been like without HIV in my life. I would much rather not have it in my life. [Laughs.] But it's part of what I am."
Jumping off of that response, how do you think having HIV has changed you in other ways? How has it changed your life?
Wow. I don't know what my life would have been like without HIV. I would never have been involved in the work I've been doing. I know that. I would probably still be living in Ohio. [Laughs.] But I don't know.
It's kind of like the butterfly effect. If you change something, then you don't know what your other reality would have been. It's really hard to speculate as to what my life would have been without HIV. It certainly hasn't been a blessing, but I certainly haven't been a martyr to it either.
I think that part of living with HIV and dealing with it is what you become in your life. You deal with what you have and you live with your circumstances. That is what your reality is. I don't know what I would have been like without HIV in my life. I would much rather not have it in my life. [Laughs.] But it's part of what I am.
With that we have to bring this interview to a close. Gary, it's been such a pleasure speaking with you. Thank you so much for taking the time to talk with me and share your experience.
This transcript has been lightly edited for clarity.
Copyright © 2010 Body Health Resources Corporation. All rights reserved.
More From This Resource Center
---

This article was provided by TheBody. It is a part of the publication
This Positive Life
.
---
Add Your Comment:
(Please note: Your name and comment will be public, and may even show up in
Internet search results. Be careful when providing personal information! Before
adding your comment, please
read TheBody.com's Comment Policy
.)