This Positive Life: An Interview With Gary
March 10, 2010
This podcast is a part of the series This Positive Life. To subscribe to this series, click here.
Listen to Audio (46 min.)

Please note: These files can be quite large. Allow some time for them to download.
Disclosure in Work and Family Life
After you told the first few people that you were HIV positive, how soon did you start to tell more people?
It was a while. I didn't want people to treat me differently because I had HIV. When you have it, everybody starts asking, "How are you today? How are you feeling?" Especially back then, it was pretty much a death sentence. I figured by the time I was 45, within three years or so, I wouldn't be around anymore. I wanted to be able to still live my life with as much normalcy as I could.
Like I said, initially, I just ignored anything dealing with HIV, other than taking my meds, talking to the doctor, and talking to the few friends that were HIV positive that knew I was and another friend who was not HIV positive.
Of course, there was Thom's family. They were very supportive. They were incredible through the whole process.
Advertisement
Eventually, I made the progression from denial and ignoring it to more of an acceptance -- kind of going through a grieving process. It actually has all the various stages of it. It took a couple of years, but as I did so, the more I started learning about HIV. I decided I'd better start taking more interest in what the treatments are, what I might need to do, and what alternative treatments might be available.
Then in 1995 I started working for Community Prescription Service, which was a sister company of POZ Magazine. I was working at their pharmacy. It was the first HIV/AIDS specialty pharmacy. Nationwide, they were doing mail order for people who had HIV and didn't really want to go to their local pharmacy to get their medications because of the stigma.
The main offices were located in New York, but the pharmacy itself was located in Cleveland. That's where I was living at the time and I became the coordinator between the pharmacy and the New York office.
Once I got involved with them, I really started learning a lot about HIV because I was dealing with the meds every day in the pharmacy.
Actually, within the pharmacy itself, I got to the point where I put on a class called "HIV 101" for the employees. There were about 100 employees at the pharmacy itself. In the class I had groups of five that were all volunteers. I told them about my experience and living with HIV. It was about an hour-long discussion with people that were asking questions. I would tell them the basics of it because this was, again, in Ohio; and these were all middle-America, suburban type of people who were working at the pharmacy.
"One of the women came up and said, 'My daughter's very sexually active and she just got an STD. Should she be tested for HIV?' I said, 'Well, she's having unprotected sex. Yes, she needs to be tested.'"
But it was surprising because several came out and said, "My cousin," or, "My brother," or, "My ex-husband actually had HIV." It was very surprising because none of that information had ever come out before, but they did tell me about it.
One of the women came up and said, "My daughter's very sexually active and she just got an STD [sexually transmitted disease]. Should she be tested for HIV?" I said, "Well, she's having unprotected sex. Yes, she needs to be tested."
At the end of the class I would ask for volunteers, because I had set up regimens of HIV meds that were actually placebos. They were just glycerin pills, and we had set up various combinations. At the time, you had to take some medications every four hours; some of it you had to take with food; some you had to take without food. Sometimes it got very complicated to be compliant with the medications, with their restrictions as far as diet and timing.
We created several combinations of the medications and put them together in pill bottles. Again, it was just the glycerin capsules. But then I asked for people in the class who would want to go on this regimen for a week. I asked them to keep a journal of their reactions and then to come back.
We held a general meeting where they would give their feedback to the entire staff of the pharmacy. And it was very interesting. One woman was on her way to a wedding, and she forgot to bring her meds with her, so she had to turn around and go back. She was also in a meeting with a client -- she was in sales -- and it was time for her to take her medications, and she said, "Gosh, what do I do?" So she pulled out her pills and took her medication at the time.
Hearing their reactions, it was very eye opening for them also, as far as how to deal with just the stigma of having to take pills. It didn't say, "This is an HIV pill," or anything like that, but it was actually just the idea of them having to take something. It worked out very well. It was very good education for the staff.
Was this some kind of pilot program? It seems very progressive to involve the staff in this way.
I just created it myself. HIV/AIDS wasn't the only thing that the pharmacy dealt with. It was a mail-order pharmacy. They had thousands and thousands of clients with various diseases; but our segment, from Community Prescription Service, was a big portion of their business. They dealt with HIV/AIDS every day. They dealt with medications and they dealt with patients and calling in refills. I just felt that it was important for them to get that other personal side of it, instead of just a phone call or a pill that they were dispensing to someone.
Were people resistant at first?
I was absolutely amazed. It was very, very well received. Like I said, it was all volunteers. They didn't have to attend these classes, but I would say 90 percent of the staff volunteered to come into the class.
Can you remember some of the comments that people made after this experience?
Some of them didn't know that I was HIV positive, which I was surprised at because I was open about it. Some of them were very appreciative of the fact that I was being that open.
I remember one question from one woman was, "Do your parents know?" At that point, my parents were elderly. They were about 80 at the time, and they had their own health problems. I felt that hopefully I would hang on, that I would still be around, that they would pass away before I did, and that they wouldn't have to deal with it because they were having enough of their own problems of dealing with diseases.
She thought that that was very sad that I wasn't able to speak to them about it, that I was shouldering it on my own, but I felt that I would bring no benefit to my parents' lives if I told them about my situation.
You never did end up telling your parents that you were HIV positive?
No, they passed away.
After Thom passed away, where did you get the kind of support that one might get from family? Was it hard not having your family there?
Yes -- there wasn't really much support at that time. I was still working too. I was having to deal with going in to work every day. I worked for a major electronic firm in Detroit, Honeywell. General Motors was my account, so I had major sales going on and had to be up and dealing with that type of situation.
Unfortunately, it got to a point where I was not willing to play the corporate games anymore, because it didn't matter. I wasn't going to be around. Why bother playing all the little games that you have to play in a big corporate world? It affected my performance.
When you say you weren't going to play the corporate games anymore, what do you mean? Were there any repercussions in your work life?
I don't know if there were any repercussions because I was still successful in what I was doing. I was having my sales, and as long as your numbers are good in sales, they're happy with you. [Laughs.] But when we'd go to conferences or meetings or things like that, I just wasn't as involved as I should have been or could have been, as other people were.

Gary, in 1982, in Japan; and his father, in 1942, in China.
I'd like to go back to talking about your family a little bit. Where did you grow up? What was your background like?
I grew up in a small town in rural, northwest Ohio, just about 30 miles south of Toledo, which was in the middle of nowhere. [Laughs.] It was a Norman Rockwell type of thing. You knew everybody in town, and half of them were related, and you never locked your doors and had the milkman that came and delivered the milk to the door. It was a small community. There were two high schools, one Catholic and one public. The public high school had about 1,200 people in the three grades, 10th, 11th and 12th. It was a fairly large high school, but it was very rural.
Did you have siblings?
I have an older sister.
Have you told her that you're HIV positive?
Yes, well, I told her -- it was probably in the late '90s.
What was her reaction?
She was quite upset. We don't talk about sexual orientation because she doesn't approve, but she's a nurse. She's also, I'd like to say, very conservative.
I was visiting her in her home in North Carolina and decided that it was time to tell her about my having HIV, and expected that since she was a nurse, she would be more supportive than she was.
But she said, "Well, I'm not surprised, because of your lifestyle." It just was not a very supportive environment.
Did your relationship with her change at all after you told her?
We were never really close. [Laughs.] We're probably less close now than we've ever been. It's unfortunate. We talk about HIV occasionally now, but nothing ever major.
Did your parents ever know you were gay?
Yes, they knew, but, again, it was conservative, rural Ohio. They were German. You don't talk about it -- it's uncomfortable for them. [Laughs.]
Did you just tell them you were gay and then you never discussed it again, or did they guess?
At some point -- it was back in the '80s -- I decided that it was time. I was an adult and they needed to know because it was just a part of me. We were close but, again, it was the type of thing that, once I told them, I don't know if we ever discussed it after.
Did you tell your sister at the same time?
Yes.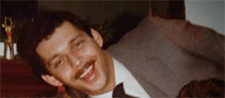 Gary at a wedding in the late 1970s.
Does your sister live near you now?
No, she lives in North Carolina. She has for years.
Is she still a nurse?
She's retired now, actually.
Does she have a big family?
She has three children.
Do you think there are still a lot of people out there who can't -- or don't -- talk about their HIV status, or reveal it to their families?
Yes, I do. It's like coming out a second time, because if you're gay and you have HIV, there are two things that you have to come out with. I think it's just as difficult for some people to discuss it with family and friends. Friends are probably easier because of the gay community and the HIV community, and the awareness in that.
The general population knows HIV, but they don't know anybody that has it, or they may know someone but it's just a distant type of thing. Then there are others who do have family members or friends of friends who have HIV, and that's why they're aware of it -- because it has affected them personally on some level. I don't think that people who haven't had that type of connection are generally involved in or aware of much about HIV.
More From This Resource Center
---

This article was provided by TheBody. It is a part of the publication
This Positive Life
.
---
Add Your Comment:
(Please note: Your name and comment will be public, and may even show up in
Internet search results. Be careful when providing personal information! Before
adding your comment, please
read TheBody.com's Comment Policy
.)