This Positive Life: An Interview With Gary
March 10, 2010
This podcast is a part of the series This Positive Life. To subscribe to this series, click here.
Listen to Audio (46 min.)

Please note: These files can be quite large. Allow some time for them to download.
Table of Contents
This interview took place in September 2009.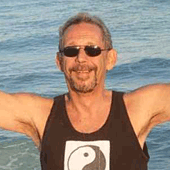 Gary
About Gary
Home: Fort Lauderdale, Fla.
Diagnosed: 1992
While Gary has never viewed HIV as a blessing in disguise, he also hasn't been a martyr to the disease. After the tragic loss of his partner and his own HIV diagnosis in 1992, Gary has made a point of learning all he can about HIV and soldiering on despite his losses, his fears and a battle against prostate cancer (and the treatment for it). Knowledge, work, personal goals and various support networks have all served to safely shepherd Gary into his 60s with grace, good humor and a desire to help others.
HIV Diagnosis
This is Olivia Ford reporting for TheBody.com. I'm here today with Gary, who's been living with HIV since 1992. Gary, welcome to This Positive Life. Can you start by describing how you found out that you were HIV positive?
Actually my partner was diagnosed. I was living in Detroit at the time. I decided, "Well, I better get checked out too," and my test came back positive. This was in 1992.
Very rapidly following his HIV diagnosis, Thom, my partner, was diagnosed with a very aggressive cancer. Within six months, he had passed away.
That was a very tough time for me, especially dealing with finding out I had HIV, and then six months later my partner passing away. Those six months were horrific for him. It was a very bleak time, especially because there were not many HIV medications out at the time.
I don't know when I was actually infected, but I remember back in about 1988, I had the worst flu. We found out later that that's a symptom of seroconversion. It could have been about 1988 or so that I was actually infected with HIV.
"[Larry Kramer] said, 'Living with HIV is like living with a monster in your house. Sometimes it's quiet and asleep in the corner. And other times, it's going crazy and trashing and destroying everything in the house.' For some reason, that really struck a chord with me and helped me learn how to deal with living with HIV."
At the time, my reaction to finding out I had HIV was that I really didn't want to hear anything about it. It was tough enough taking care of Thom and all that. Anything that would come on TV, I would just turn the station. I really didn't want to hear anything about HIV.
Eventually I grew more used to it. Actually, I happened to see a special on individuals living with HIV. It was probably 1993 or 1994. [Renowned HIV/AIDS activist] Larry Kramer made a statement that really helped me deal with my disease and living with it. He said, "Living with HIV is like living with a monster in your house. Sometimes it's quiet and asleep in the corner. And other times, it's going crazy and trashing and destroying everything in the house."
For some reason, that really struck a chord with me and helped me learn how to deal with living with HIV.
From that point, I kind of dove into it and really wanted to become more aware of what was available. AZT [Retrovir, zidovudine] was the only thing that was available at the time and I did not respond well to AZT. My T cells were about 700 when I was diagnosed and within six months they had fallen to 500.
Especially with what had happened to Thom, I thought, "Well, OK, this is it. It's not going to last very long. I'm not going to last very long." That was the whole story of how everybody was living and dying with HIV.
Then Videx [didanosine, ddI] came out. I switched to Videx and I responded better to that and was on that for several years. Then I had to be transferred to Cleveland, Ohio, and was involved in a clinical trial at University Hospitals for Viracept [nelfinavir], which was the second protease inhibitor that came out following Crixivan [indinavir].
I responded very well, and that basically saved my life, because at the time my T cells were down to 200. I was feeling OK, but I was on the verge. With the Viracept, even though there were some side effects, I was able to rebound. My T cells came up.
Advertisement
Being involved in the clinical trial, I really did try to educate myself more and more about living with HIV. That's kind of how I became aware of POZ Magazine. Before POZ started, they had InfoPack, a newsletter that was in e-mail, started by Stephen Gendin and Sean Strub. At that point, I got involved with receiving the e-mail from them. That helped me learn more about treatment and people living with HIV.
How old were you when you and your partner were diagnosed?
Let's see. It was '92, so I would have been 43. Thom was the same age.
How did you and Thom find care initially? Was it more difficult with Thom having cancer and HIV?
There were doctors in Detroit who were already specializing in HIV and AIDS. In Cleveland, it was the same. When I went there, I went to the University Hospitals, which actually had an AIDS Clinical Trials Unit. John Carey, M.D., was my doctor. He was very active in HIV and in research and that type of thing. I was fortunate to get that type of care that early.
What was your community like in Detroit? Was there a large gay community there?
Yes. Detroit is a city of a million people, and there are about three million in the metro area, so there was quite a gay community. There weren't a whole lot of HIV organizations. Like I said, when I was in Detroit, I didn't really want to hear much about it, so I didn't get involved at all in any HIV activities.
Then when I went to Cleveland, it was a little different. It was when I was making my evolution into more acceptance, and I heard Larry Kramer and got involved in the AIDS Clinical Trials Unit. I actually volunteered for quite a few clinical trials. They did a lung study where they injected your lung with a saline solution and then withdrew that liquid. In your lungs are where very young cells are made, and so they were able to study the progression of HIV, how it affects very young cells in the lungs, which was kind of a very unusual study. [Laughs.]
There were some other studies that I got involved with. I just really started trying to educate myself more and more about HIV and the treatments.
What regimen are you on now, if you don't mind my asking?
Prezista [darunavir, TMC114], Truvada [tenofovir/FTC] and Norvir [ritonavir].
How's that been for you?
It's OK. There are some stomach problems, but that's something you live with. [Laughs.]
Besides the low CD4 count with the AZT, you haven't, at this point, had an AIDS diagnosis?
No. I mean, I had neuropathy and I've had shingles. I've had pneumonia, but it wasn't a real serious type of pneumonia. I had thrush -- the standard type of stuff like that -- but nothing life threatening that I've had to deal with.
Going back to 1992: What was your knowledge of HIV at the time that you were diagnosed? Thom went and got tested, but what was the impetus for his getting tested?
"There was ACT UP, which was the radical arm of the HIV movement and really did help bring about a lot of awareness and a lot of faster-track approval of medications. Thank God that they were around."
You knew HIV was out there, but if you weren't infected, it really wasn't something that you tried to learn about. We had friends that were dying all the time. I had several good friends that passed away in the late '80s and early '90s. It was when safe sex started coming around and you knew that you needed to be protective. But Thom and I were in an exclusive relationship, so it really wasn't something that we were that concerned about.
The community had begun to organize, but there really wasn't a whole lot out there. There was ACT UP [AIDS Coalition to Unleash Power], which was the radical arm of the HIV movement and really did help bring about a lot of awareness and a lot of faster-track approval of medications. Thank God that they were around.
But there wasn't a whole lot of support. Thom had started a two-for-one support group several years back, in the late '80s. He had two people for every person that was diagnosed with HIV, as a support person for them in Detroit. It was informal -- just friends who had gotten together who had agreed to help other people who were living with the disease: getting them food or helping with their home or doing whatever they needed. If they needed to go somewhere and they couldn't drive, that type of thing. Because, as people were getting diagnosed with the disease, they began not to be able to take care of themselves.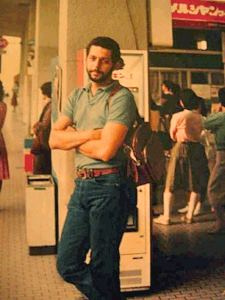 Gary while he was living in Japan (and sporting a beard) in the early 1980s.
It seems that, in a sense, prior to being diagnosed, Thom had already gotten involved in HIV/AIDS work. Was he surprised himself when he was diagnosed? Were you surprised?
The way it started was that he had this really bad pain in his back. It was actually the cancer tumor that was causing the pain. He went to get that checked out. That's the initial reason he went to the doctor -- because of the pain in his back. As part of their procedure, they tested him for HIV, and that's when they found out that he had HIV and he had this very aggressive cancer.
What kind of cancer was it?
I don't remember. When they found it, it was the size of a golf ball. By the time he passed away, it was the size of a grapefruit. That was within six months.
Did any doctor express an idea that the cancer might have been related to the HIV? Were they really independent of one another?
They really didn't know at the time. There was never any official word that the two were directly connected. The problem was the treatment for the cancer, the chemotherapy, which ruins the immune system. In trying to treat the cancer they were ruining his immune system, which was being ravaged anyway by HIV.
He just deteriorated. He had been very healthy, worked out four, five times a week. Within six months, he looked like an 80-year-old.
How long had the two of you been together?
We'd been together about seven years. We'd known each other for about 15 years, but we'd been together about seven.
I imagine that Thom was the first person that you told about your diagnosis. Who else did you tell soon after?
Two people that I knew at the time, friends of mine, who were positive. They were the people that I contacted. Another very good friend of mine, also -- I talked to him about it because I needed to.
"The doctor came in and said, 'You're positive.' When you find out something's 'positive,' that's normally a good thing, you know? But it was just a brief second, and then I realized, no, that's not a good thing."
Do you remember feeling supported by the people around you as you were telling them?
Yes, I do. I vividly remember that day with the diagnosis, and when the doctor came in and said, "You're positive." When you find out something's "positive," that's normally a good thing, you know? But it was just a brief second, and then I realized, no, that's not a good thing.
It was very strange because I remember driving on my way home from the doctor's, and looking at the person in the car next to me, thinking, "Why do I have HIV? Why do I have to have this?" Actually, I was going on vacation the next day. The whole vacation was a strange one.
Do you remember where you went on vacation?
Yes, Thom and I went to a resort in western Michigan called Saugatuck. It's a popular resort on Lake Michigan.
Can you remember what the doctor said to you that day? Did he just say, "You're HIV positive," and then walk out?
I don't remember. My mind was just reeling at the time because I kind of expected it, but I didn't want to have it. I remember that he left me alone for a little bit because he said, "You just need to sit here for a little while and collect your thoughts. You can take all the time that you want."
But I don't remember what he said after he told me that I was positive. I know that my mind was processing it and dealing with it and reeling from it.
More From This Resource Center
---

This article was provided by TheBody. It is a part of the publication
This Positive Life
.
---
Comment by: Miles
(Los Angeles, CA) Thu., Aug. 29, 2013 at 8:07 pm UTC
I became HIV Positive in Aug. 1993. I have severe Peripheral Neuropathy that has crippled me in my feet, legs and hands. The disease is caused by the toxic early drugs AZT, DDI, D4T, 3TC. When my CD4 count became under 50, I was then told I was full blown AIDS, forced to leave my career at the age of 30. Now 20 years later, I am still suffering from Peripheral Neuropathy, but I am now non-dectable. I am also a Veteran, but because I was forced to leave my career early, I am forced to be a slave to poverty, I get just over 1,000.00 a month for my Social Security. The average rate for a 1 bedroom apartment is 1,200.00 a month. It irresponsible of those we elect into office who have continued to ignore this problem that makes it impossible for one to have an independent life, afford a car to go to the doctor, the law requires auto insurance, rent, utilities, food, and making us struggle month to month with less than those who make minimum wage make. Which I am sure they live from check to check and struggle as much as Seniors, Disabled must deal with. Also, I lost all my friends to AIDS who also paid into the SS system and will never see their SS, and the government continues to say SS and the government is broke. What little benefits I get, each year the government chips away at and I get less and less, while cost of living increases. I am crippled and disabled, have good days, hate disability, but because I have been on Disability for so long, I can't get a job, impossible to try and get out from this nightmare that I have been forced into for the last 20 years. I have written to my representatives, state senator, Oprah, anyone who might listen and help resolve this injustice, but it seems that no one cares. I know that many of us who have struggled and survived this disease hate how the government has treated us, not provided us the dignity to live independent lives. As a Veteran, and proud American, those we elect into office should be ashamed.
Comment by: wiliam B. jr
(philadlephia pa.) Tue., Mar. 15, 2011 at 10:43 am UTC
I enjoy your story, and also dealing with the virus my self for 15 years at the age of 54 I finish college with my BA. and you are in my prays , and I did not think that i would be living this long but i do have family support and my church family and friends which is very important . I am working in behivoral Health field with HIV/AIDS clients and also have a HIV Ministry at my church.
Comment by: Bry
(Delaware) Fri., Jan. 28, 2011 at 6:21 am UTC
Very inspiring story. I was just diagnosed last week. Heart wrenching experience when i was told, but my partner who happens to be 21yrs younger is sooooooo understanding and supportive. Of course his being a nurse probably helps. It took me a week off to gain composure, but I've come to terms that LIFE WILL GO ON. I've been planning very hard sacrificing for my retirement (17yrs to go) and have every intention on doing and enjoying it so.
Comment by: ED
(Pompano Beach.) Wed., Jan. 26, 2011 at 7:46 pm UTC
I can relate the sister thing; I have a brother, sister and my parents. The day I told them, it changed us forever. I was diagnose back in 2003. Two years later I told my family it hasen't been the same. they don't visit me and they don't invite me to there homes. We talk but its quick. I wish I can find a place here in florida where I can talk about living with hiv. I commend you for being strong. I'm a positive person, I'm 54 yrs. young and I will be a grandfarther come MAY 2011. That keeps me strong and positive.
Comment by: j.brantas
(holland) Mon., Dec. 6, 2010 at 3:17 pm UTC
In Gary's story i regocnize a lot, being tested HIV+ spring 1989, the low cd4 , the trials and above the losing of so many people to hiv, and why i survive, try to live every day, being gratefull still alive, have lost my wife in 2003, but my 2 streetdogs and some people giving me love and strength, life is a gift, and why some die young and some old, only God knows !
Comment by: Esther
(uganda) Fri., Apr. 16, 2010 at 6:21 am UTC
i really fear the mention of a word HIV/AIDS
but thanks a lot for your articles because they some how give me the courage to go for a test.though i am still thinking of it!!!!
Thanks.
Comment by: Walter F.
(Chicago) Wed., Mar. 24, 2010 at 2:14 am UTC
This is by far the best source of info I have seen so far, dealing with HIV. I have been recently gaining the courage to deal with this affliction and after discovering this site, I don't feel so alone anymore. In fact I feel empowered, there are so many people walking around infected, that are ashamed and in denial. I can finally see the light at the end of the tunnel and I now feel compelled to become more vocal, and come out of the HIV closet. People have been dying of and living with diseases since mans inception. Reading these stories has given me the strength to move ahead and not live in fear, thank you!
Comment by: Abie
Mon., Mar. 15, 2010 at 7:40 pm UTC
great story. Gary you are so strong and so optimistic to go through all of this with so little support.
Comment by: kirby Smale
(NY) Fri., Mar. 12, 2010 at 3:21 pm UTC
Gary has been a best Friend for over 25 yrs. I have seen him as loving, caring,and most of all Blatantly honest. I do believe it is his stubborn German heritage that has brought him thru all of this. He is relentless in believing try, try and try again. Totally relentless in letting things slide. a trait I truely admire. doesn't have time for small talk or meaningless conversation. Lets just say he is a uncomperable, UNMOVABLE Force when his mind is made........ Oh! and one more thing...relentless and fearless when it comes to standing up to be counted........KS Smale
Add Your Comment:
(Please note: Your name and comment will be public, and may even show up in
Internet search results. Be careful when providing personal information! Before
adding your comment, please
read TheBody.com's Comment Policy
.)