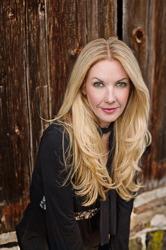 Hofmann, POZ editor and memoirist.
In the last four years, Regan Hofmann went from being undisclosed about her HIV status to the being the editor-in-chief of
POZ Magazine
and serving as a spokesperson for people living with and affected by HIV/AIDS. In her new memoir
I Have Something to Tell You
, she discusses her journey from silence to telling the world she is living with HIV.
Hofmann and Courtney Sheinmel, author of the novel Positively, about an HIV-positive 13-year-old, read from their books and talked about how to combat HIV/AIDS-related stigma at the Housing Works Bookstore Cafe last night.
The Update talked with Hofmann about stigma, criminalization, and her journey towards self-acceptance and disclosure.
What inspired you to write this book?
I felt the need to write the book because there's a real rift between the public's perception of their risk for contracting HIV and the reality documented by today's infection rates. Not enough people understand if they've ever had unprotected sex, they need to be tested for HIV. And that they need to insist that medical professionals give them the test. Too often, people who request HIV tests are grilled and if their answers don't reflect that they're at "high risk" for having been exposed to HIV, their doctor may try to talk them out of getting tested. All sexually active people, or people who share works, and all medical workers need to realize that HIV is a universal concern, not just something that happens to certain kinds of people who do certain things certain ways. HIV can -- and does -- affect every type of person.
Why is it so important for you to address stigma?
Advertisement
HIV/AIDS-related stigma is a key reason people are so unlikely to be tested. Stigma can prevent people from disclosing to friends and family to get the compassionate emotional support they need. It can keep people from accessing lifesaving treatment (which, if effectively prescribed and adhered to, can reduce a person's viral load and therefore their level of infectiousness and, in doing so, serve as an effective tool for maintaining widespread public health). It can prevent people from disclosing to potential sexual partner or their healthcare provides which, in turn, can mean that people with HIV can find themselves at risk for being criminalized and/or in a position of getting less-than-optimal healthcare. HIV-related stigma has proved as deadly as the virus itself.
Do you still face stigma in your day-to-day life?
It happens to me more than you might think. I am still shocked if I go to a dentist or a doctor, and the nurses don't want to touch me. I have had people refused to work on my body. Recently I was doing a TV appearance and the make-up person asked if she should throw out the brushes she used to apply makeup to my face. I kept my composure after I clarified that no one had been put at risk by the fact that the same brushes that had been used to apply stage makeup to my face had touched other, I got in my car and broke down and cried. It never feels good to realize that some people still feel like people with HIV need to be treated like they have leprosy. We still have much education to do.
How do you think POZ helps to fight stigma?
POZ is a platform for the community to share their stories. Through these stories, people can get to know people with HIV and see how wonderful they are. I think people fear and vilify people with HIV because we often fear and dismiss what we don't know. But when people, even those with grave misperceptions or reservations about people living with HIV, get to know us, they see that not only is there nothing to fear, there is much to admire and respect. Once people get past the myths around HIV and their ungrounded terror, they can recognize the amazing spirit and dignity of people who, every day, live in spite of this terrible virus.
When anyone has a direct experience with a person very different from themselves, it has the potential to change a mindset. Before coming to POZ I didn't have a lot of experience with people who were homeless or who were incarcerated. As a result of coming to know many people in both situations, I have radically changed my views on people who are homeless and imprisoned. All people are likely to fear what they don't know and unless we have a firsthand experience, we are likely to believe the public view. Personal experience is the best way to change that.
What specifically needs to be done to address stigma?
I think the secret to fighting HIV/AIDS-related stigma is three-fold. We have to continue to educate people about HIV and convince the masses that everyone who has ever had or who ever has unprotected sex or shares works is at risk for HIV. We have to make people understand that HIV just a virus. It can't discriminate and it doesn't. It will go anywhere biology and circumstances of transmission allow it to.
We also have to make it safe for those who have HIV to disclose their status without suffering serious consequences. We need to have laws in place that protect people with HIV from being fired from their job, from being criminalized unfairly, beaten and killed. People with HIV are eligible for the same human rights everyone else has.
And we have to encourage people to share their story. Four years at POZ has showed me that when people disclose, it's largely a good thing in their lives. It brings greater self-esteem, greater self-care, and better health care. People with HIV can't afford to drink the Kool-Aid of public opinion that all too often suggests we're bad people because we contracted HIV. The community must continue to stand up for its rights and unapologetically disclose.
You went from being anonymous, and not telling anyone your status, to being the face of HIV as editor-in-chief of POZ. How has that changed your life?
The secret I held tightly inside for 10 years was killing me. I survived HIV but knowing I was lying to all the people closest to me in the world about what I was going through was killing me. The best way to fight a secret is to let it out. The liberation and the self-esteem that comes from surviving HIV and being able to discuss it publicly in the hopes that I will contribute to public awareness by sharing my story was a powerful thing. Making that journey from being ashamed and depressed to being free and proud was such a relief. It feels really good to fight back against things that are wrong -- like the fact that people living with and affected by HIV still feel shame and stigmatization.
You wrote for the Daily Beast about criminalization of people who spread HIV, and how this spreads stigma. Why is that important to you?
Criminalization really deepens the stigma around HIV. There are a small number of people living with HIV who deserve some legal retribution for their choices. [Knowingly spreading HIV] is an act that should be punishable. But I think the disproportionately harsh sentencing of people who allegedly didn't disclose their HIV status to sexual partners speaks to the ongoing hysteria and misinformation around HIV. If people have HPV and don't disclose that they have that virus before passing it on or even potentially exposing a partner to it, they don't go to prison.
I also think there should be some culpability on the part of people who are having consensual sex. Everyone should take responsibility for themselves and the choices they make.
The truth is that criminalization, justified as a way to protect the public from "AIDS predators," backfires because it provides a disincentive for testing people with HIV. Sure, it may lead to the just incarceration of a few people who are endangering others. But it also makes people afraid to know their HIV status. Which is a bad thing as we know from numerous studies that most people who are aware of their HIV status are very committed to not passing the virus to others. Given that an estimated 21 percent of all people living with HIV in America don't know that they have the virus, testing is an imperative step in saving lives and stopping the pandemic. One of the best ways to stop the spread of HIV is to encourage testing and linkage to care as getting tested for HIV can save a person's life while protecting others. It is every person's social obligation to know his or her HIV status.