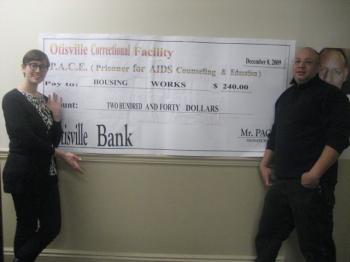 Saperstein and Rios with the donation from Otisville Correctional Facility prisoners.
Housing Works client Lillian Stephens has been in and out of prison for more than two decades. She was diagnosed with HIV in 1990, and found herself in spiral of prison for drug-related offenses and staying in drug-infested SROs. But this time, things are working out different. Since we was released from prison in March, she got connected with Housing Works' Women's Transitional Housing Program. She is now sober and looking into Housing Works Job Training Program.
"This is giving me hope," Stephens said. "If I went to a place they normally sent us to, I would have been victim to that whole environment where everybody is getting high and you have to worry about getting robbed."
Stephens' cycle of going in and out of prison isn't unusual. When people are released from prison, they often have nowhere to live and not much of a plan for readjusting to the outside world. This is especially true for people with HIV/AIDS and hepatitis C, who may have received health care inside prison but are on their own once released. In the wake of research showing that recidivism decreases and health outcomes improve when released prisoners are given more guidance, the U.S. government has started to pay attention.
Advertisement
The federal government is implementing an innovative new program that sets people up with care
before
they get out of prison. The program is called Health Initiatives for Re-Entering Ex-Offenders (HIRE). The grant is from the Health and Human Services Office of Minority Health and is also provided to other HIV/AIDS organizations in New York, Texas and Florida. The total cost is about $2 million.
Housing Works is participating in HIRE, conducting pre-release discharge planning and providing post-release access to health care, prevention and support services. The Housing Works program targets HIV-positive and high risk minority ex-offenders moving to New York City.
"We know when a person is released, they basically unplug you from one community and bring you to another community," Ray Rios, who runs Housing Works' prison outreach program and was formerly incarcerated, said in a recent interview with WBAI. "Maybe a doctor there is conscientious and writes you a nice prescription. When you go home you may not have access. You may be paroled to a shelter. Housing Works wants to really help bridge that gap."
Rios and Housing Works intake specialist Lynan Saperstein regularly visit Rikers Island and Otisville Correctional Facility to build relationships with inmates at least three to six months before they are released. Housing Works provides referral services, HIV testing and counseling to 100 percent of prisoners at risk of HIV. They are then connected to housing and health care the moment they are released from prison.
"I always tell people that planning for re-entry starts the day you're locked up," Rios told the Update.
Housing Works' HIRE just started in September and the good will is already flowing both ways. The prisoners at Otisville Correctional Facility held an AIDSWalk on World AIDS Day (December 1) where one-quarter of the prison participated in the walk. They raised $240 for Housing Works. The inmates joked that they wished they could have given $240,000; they all make less than 25 cents a day.
"Their donation meant as much as any million dollar donation we could have received," Saperstein said.
HIV and Prison
Well before this program began, Housing Works started working with former inmates. The organization's Women's Transitional Housing program exclusively housing women released from prison.
Despite common misperception, most people with HIV/AIDS in prison did not contract the virus there. Although there has been little concrete research on the subject, a study of Georgia prisoners published in 2006 showed that 90 percent of those who were HIV-positive got the virus before entering prison (although many didn't know their status at the time). The prevalence of HIV/AIDS among prisoners is more than three times that of the general U.S. population. The statistics for hepatitis C are also alarming: Depending on the prison system, 13 to 54 percent of inmates have hepatitis C, which leads to liver disease and other deadly illnesses.
"Formerly incarcerated people have always been a large part of Housing Works," Rios said. "You can't separate AIDS and prison. Everyone's going back to the same neighborhood."
Check out Rios and Housing Works President and CEO Charles King discussing HIV and prison on WBAI's On the Count