Life With HIV Down on the Farm or in Small Town, U.S.A.
Introduction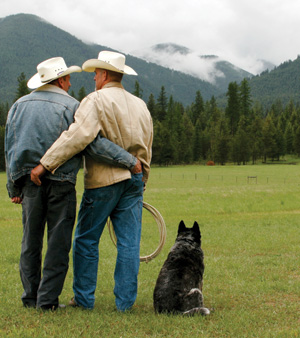 Since 1981, when New York, San Francisco, Chicago and, of course, Philadelphia started to see the birth of the HIV pandemic, big cities have had decades to create, establish, and expand medical and support service infrastructure for their residents living with HIV. Most small towns and rural areas, however, have not, despite statistics that show infection rates increasing proportionally in such places. College towns may have a bit of an advantage, as their student health systems must address both prevention and treatment in the student population, but what if you live in a town where the main industry is farming and "townies" work at the grain elevator or the box factory or the strip mall on the edge of town? Chances are Doc Smith, who's delivered all the babies born since the '60s, is not going to be an HIV specialist. The county hospital may not even have an infectious disease specialist since most of their business comes from bar brawls, harvesting accidents, and car crashes, with a smattering of cancer, diabetes, and heart disease. HIV and STI prevention is probably not a high priority. So if you find yourself suddenly in the hospital with pneumonia and an HIV diagnosis, where do you go for help?
Most people find the nearest big city and, though it may be arduous and expensive to get there, that's where they go for treatment. Not only are they more likely to find a doctor there who specializes in HIV, but it's also a way to escape the risk of your next door neighbor seeing you going into "that place" where people go to get tested or see the doctor when they've "done something they shouldn't have." As high as the levels of ignorance, stigma, discrimination, and plain old religious condemnation may be in the neighborhoods of the big city, it's a whole 'nother country if you're one of the three people living with HIV in a town of 1,200.
Advertisement
In investigating this territory, I relied on our list of agencies that stock Positively Aware for their clients. As often happens, first contacts with people led me to others they know who are fighting the good fight out in the hinterlands of our country and, by the time my phone interviews were over, I'd met many folks who deal with an entirely different, yet no easier, set of challenges than what we're used to in the city. Hopefully, by relaying some of their stories here, awareness will be raised, not only about these providers, but also about the need for inclusion in the national HIV/AIDS policy and in the distribution of funds.
The Centers for Disease Control (CDC) 2006 National HIV/AIDS Surveillance report provided some guidance as to what non-urban regions are most affected. According to their data, 67% of all adult and adolescent AIDS cases were reported in the South, so I looked there first.
Lowcountry AIDS Services, South Carolina
Lowcountry AIDS Services (LAS) in Charleston, South Carolina was the first stop on this journey of discovery. LAS recently sent out a press release that came across my desk heralding the creation of a lipstick color (Gorgeous Red) by cosmetic company owner Trish McEvoy, in honor of World AIDS Day, which would benefit the agency with every sale. Their website is impressive and so is the scope of their services.
LAS has been in existence since 1983, expanding and evolving over the years to become the only AIDS Service Organization (ASO) serving the area of Berkley, Dorchester, and Charleston counties. Their portfolio of services includes case management; housing, financial, and legal assistance; education and support groups; an empowerment program for men who have sex with men, ages 18-30; a nutrition center; and free testing and counseling, along with internet outreach and other prevention efforts. They also make house calls for clients who have no way of traveling to them.
Executive Director Brad Childs estimates that LAS will serve over 600 clients this year, an increase of 100 over last year. The majority of clients are African American females, though he has seen an increase in the Latino population they serve, despite the fact that they currently receive no funding to do so.
Funding at LAS is a constant concern, though Childs acknowledged the generous support of the Charleston community for LAS. Due to that support and the talent and hard work of the LAS staff and Katie Kern of CircaPR, they have been able to withstand a Department of Housing and Urban Development (HUD) funding cut of $100,000 which threatened their housing assistance program.
In a statement that was to be echoed by every agency I spoke with, Childs stressed that the fight against ignorance and stigma is a monumental challenge for LAS, "more than half the battle." He would like to see the national HIV/AIDS policy direct more attention and funding to that fight.
Hope and Help Center of Central Florida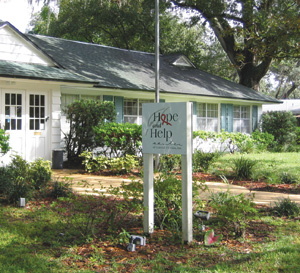 Serving the counties of Orange, Osceola, Seminole, and Lake, the Hope and Help Center was created in 1988 and now has nine locations and serves between 4,500 and 5,000 clients annually.
In addition to providing medical case management, peer support services, prevention outreach and education, a food pantry, and SISTA, or Sisters Informing Sisters on Topics about AIDS, a program for African American women, Hope and Help Center also offers the AIDS Insurance Continuation Program (AICP). Hope and Help is the only site offering this service in central Florida or in any of the other areas I explored. The AICP helps clients pay their private insurance premiums and Development Director Maggie King told me that with so many people becoming unemployed and not being able to afford to pay their COBRA payments, this service has become essential for many of their clients.
Like many of the other agencies, Hope and Help has seen a significant increase (43%) in their clientele in the last year while both state and federal funding has either stayed the same or decreased.
Matthew 25, Kentucky
Established in 1996, Matthew 25 has locations in Henderson, Owensboro, Elizabethtown, and Bowling Green, Kentucky and Evansville, Indiana. Administrator Cyndee Burton, R.N., explained that they serve about 18 counties in three ADDs (Area Development Districts) and see about 400 clients per year.
Matthew 25 is a good example of a model of holistic care that addresses many different levels of each patient's health care needs. Primary care is provided by an HIV specialist provider in collaboration with an infectious disease doctor to establish a medical treatment plan. An adherence nurse helps with side effects and adherence to medication instructions; mental health needs are addressed by a social worker; a care coordinator helps clients to access insurance, disability, and any other entitlement programs they may be eligible for; nutrition and immunization needs are evaluated by a clinic nurse; and finally, comprehensive risk counseling and services staff explore such issues as disclosure, protecting partners from transmission, harm reduction, and ways to reduce stress in the patient's life.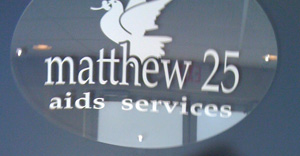 Burton reported that Matthew 25, like many other agencies, has lately seen an increase in clientele among African American women, but that the majority of clients are still young, white MSM.
In discussing the challenges they face, she agreed that an increased patient load and decreased funding was a major problem, adding that the Ryan White Part C funding they receive has not changed since 2000. She also noted the constant battle with stigma, particularly calling out the "faith community," whose judgment causes HIV-positive people internal struggles, as well as external ones.
When asked what she would change about HIV/AIDS policy in the U.S., she said she would like to see a national prevention plan, along with "a bigger pie" (and I have to mention the charm of the effect of her soft Southern accent on the word "pie") so that agencies would not have to engage in infighting and competition for every scrap.
Partnership Health Center, Montana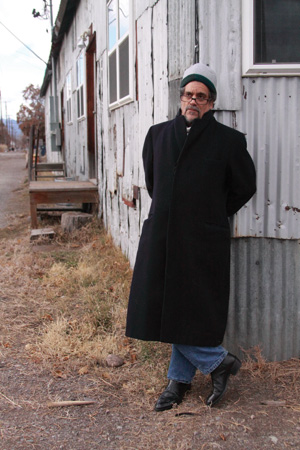 Four and a half years ago, when Mark Morante moved from Chicago to Missoula, Montana, he was unsure about the kind of care he would be able to receive there. A veteran of HIV services in four major cities (Los Angeles, Philadelphia, Boston, and Chicago), he was used to being able to see an HIV specialist, to access case management, food, housing, and support services, and to take part in advocacy efforts. Mark, like most clients I've known over the years, was voracious about his reading, keeping up on the latest treatments, research, and alternatives that were available -- he did his homework and kept an open mind, willing to try anything, including being an energy work client of mine. By the time he left for Big Sky Country, he was doing well, T-cells at 380 and viral load at 1,500. He felt that no matter what kind of care he'd find available there, this move was a good thing that would lead to a better quality of life than he'd experienced in Chicago. As it turns out, he reports that, on a scale of one to 10, the services and care available in Missoula rate a 6 compared to Chicago's 8-9 but, in terms of quality of life, Missoula gets a 9 compared to Chicago's 7. During his first year there, he dipped to 150 T-cells and a viral load as high as 70,000, but he now has regained his 380 T-cells and has had an undetectable viral load since May of 2006. He is also quick to point out that while facilities are minimal and specialists rare, the care there is "personal, competent, and given with selfless goodness and heart-felt sincerity."
Mark is the one who pointed me in the direction of Mary Jane Nealon, Ryan White Case Manager at Partnership Health Center (PHC) in Missoula, which serves the western half of the state of Montana. Approximately 170 patients are served yearly at PHC, some traveling over two hours one way to get primary, dental, and mental health care, nutritional information, and medication. They also have an HIV testing and counseling program as well as other support services. Thanks to Mark, they now provide copies of Positively Aware to their HIV-positive patients as well!
According to Nealon, one of the main challenges at PHC is dealing with a disparity in documenting care, something that's very important in terms of securing state and federal funding. While local clients are easier to keep track of, many of PHC's clients live in outlying areas and are harder to stay in contact with.
When asked about trends she's noticed in infection rates there, Nealon reported that while they usually get between one and five new infections per year, last year there were 16, many from the outlying areas and many who were very sick by the time they sought care. And of course, there was no funding increase to match the increase in infections.
She also talked about the ignorance, fear, stigma, and discrimination that abound in the area. In fact, Nealon said that the biggest shock for her, when she moved there from New York, was the utter lack of knowledge about HIV. As she said, "In New York, there would be the homeless guy who would come for food and ask about the latest research on cytokines. Here, people tend to not know, or not want to know about HIV."
Mark confirmed that lack of awareness and knowledge is a big problem that then leads to discrimination and, sadly, sometimes damaging actions. Both Mark and Mary Jane spoke of the 11-foot banner that PHC had made that said, "HIV is in Montana." It didn't even make it through its first night before it was stolen and assumed destroyed. This kind of vandalism is evidently a common experience for these smaller agencies which rarely have the money to repair or replace property that's damaged or destroyed.
So what about that improvement in quality of life? Yes, the air is cleaner, the views breathtaking and Mark tells me about Helen and Grace, two lovely silver-haired ladies who provide an HIV/AIDS Friends & Family dinner on the third Tuesday of every month. Life is full of trade-offs.
AIDS Resource, Pennsylvania
Located in Williamsport, Pennsylvania, AIDS Resource (AR) was established in 1988 and serves Lakoma, Snyder, and Union counties in North Central Pennsylvania. Services offered at AR include case management, housing assistance, nutritional counseling and a food program, treatment education, financial assistance for medical and dental services, and reimbursement for transportation. They serve around 140 clients per year, though they've provided HIV testing for as many as 10,000. About half of their clientele are straight women.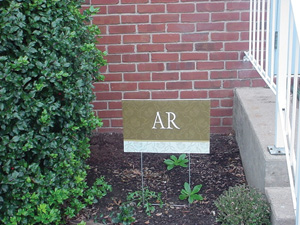 Executive Director Kirsten Felix joined the chorus of her colleagues when it came to stigma and discrimination. In fact, she told me a sad story about the agency's search for a new office space. Time and again they were met with resistance from potential landlords who didn't want to rent to an AIDS agency. She even confirmed her own suspicions of discrimination by having her fiancé inquire about renting a space without specifying his company. He was told the price would be $10 per square foot. When Kirsten then called to inquire about it and mentioned her agency's name, the price was quoted at $12 per square foot. The picture she sent of the sign bearing the initials "A.R." and placed in front of their building was explained by the sentence, "AIDS Resource signage is intentionally vague to help protect client confidentiality."
When asked about how she would change HIV/AIDS policy, Felix agreed with Brad Childs of Lowcountry AIDS Services that more attention and funding should be directed at prevention and at ending the stigma and discrimination that so often leads to people not getting tested or treated.
Unanimous Voices
It was no surprise that every agency I spoke to struggles with the issue of funding -- that seems to be a universal challenge, no matter where you're located.
Another issue where there was unanimous agreement was support of health care reform. When asked what they would most like to see achieved by health care reform that would benefit their clients as well as their agencies, all of these front-line warriors said they were cheering for the public option. Other things were mentioned -- more support for community health centers, more prevention funding -- but, as I've often mused when reading reports of so-called "lack of support for the public option," it appears that no one is asking the HIV/AIDS community.
But perhaps even more important for those living with HIV, all of these agencies, and the hundreds more I didn't get to talk with, share a more fundamental agreement -- where help is needed, help will be given, without judgment, without ridicule, without hesitation, and sometimes, even without funding. Tucked into the nooks and crannies of our nation, away from the noise and lights and energy of our cities, these small safe havens struggle to survive, even as do those who rely on them. May their points of light keep shining on.
Opportunities for Low Volume and Non-Urban HIV/AIDS Providers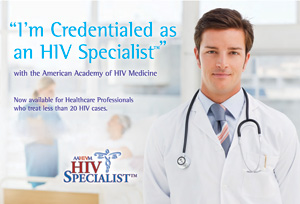 The American Academy of HIV Medicine (AAHIVM) began certifying HIV Specialists in 2002 and today still offers the only certification available in HIV medicine for licensed M.D.s, D.O.s, P.A.s, and N.P.s. According to Peter Fox, AAHIVM's Director of Credentialing, the Academy established three industry standard eligibility components when developing the certification program: experience (a minimum number of HIV-positive patients seen), education (a minimum of 30 hours of HIV-related educational activity every two years), and external validation (successful completion of the comprehensive, peer-developed exam). It was determined that providers with 20 or more HIV-positive patients would meet the experience requirement.
Eventually, it became clear that more patients could be served by providing a certification option to providers who saw fewer than 20 HIV-positive patients, as many patients were located outside high-incidence urban areas. The AAHIVM Clinical Consult Program was created to make certification possible for these "lower volume" HIV providers.
Through this program, any lower volume provider whose application is approved is paired with a local, experienced HIV Specialist who has volunteered to serve in this consulting capacity. The experienced HIV Specialist then becomes a clinical consultant for the lower volume provider, staying in contact by phone, e-mail, or by visits in person. The consulting relationship is helpful for the management of both complex and routine HIV cases in the lower volume provider's practice. The relationship includes being available for urgent questions or problems. The Academy keeps track of the pair's communication, making sure that a quarterly minimum number of visits, calls, or e-mails take place. The Academy even reimburses providers for reasonable, documented expenses incurred in accomplishing the exchanges.
The goal of the program is to increase access to care by expanding the availability of medical providers who are knowledgeable and proficient in HIV care. In addition, the connections that are established between providers often endure beyond the official two year certification period, further supporting a strong network of providers who can help each other to provide the highest quality of care for their patients.
Every year the AAHIVM's standard credentialing program certifies hundreds of providers from diverse areas of the country. This is good news not only for the HIV-positive patients who need them, but it also supports the collective, professional voice that the AAHIVM provides on matters of HIV/AIDS policy. Fox notes that the steady increase of certified HIV Specialists since 2002 serves both the primary purpose of protecting the public as well as enabling the Academy to "lobby for the HIV care trade and the patients it serves," offering the voice of the provider on federal and state policy making.
Last year, 14 lower volume providers were certified. Hoping to promote the program further, the Academy partnered with Tibotec Pharmaceuticals, which sponsored the creation of a postcard encouraging lower volume providers to get certified that was then distributed to potential applicants by the Tibotec sales force.
If you are, or know of, a provider who sees only a few HIV-positive patients and recognizes they would be well served by the highest level of expert care, consider AAHIVM certification. You can learn more at www.aahivm.org or by e-mailing credentialing@aahivm.org.
Anyone can find the AAHIVM HIV Specialist closest to them by going to www.aahivm.org and using the "Find-A-Provider" function.
Rural Center for AIDS/STD Prevention
Since 1994, the Rural Center for AIDS/STD Prevention (RCAP) has provided opportunities for non-urban agencies to network, share information and solutions, and benefit from knowing they're not alone. Though RCAP's goal is "the promotion of HIV/STD prevention in rural America," most organizations that put forth prevention efforts also provide services to the HIV-positive population in their area.
RCAP provides prevention guidelines, factsheets, and a yearly national conference. Last year's conference was attended by approximately 200 community-based organizations and boards of health from various states.
RCAP publishes RAP* Time, a monthly bulletin that summarizes current research concerning HIV/STD prevention, particularly in rural settings. They have also published Tearing Down Fences: HIV/STD Prevention in Rural America, the first guide to focus on prevention in rural communities. The publication is available as a PDF file on the website.
To learn more or to join the RCAP network, go to www.indiana.edu/~aids. -- Sue Saltmarsh
Got a comment on this article? Write to us at publications@tpan.com.