Treatment Guidelines Updated

It's official. U.S. HIV treatment guidelines, updated in December, now recommend starting therapy when a person's T-cells drop to 350. The previous recommendation was 200. However, therapy is recommended for anyone, regardless of T-cell count, who has had an AIDS-defining illness (such as PCP), is pregnant, has HIV-associated nephropathy (kidney illness), or have hepatitis B for which treatment is warranted. Treatment should be considered for people with T-cells between 350 and 500, although the panel of experts was divided on the strength of this recommendation. The panel was more divided on the idea of starting therapy above 500 T-cells: half was for it, half saw it as optional.
Always of interest in guideline changes are recommendations for drug treatment. The following recommendations were made for people taking HIV treatment for the first time:
Isentress + Truvada was added as a preferred regimen.
Kaletra was downgraded from the preferred list to "alternative," except for pregnant women.
Lexiva/Norvir twice daily was also dropped from preferred to alternative.
For when to use genotypic versus phenotypic resistance testing in treatment-experienced patients with viremia while on therapy, the guidelines recommend:
Genotypic testing in patients with suboptimal virologic responses or viologic failures while on their first or second regimen; and
The addition of phenotypic testing to genotypic testing is generally preferred for persons with known or suspected complex drug resistance mutation patterns, particularly to protease inhibitors.
Substantial changes were made to these areas:
What not to use;
Management of treatment-experienced patients;
Treatment simplification;
Hepatitis C co-infection;
Antiretroviral-associated adverse effects;
Antiretroviral drug interactions; and
Preventing secondary transmission of HIV.
The guidelines panel also added a section on treatment consideration for HIV-2, the virus endemic in poor countries. Visit www.aidsinfo.nih.gov to see the guidelines.
Selzentry Now for First-Timers
Advertisement
People going on HIV therapy for the first time now have the option of taking Selzentry (maraviroc). In November, the FDA expanded the Selzentry drug label to include first-time users of HIV medications, called "treatment-naive." Selzentry works by blocking HIV from binding to CCR5 sites on human cells. Therefore, it can only be taken by people with CCR5-tropic HIV. A tropism test helps determine whether or not a person's HIV is CCR5-tropic. For more information, see the March/April Positively Aware Annual HIV Drug Guide.
GSK and Pfizer Combine HIV Efforts Into a New Company: ViiV Healthcare
Two large pharmaceutical companies, GlaxoSmithKline (GSK) and Pfizer, Inc., have combined their HIV medications and development divisions into a new company, called ViiV Healthcare ("ViiV," pronounced "veev"). In a press release, GSK called the company "a new specialist HIV company." ViiV is expected to increase "flexibility" in responding to changing needs, as well as developing new drugs and treatment strategies. The company has a combination of 10 medicines currently on the market (including Ziagen, Epivir, Epzicom, and Selzentry), and reported that it has 17 molecules to work on, including seven in Phase 2 (early) development. In the release, Dr. Dominique Limet, the Chief Executive Officer of ViiV Healthcare, said, "A core objective of ViiV Healthcare will be to address the current treatment and formulation gaps faced in responding to pediatric needs. One of our first tasks will be to identify partners to help develop fixed-dosed combinations, and we are providing ?10 million of seed funding to support a Public Private Partnership approach to the discovery of much needed clinical evidence into new HIV/AIDS medicines for children." According to the release, "ViiV Healthcare is committed to broadening access to its current medicines for all those people requiring life-saving treatment regardless of income and geography." Visit www.viivhealthcare.com.
Retrovir (Zidovudine) for Pediatrics
On November 6, 2009, the U.S. Food and Drug Administration (FDA) approved revised pediatric dosing recommendations for Retrovir (zidovudine, AZT) that expands dosing to include children starting treatment at four weeks of age. Visit www.retrovir.com to view the revised drug label with its updated pediatric dosage of zidovudine syrup.
Entry Ban on HIV Lifted
On October 30, President Barack Obama lifted the ban on entry to the U.S. by HIV-positive people. The lifting of the ban, which was established in 1987, will officially take effect on January 1, 2010. The ban affected tourists as well as people applying for residency. Because of it, international HIV conferences did not take place in the U.S.
New Drug Interactions for Norvir
The HIV drug Norvir has a long list of drugs it interacts with. In November, the FDA added two more. The FDA approved the following changes to Norvir's drug label. Increased levels of the asthma medication salmeterol (Serevent) are seen with Norvir and co-administration of the two drugs is not recommended because of the potential for increased cardiovascular adverse events. Salmeterol is also available in combination with fluticasone propionate (Advair). Also, sildenafil (Revatio) when used for the treatment of pulmonary arterial hypertension (PAH) should not be taken by people using Norvir. The label change states that a safe and effective dose has not been established for the two drugs when co-administered, and there is an increased potential for sildenafil-associated adverse events, including visual abnormalities, low blood pressure, and loss of consciousness. Sildenafil is the active ingredient in both Viagra and Revatio, medications used to treat erectile dysfunction in addition to high blood pressure. Norvir is one of two medications in the HIV drug Kaletra.
New TPAN Program Helps Survivors of Childhood Sexual Abuse
Test Positive Aware Network (TPAN) now has a program for HIV-positive survivors of childhood sexual abuse, whether they were children or adolescents at the time.
LIFT -- Living in the Face of Trauma -- teaches participants coping skills to help in their emotional healing. LIFT is an established, evidence-based (scientifically proven to be effective) program that helps to reduce the stress and negative behaviors that arise from trauma.
"It has been very well documented that people who are sexual abuse survivors are much more likely to engage in sexual risk behaviors such as sex work, multiple sex partners, substance abuse, and adult sexual victimization, whether as a perpetrator or as a victim," says Bill Farrand, Director of Programs and Client Services at TPAN. He said being a survivor doubles a person's risk of HIV infection.
In LIFT, survivors learn how to form and sustain healthy relationships. They also gain insight into negative and self-destructive behaviors, including drinking and using drugs, that have resulted from the trauma of sexual abuse that they have endured. There are separate groups for men and women, with up to eight participants per group. Sessions include skills training in relaxation, expressing emotions, problem solving, and risk reduction. Another focus is looking at the effect of HIV on the participants' lives.
To join LIFT, or for more information about the program, call Paul Wiemerslage at TPAN at (773) 989-9400, ext. 245.
HIV-Positive Man Creates Padded Undies for Pain Relief
HIV and some of the medications used to treat it have been associated with a loss of fat in the face, arms, legs, and the buttocks, a condition called "lipoatrophy."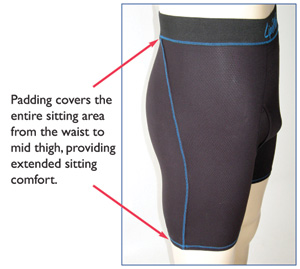 Terry Delonas, a resident of Orange County, California, founded LipoWear, a company that develops padded undergarments for people who lost the cushion in their bottoms. He enlisted the help of an anatomist, garment makers, and doctors. Together, they created the SitRelief Shorts -- "Sitting is believing" is their motto.
"I am a long-term AIDS survivor and developed this product for myself and others who are suffering from lipoatrophy sitting pain," says Delonas.
It turned out that a friend from his book club, Joseph Bollert, had a Ph.D. in anatomy. Bollert explained there's a large nerve under the buttocks that is protected by the body's fat. When left unprotected, this nerve -- the sciatic nerve -- is crushed between the ischium bones and the hard surface upon which someone sits, causing intense pain.
Bollert, a clinical trials specialist, joined forces with Delonas to create a product and establish a study for it. They visited several clinics where large numbers of people with HIV were seen, and quickly learned that doctors were unaware of the problem.
Doctors then began raising the issue with patients and learned that sitting pain was a common problem. Patients reported that they hadn't brought it up because the clinic was more interested in their T-cell counts and viral load levels, and because they didn't think anything could be done. "The doctors were shocked," said Delonas. One doctor ended up replacing the chairs in his waiting room.
A clinical trial was developed and conducted by three HIV specialists who recruited lipoatrophy patients with sitting pain. The result was a dramatic improvement in sitting pain which allowed the participants to return to activities they had given up. An HIV Quality of Life Survey showed significant improvement in multiple areas, including physical and social function. In addition, improvements in mental health and cognitive function were noted.
For a review of both products, see "Booty Boost" in the November 2009 issue of POZ magazine. Visit www.lipowear.com.
Got a comment on this article? Write to us at publications@tpan.com.