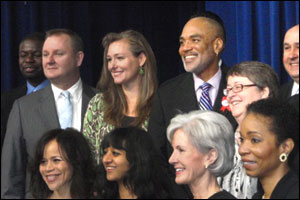 With the appointment of 24 new members to the Presidential Advisory Council on HIV/AIDS (PACHA), the Obama administration took one more step toward fulfilling its promise for a national strategy on HIV/AIDS, The council, which advises the White House on its HIV/AIDS policy, will provide input for the national HIV/AIDS strategy. The diverse group of appointees is made up of researchers, service providers and community leaders, including people living with HIV. They were sworn in on February 2 in the Eisenhower Executive Office Building, next to the White House.
"We often speak about HIV/AIDS as if it's only going on somewhere else, but we face a serious HIV/AIDS epidemic in America," said President Barack Obama in a released statement. "Today I'm pleased to have a new group of experts joining PACHA, and I look forward to hearing from the council about our continued efforts to prevent the spread of HIV infections in the United States, and to provide care and treatment to people living with HIV/AIDS around the world."
Voices from Black and Brown communities will be heard on PACHA. Dr. Helene D. Gayle, who heads the humanitarian group CARE USA, was named as PACHA's chair back in August 2009. Among PACHA's new members are the Rev. Calvin O. Butts III of the Abyssinian Baptist Church in Harlem, Malika Saada Saar of the Rebecca Project for Human Rights, Douglas M. Brooks of the Justice Resource Institute and actress Rosie Perez. The Black AIDS Institute is represented on PACHA by executive director Phill Wilson and board member A. Cornelius Baker of the National Black Gay Men's Advocacy Coalition.
Advertisement
Each PACHA member can serve for up to four years. More information about the council's membership and staff can be found at
here
.
Here are the new PACHA members:
Chair
Helene Gayle, M.D., M.P.H., president and chief executive officer, CARE USA; Atlanta.
Membership
A. Cornelius Baker, national policy adviser, National Black Gay Men's Advocacy Coalition; Washington, D.C.
Praveen Basaviah, HIV/AIDS advocate; Bay Area, Calif.
Dawn Averitt Bridge, founder and president of the board, the Well Project; Nellysford, Va.
Douglas M. Brooks, vice president for health services, Justice Resource Institute; Boston.
Calvin O. Butts III, D.Min., pastor, Abyssinian Baptist Church; New York, N.Y.
Humberto Cruz, director, AIDS Institute, New York State Department of Health; New York, N.Y.
Ernest Darkoh, M.D., M.P.H., chairman, BroadReach Healthcare, LLC; Washington, D.C.
Kevin Frost, chief executive officer, the Foundation for AIDS Research (amfAR); New York, N.Y.
Patricia Garcia, M.D., associate professor, department of obstetrics and gynecology, Northwestern University; Chicago.
Robert Greenwald, managing attorney, the WilmerHale Legal Services Center, Harvard Law School; Jamaica Plain, Mass.
Kathie Hiers, chief executive officer, AIDS Alabama; Birmingham, Ala.
David R. Holtgrave, Ph.D., professor and chair, department of health, behavior and society, Johns Hopkins Bloomberg School of Public Health; Baltimore.
Michael A. Horberg, M.D., director, HIV/AIDS, Kaiser Permanente; Oakland, Calif.
Ejay Jack, graduate assistant, multicultural affairs; the University of Nebraska at Omaha.
Jack Jackson Jr., principal, the Agassiz Group, LLC; Phoenix.
Naina Khanna, director of policy and community organizing, Women Organized to Respond to Life-threatening Disease (WORLD); Oakland, Calif.
Jim Yong Kim, M.D., Ph.D., president, Dartmouth College, Hanover, N.H.
Anita McBride, former assistant to President George W. Bush and chief of staff to First Lady Laura