HIV/AIDS Treatment in Jamaica
Bonnie Goldman: Can we turn for a minute to HIV/AIDS treatment? What's the treatment situation like in Jamaica right now? Kwame, can you talk to that?
Kwame Dawes: It's a really interesting story. Until 2003, there was limited access to antiretroviral drugs, particularly for those who couldn't afford it. It was very expensive. As a result, the morbidity that came from HIV/AIDS, the deaths that happened were really disturbingly high.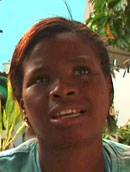 Annesha Taylor
With calm, intelligence and disarming honesty, Annesha Taylor has managed to help change the perception of HIV/AIDS in Jamaica by her bold act of going public with her status. Her words and a video can be found on the Live Hope Love Web site.

Photo: Joshua Cogan, Pulitzer Center on Crisis Reporting
A simple example: One of the support groups that serves people living with the disease in Montego Bay told me that prior to 2003, when antiretroviral drugs became more available, they were looking at 18 to 20 deaths a month. After that, they were down to one or two deaths per month, and sometimes, no deaths at all.
I don't know if we can really understand how powerfully moving that statistic is. There are just so many dramatic differences. People who were living very difficult lives, you may see them struggling with stroke after stroke, and then they managed to have access to antiretroviral drugs and their bodies were changed. They could go out to work. Things were completely different.
So something happened then and much of it is owed to agencies like the MAC AIDS Fund and to the U.S. government, even, at the time for making the funds available for antiretroviral drugs to be had, even for free for those people who needed it.
It has made a huge difference that people can get access to antiretroviral drugs. But that's not guaranteed forever. That's one of the big challenges. The hope is that we will continue to make those drugs available in Jamaica.
Nancy Mahon: That is one of the global challenges. South Africa's also guaranteed universal access. The bottom line, as you know, is that when people take HIV drugs, they have to be on them for the rest of their lives. At this point, globally, we have four million people on HIV drugs, and three million of them are being supported by the U.S. government. In Jamaica, we have seen several big donors like the World Bank -- who had been giving money to HIV -- who are now leaving.
The Global Fund [The Global Fund to Fight AIDS, Tuberculosis and Malaria] has actually been giving over a million dollars a year, which we've been participating in, but we have not seen new donors. One of the bigger issues, I think, that we have in the Caribbean, as a region, is that aside from tourism, there is not much industry there.
"As you can imagine, the [Jamaican] tourism industry does not want to publicize the fact that there's a high HIV rate."
-- Nancy Mahon
As you can imagine, the [Jamaican] tourism industry does not want to publicize the fact that there's a high HIV rate. Also, the tourism industry is not providing services to its employees the way the manufacturing industries in Africa are.
I think we as a global community need to really get behind the Caribbean and not only make sure that Global Fund dollars and other international dollars go there, but also help local businesses understand that this has to do with the health of their communities --
Kwame Dawes: Absolutely.
Nancy Mahon: And their ability to provide workers for tourism.
Bonnie Goldman: Nancy, when you mention all those numbers, the $1 million a year, and groups such as the Global Fund and PEPFAR, is that money paying for the HIV medications that Jamaicans are taking?
Nancy Mahon: Yes.
Basically, at this point, there are some local funds, but it's largely international funds. The other piece that understandably the governments do not want folks to know is that there's just an enormous amount of poverty in the islands. You'll have one side of Jamaica, such as Montego Bay, which is fabulous and terrific, and then you go to Kingston, and the poverty that I saw in Kingston far outweighs the poverty that I saw in South Africa.
Advertisement
Bonnie Goldman:
Could you provide specific details about that?
Nancy Mahon: When you go into the Kingston health clinic, people would have to spend their entire day traveling to be at the health clinic. Then they would wait. The pharmacy would have to close down at 11 o'clock in the morning because there were so many orders.
Basically, anybody who saw a doctor and had a pharmacy-filled prescription after 11 a.m. would have to either not get their medication or would have to travel back to the pharmacy, which often took three or four hours, the next day.
There's very little health care infrastructure. The larger debate around HIV focuses a great deal on the fact that you can't just focus on HIV. You need to look at the health system overall and the health system in Jamaica is very impoverished.
Then the issue is how do you treat a chronic terminal illness on top of that and on top of diabetes, sickle cell anemia, heart disease and all the other issues people are facing.
Bonnie Goldman: So Jamaica doesn't have a Paul Farmer who's out there with great energy and ideas?
Nancy Mahon: No.
Kwame Dawes: Some people have that kind of money, but that's not where they're putting it.
Nancy Mahon: Actually, we are funding the Clinton Global Initiative to work in a similar situation, but it has not attracted nearly the number of dollars that Haiti has.
Bonnie Goldman: It's ironic, because Jamaica's much more on people's minds, in terms of a tourist destination.
Nancy Mahon: I don't think it's ironic. I think it's purposeful. I think it's been to the Jamaican people's disadvantage that it's largely a tourism place.
Bonnie Goldman: Yes, but don't you think that if it becomes known that Jamaica is such a mess in terms of HIV, homophobia and the shocking poverty, then fewer tourists will go there and then Jamaica will lose money.
Nancy Mahon: Right. So the trick is to create enough pressure on the governments and the international community to basically equip folks with as much HIV information and as much prevention materials as we can, and to give them the best care we can.
Bonnie Goldman: Is there any work being done to convince the Jamaican government to change practices, to be more involved in HIV and to change its feelings about homosexuality?
Kwame Dawes: I think there's a lot of work going on. I should say that in my experience, the work that is being done by the ministry of health in trying to raise awareness and to do things on HIV/AIDS has been quite positive. I think increasingly many of these governments that we're talking about are governments that are struggling with tremendous debts, working with the IMF [International Monetary Fund].
Therefore, there's this big challenge of how do we balance all of this and how do we make this work. But at the same time, there are leaders in the Jamaican government who have spoken in very disturbing and, I would say, unfortunate ways and homophobic ways that are not very helpful in that situation.
Now, organizations like J-FLAG and many of the support groups that exist in Jamaica are constantly in dialogue with the government and trying to lobby and see change done. The extent to which that has made a difference is clear. It has made some difference, as you'd hear if you spoke to the J-FLAG folks, but there's still a long way to go.
Part of the long way to go is that a politician simply claims that, "I'm getting pressure from my constituents who say that if I say it's OK for somebody to be gay, then they'll vote me out." This is their argument. They put the blame on the society.
Of course what we say to them is that, "You need to take some leadership here, and that will help to change those views or those attitudes."
There is a conversation going on, and that conversation is really important. But at the same time, as much as you might have this conversation and this dialogue, there are people living and dying with this disease and they desperately need the treatment. Many of them get the treatment, but they're too hungry to take the medication.
Many of the people I know living with the disease who are on medication have only found work with the health ministry. That has helped them to look after their families and so on. The ministry of health has given them work to do. They've been doing tremendous work in awareness and so on.
But not everybody has had that benefit. There are those real issues that have to do with poverty and that have to do with access to basic nutrition and basic living that come with the horror of poverty that we see around the world. Those things too need to be addressed.
Bonnie Goldman: Do you know what percentage of HIV-infected people in Jamaica who need HIV treatment are getting it? Nancy, do you know that?
Nancy Mahon: You have to define the word "need."
Bonnie Goldman: Let's say need treatment according to WHO [World Health Organization] guidelines.
Nancy Mahon: Basically, there are two different issues. One is how available HIV testing is. Then at what point do you intervene? My understanding is that it's on the lower level compared to other countries.
Kwame Dawes: But I should say that one of the positive developments that has happened in Jamaica, in terms of treatment and testing, is that up until a year ago at least -- and I think it continues to be that way -- any woman giving birth in any of the medical facilities in Jamaica is tested for HIV. Much of the statistics that we get about HIV rates comes through that source.
That gives us a good sense of what is happening. In many cases, since the advent of antiretroviral drugs, many of the children who are born to mothers who have been tested -- we have been able to save them from having HIV by putting the mothers on medication. And that has made a huge difference.
Bonnie Goldman: So there are drugs available to treat pregnant women.
Kwame Dawes: If a new mother tests positive in any of the medical facilities, she will get that treatment, yes.
And the child is treated right away. It's a sign of progress. The real progress there is that the drugs are available because there's always been the interest in care at that level. But nothing could be done about it before because of the cost of the drugs.
Bonnie Goldman: In terms of the women testing positive, what's the stigma like?
Kwame Dawes: All you have to do is imagine what would happen to you if you found out you have HIV/AIDS. It's going to change your life in many ways. But for women, the stigma clearly does not extend to the question of homophobia.
I think the culture is changing. Before you'd be even hard-pressed to have somebody treat you. Nurses and doctors would be anxious about treating someone with HIV. I've seen this here in South Carolina too. This is a huge problem. That has changed a great deal through education and through training.
But families can ostracize you if you have the disease. There's sometimes shame associated with the fact that you've contracted the disease. That is only changed by people who are living with the disease who can come up front and say, "I have the disease and I'm saying I have the disease without shame and without fear of saying that."
There have been a number of examples of such individuals. Rosie Stone, a Jamaican woman who was married to one of our great pollsters in Jamaica, a very famous man called Carl Stone who died of the disease. It was a secret when he died of the disease. She finally came out and said, "I have the disease," and she wrote a book about it.
That was really remarkable because here's a middle- to upper-class woman who has come out, and she's worked with young children and she said she has the disease. The realization that it can affect just anybody has made a great difference.
I think that kind of work is important, which is why I think the Live Hope Love Web site has been so important in putting the voices and faces of people with the disease out there to say anybody can be living with HIV. The questions are: How do you live with it? How do you prevent yourself from getting this disease if you don't have it?