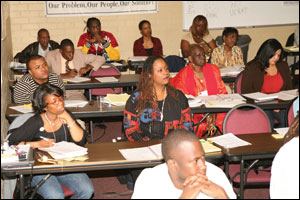 Leadership in the Black HIV/AIDS community is vital to the mobilization of Black people and institutions towards ending the devastating impact of HIV and AIDS. The African American HIV University (AAHU) Community Mobilization College (CMC) is an intensive program that builds organizational capacity and individual leadership skills to change the trajectory of this epidemic in Black communities. This is a historic and necessary mission.
By the end of the fellowship AAHU CMC, organizations and their Fellows will be stewards of a living, breathing mobilization campaign which they have visualized, cultivated, and shepherded. In addition, attendees will have the skill set and networks to do it all again.
Advertisement
Download your application today to be a part of the next cadre of leaders in the fight against AIDS in Black America.
Click here to learn more about AAHU CMC
Click here to download the 2010 application
Click here to download the application instructions
(Please note: Your name and comment will be public, and may even show up in
Internet search results. Be careful when providing personal information! Before
adding your comment, please
read TheBody.com's Comment Policy
.)