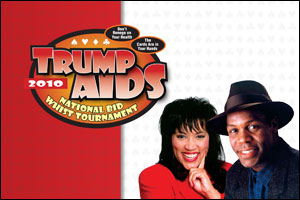 Martin Luther King Jr. weekend marks the kick-off of the Black AIDS Institute's National Trump AIDS Bid Whist Tournament in Atlanta, GA.
Trump AIDS provides a platform to mobilize Black communities and serves as a vehicle to raise funds and build awareness in the fight against HIV/AIDS. Participants are encouraged to get involved with ending the AIDS epidemic in the Black community while having fun and potentially winning guaranteed cash Tournament prizes.
There are several local qualifying tournaments to participate in from January 15 to the weekend of August 27, 2010. Click here for a complete list of cities hosting events.
Advertisement
The Tournament will culminate at the Trump AIDS nationals November 2010.
Click here for more detailed information and to register.
About Bid Whist
During slavery, plantation owners forbade slaves from learning to read and write for fear that written communications would lead to uprisings and revolts. However slave owners needed slaves to be able to count in order to keep better track of the cotton harvests. As a result slaves were allowed to play cards. Slaves put their own spin on the game and Bid Whist lives on today. The game as we know it today is the form of the game popularized by Black Pullman porters from 1867 until the 1920's.
Courtesy of the National Bid Whist Association.