This interview took place at the XVII International AIDS Conference (AIDS 2008) in Mexico City on Aug. 6, 2008. New information and recent updates from Marama Pala are provided in the form of editor's notes within the text.
Marama, welcome to TheBody.com. It's wonderful to speak with you today.
Thank you. Thank you for inviting me to speak to you.
Tell me a little bit about yourself. Where did you grow up?
I'm from New Zealand and I'm indigenous to New Zealand as a Maori. I come from a small place on the west coast of the North Island of New Zealand called Waikanae.
Can you describe the town where you grew up?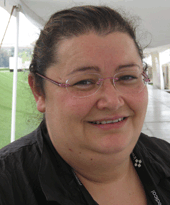 Marama Pala
About Marama
Home: Waikanae, New Zealand
Diagnosed: Oct. 1993
When indigenous New Zealander Marama Pala was diagnosed with HIV, she didn't have the option of telling her loved ones on her own terms. "Because we are such a tight-knit community … news of my diagnosis spread like wildfire," she explains. In this interview, Marama talks about being an HIV/AIDS activist in her indigenous community -- as well as finding love and having children with her husband, who's also HIV positive.
It's very small with lots of communities, Maori communities -- a very close-knit area, not very exposed to the world, or global issues, or things like that. We're by the ocean, so we live off the sea and the area around us.
When you say you live off the sea, are you referring to fishing and that kind of culture?
Yes, definitely. Getting shellfish and things like that. [laughs]
When were you diagnosed with HIV?
In 1993 -- I was 22 years old. We have what we call a marae, or our community gathering place. That's where we have our funerals and our ceremonies.
Right next door to that is a liquor-selling nightclub type of place that had a band on at the time. My family and I were all at the marae, and we went across to watch the live band. I met someone there. It was the first time I'd ever been picked up in a bar or had a one-night stand, so I was very young, very naive, and had no knowledge of HIV whatsoever.
He was traveling and leaving. He was from Africa, from Uganda, and he carried on traveling. I got a little bit sick a couple of weeks later and didn't think much of it. About six weeks later, it was in our local newspapers that he had been going around the country and had infected quite a few women with HIV. I thought, "I better go and get tested."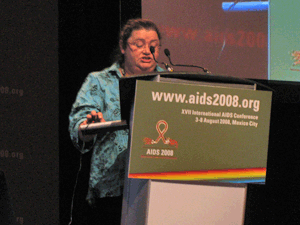 Marama giving a presentation at AIDS 2008.
I was absolutely terrified. I was very, very young -- just beginning life, really. The test came back positive.
What did you know about HIV at the time? Had you heard anything at all?
I actually thought the first cold or the first bacteria or anything nasty was going to kill me immediately. I didn't realize you could live with it or anything. That's how little knowledge I had. It was something that was spoken about in New Zealand as a gay man's disease, so I didn't know anything.
It seems that back in 1993 there wasn't even as much information as we have now.
There's still not much information in our country now because it's still considered very much a gay man's disease. The prevention and education that is funded by our government is actually targeting the so-called "at-risk" areas, but not our local communities or our indigenous people.
"There's sex education and safe sex demonstrations, but even then, as far as HIV's concerned, our kids are still being taught that they can catch it from a cup. So that's how far behind the rest of the world we are."
There's not much awareness among women that they might be at risk for HIV?
There's very little obvious HIV/AIDS awareness. There's sex education and safe sex demonstrations, but even then, as far as HIV's concerned, our kids are still being taught that they can catch it from a cup. So that's how far behind the rest of the world we are.
Are you out as HIV positive in your town, with the people you grew up with and the people you live with?
For us as a people, confidentiality is a huge issue. Because we are such a tight-knit community, we support each other very closely. My mother and another relation were there when I was diagnosed and I couldn't stop them from discussing my diagnosis with others, and therefore the news of my diagnosis spread like wildfire. Also because people saw the man in the newspaper and they knew that something had happened with me and him that night. So yes, it was really quick.
Everybody knew without you even having the opportunity to tell them?
We deliberately went to the eldest person in our family and told him directly. For us, within our culture, he was the most important person to tell first. And his reaction was a stunned reaction. But he saw that I was still part of the family and that I was still his niece, so that was a good reaction.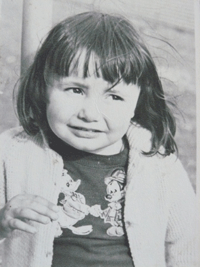 Marama as a little girl.
Over the years we've had lots of concerns about me handling cooking -- food and cutlery and setting tables. We've had to educate as we go, since not all the family knows that it's OK.
I've had a child since. At first I thought I'd never have children. Then I was able to have a child because of medication, but I was also educating my community that it's OK to have a baby while you're HIV positive. A lot of them thought I was irresponsible for having a child. Every time I lost a bit of weight or got a little bit sick, instantly they'd think that the funeral was going to be happening, so they'd start preparing for it.
In my community, there wasn't much knowledge at all other than what my family and I could say, in the limited way that we could say it.
Did you have any bad reactions from people?
Sometimes people would take their children away from me. That would hurt. I think, if anything, my mother suffered the most of the stigma and discrimination because a lot of people were too afraid to come to me.
I've had incidents with health professionals -- doctors, nurses and ambulance staff. They really overreact and put you into isolation and quarantine, and treat you like you're so severely contagious. Those sorts of things still happen today. If you're bleeding a little bit or anything like that, you still get this over-the-top reaction to treatment of being HIV positive.
"At first I thought I'd never have children. Then I was able to have a child because of medication, but I was also educating my community that it's OK to have a baby while you're HIV positive."
Our health professionals in New Zealand, out of their three years of training to be a nurse or eight years to be a doctor, they might get half a day on HIV. With our organization, we're trying to get in there to give them from a firsthand perspective of what it's like to live with HIV, and how we feel when they put three pairs of gloves on and things like that.
That's a good place to switch gears and talk about the HIV/AIDS work that you do now. You work with an organization, am I right?
Yes, me and my husband -- my husband is HIV positive as well. He's a Pacific Islander living in New Zealand. We've started an indigenous Maori and South Pacific HIV/AIDS foundation. We take a cultural approach to prevention and support.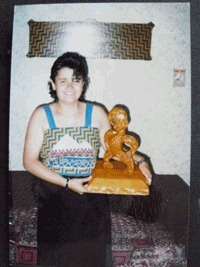 Marama as a 16-year-old student at Opunake High School.
When you say "cultural approach," what do you mean? What sorts of activities does your organization do? What's the name of the organization?
We're called INA Foundation. The types of things that we do, as far as prevention education: In each culture there are different ways of actually relaying education. We specialize in including our elders -- they're trained to give HIV education.
We go into our communities and we do our protocols and our rituals before we even get to the topic of HIV. We discuss HIV from a personal perspective. We talk about our lives. We train and encourage other HIV-positive Maori and Pacific Island people to come forth and do it in their language.
We're finding that, if you have someone that's of your culture, of your language, standing in front of you telling you that HIV is a reality, that this can happen to you, the impact is far stronger than giving a very Victorian way of teaching the message: "You sit down there" and "I'll draw on a blackboard."
We do teach at all different levels: with my daughter, sitting around a table having a coffee, or we could do it in a room full of people. We're very flexible.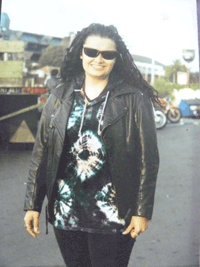 Marama at the Auckland Motorcycle Show in New Zealand on Oct. 20, 1993, one day after her HIV diagnosis.
You spoke a lot about different rituals in your culture and other related cultures that you're working with. Are HIV-positive people excluded from any rituals, or do they ever encounter discrimination related to any of the rituals?
It's an interesting topic because once you've disclosed that you're HIV positive, you can then go to the next level of saying that it won't affect those rituals. We've actually had a really good response from our people when we do things from our ritual, traditional point of view. It could be traditional medicine. It could be just the way that we deal with spirituality and our families.
So no, people haven't been excluded, because we're being open and honest about it. We're finding that once the people that don't know anything about HIV have a little bit more understanding, they've been really open and welcoming.
What's the biggest challenge that you face in your work?
The biggest challenge currently is getting our voice out, getting the Maori, or the indigenous people of our country, recognized. In a lot of situations, because we're a colonized country, we end up being tagged on the end of someone else's services. There are definitely a lot of other really well-resourced, well-funded services and they'll just add us on as an extra. Our challenge now is to go back and keep fighting to become our own core, whole organization and stand on our own two feet.
You have a husband and he's HIV positive and your baby is HIV negative. Can you talk a little bit about the process of first meeting your husband and having your baby, and what you went through to do that?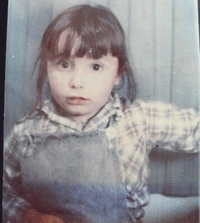 Marama at age 3.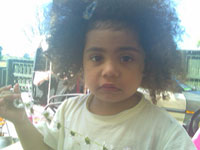 Marama's 3-year-old daughter, Maiinga.
I met him at a
Pacific Island AIDS Foundation
training for AIDS ambassadors -- he's a public AIDS ambassador. He lost his wife and his first two children to AIDS. He's only quite young -- he was 35 when I met him.
I'd been told by my doctors I could have a baby and I was really, really wanting to have a baby. We discussed it. We went to a doctor and discussed the complications around it and found that because we were on the same medication, we couldn't infect each other because the medication was going to knock off whatever virus would infect each other, so we could actually have a child naturally. And we did. [laughs]
[Editor's note: You can read more about having babies when you're HIV positive -- and the possible risk of superinfection when both partners are HIV positive -- on TheBody.com.]
When she was born, she came early and we had to have a Caesarean section, but we were told we could have had natural birth. She was born and went on medication for six weeks. She's been regularly tested and she's come back negative. So it's a second chance for him and a second chance for me.
Were you on medication while you were pregnant as well?
Yes, yes. I've been on medication since 2000. That was another reason why they said I could go ahead and have a baby, that there was less than 1 percent chance that the baby would be born HIV positive.
What meds were you on? Do you remember?
I've been on the cocktail of nevirapine [Viramune] with AZT [Retrovir, zidovudine] and 3TC [Epivir, lamivudine]. My husband is on the same so that makes it easier for us.
Are there a lot of other medications available in your part of the country?
We're slowly getting them. In the beginning, we only had the protease inhibitors and that was making a lot of people sick. I think we have about eight regimes now, but I know some countries have 20 or more. With the eight regimes we've got now, we're doing well.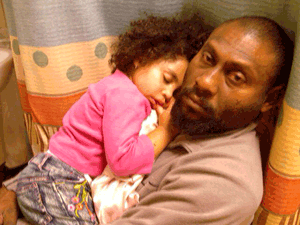 Marama's husband, Tony, with Maiinga.
There are some that have gone through all of them. We support them as well. We just keep on lobbying and hoping that our government will allow or subsidize more. My husband actually gets his medications sent from Papua New Guinea because his residency hasn't been sorted yet, but he's doing well.
Is it easier to get medications from there in general or is it just because he's a resident there?
Yes, once he gets residency, he'll be able to get them from home. [laughs]
How old is your daughter?
She turned three in October.
What's her name?
Her name is Maiinga.
That's beautiful.
Yes, we kind of made the name up for the people that introduced us and made it happen.
She's named, in a sense, for them?
Yes, because they're the ones that got us to the training where we met each other, and our relationship bloomed from there.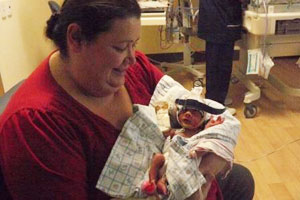 Marama with her son, Kepas, when he was only 5 days old.
[Editor's note: Since the interview, Marama gave birth to another baby. Her son, Kepas, was born on Sept. 22, 2009. Kepas is also HIV negative.]
With all of the care that you do for other people and all of the work that you do in the interest of improving other people's lives, how do you take care of yourself?
First, I take my own traditional medicines alongside my Western medicine. I've had counseling on and off since I've been infected, which has been a huge part of helping me get where I am. And I also have a strong network of positive people that I keep contact with. And my family -- my family are huge support. If it wasn't for them, I wouldn't be able to do anything.
Your family is your parents, and do you have brothers and sisters also? Grandparents?
Yes, yes. Many cousins and aunts and uncles, but my mother lives with us. She helps with looking after my child. That helps me to do the work that has to be done. That's the biggest support, that a stranger's not bringing my child up.
That's a good place to close. Thank you so much. It was wonderful speaking with you.
Thank you for letting me speak!
This transcript has been lightly edited for clarity.
To connect with Marama, click here.