Cleared for Takeoff: What Ending the HIV Travel Ban Means for Black Americans
January 4, 2010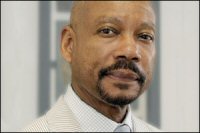 In October 2009 the Obama administration announced its decision to end the ban prohibiting HIV-positive people from traveling and immigrating to the United States. The highly celebrated change took effect January 4. We asked Frank J. Oldham Jr., president and chief executive officer of the National Association of People With AIDS (NAPWA), for his thoughts on how this important policy change might affect Black America's fight against AIDS.
Why was ending this ban so important?
A civil rights issue has been addressed for minorities, gay people and women of all colors with HIV. It's long overdue. It was a completely backward policy.
View Full Article
---

Visit
Black AIDS Institute's website
to find out more about their activities and publications.
---
Comment by: Alan
(Manchester England) Thu., Jan. 14, 2010 at 8:29 pm UTC
I can't understand why this article on the lifting on the travel ban is aimed at african americans. Im a Europeon Caucasian and this ban has stopped me entering the USA for many years as many others of different races. Secondly i don't understand this statement below at all, anyone no matter of race holding a passport with US citizenship cannot be denied entry back into the USA if they HIV or not. They are citizens of the USA and have free passage to enter!
"The ban said that HIV is so horrible that if you [have HIV and] have family in other countries -- whether it's Trinidad, Jamaica or a country in Africa -- and you left this country, you could [have trouble] getting back in."
Add Your Comment:
(Please note: Your name and comment will be public, and may even show up in
Internet search results. Be careful when providing personal information! Before
adding your comment, please
read TheBody.com's Comment Policy
.)