Pozitively Healthy: A Gay Man's Guide to Sex and Health in Canada
2009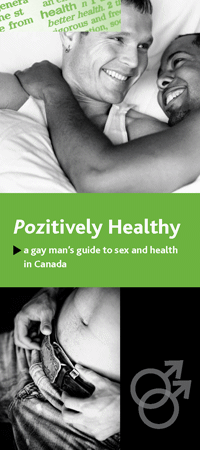 This Guide Is for You
This guide was developed and written by gay men living with HIV in Ontario. We wrote it for gay men living with HIV whether you are a long-term survivor or have been diagnosed with HIV more recently. We talked with many gay men living with HIV, including guys from diverse ethnoracial communities, urban and rural guys, working guys and guys on disability assistance and young and older guys. Unfortunately we were not able to speak with gay or queer transmen living with HIV, even though these guys are part of the gay community.
This guide was developed and written by gay men living with HIV.
This guide is also for you if you are:
Bisexual or a gay or queer transman.
A guy who has sex with men but doesn't think of himself as gay, bisexual or trans.
HIV negative or don't know your HIV status.
We hope this guide 'speaks' to all of you.
Your Sexual Health "Top 10"
Your life didn't stop when you were diagnosed with HIV. Your sex life doesn't have to stop either.
Your life didn't stop when you were diagnosed with HIV. Your sex life doesn't have to stop either.
Your sexual health is an important part of your health, so it may make sense for you to talk about your sex life with your doctor or the other people that help you take care of your health.
All gay guys -- HIV positive, HIV negative and guys who don't know their HIV status -- can help prevent new HIV infections.
You can pass HIV on to other guys through unprotected sex, especially fucking without condoms, whether you are the top or bottom.
You can pass HIV on through unprotected sex even if your viral load is undetectable.
Unfortunately, the criminal law can get involved in your sex life. If you are going to have sex with a guy and it will put him at a significant risk of being infected with HIV, you have a legal duty under the criminal law to tell him about your HIV status before sex.
If you are sexually active get tested for sexually transmitted infections (STIs) on a regular basis. STIs can lead to more serious health problems if you do not treat them.
You might decide to have sex with other HIV positive guys to stop new HIV infections and so you can fuck without condoms. But there are still health issues you may want to think about, like STIs and the possibility that you could be re-infected with a different strain of HIV.
You might have challenges with your sex drive and sexual performance. Getting older, HIV, medications, party drugs and emotions can affect your sex drive and sexual performance. But you can do things to overcome these challenges.
To be sexually healthy you will probably need to take care of your body, your mind and your emotions. It is important for gay men, including gay men living with HIV, to have the information we need to make informed decisions about our sexual health.
---

This article was provided by
Canadian AIDS Treatment Information Exchange
. Visit
CATIE's Web site
to find out more about their activities, publications and services.
---
Comment by: Walker
(Australia) Wed., Dec. 21, 2011 at 2:35 am UTC
Hi look i came across to your page as a suprise to me that HIV can affect your sex performance for everywhere i go to my GP or calling the HIV hotline they are telling me the oppisite, i am a 27 year old female and have been with my husband for 5 years and only found out he had HIV which he knew about but did not tell me. I have noticed that my husbands sexual performance was changing, he was getting erections but as soon as he will insert his penis it would go down, before we use to have sex for hours but now he only last's 10 minutes, his medication is Atripla and his viral load is low but i have noticed that he sleeps alot and he eats less but when he does eat he never puts on weight (his really skinny), his got red blood shot eyes and his sexual performance has changed where he does get a erection but does not last long, would you know what this is caused from?
Comment by: Trevor
(RSA) Fri., Jan. 15, 2010 at 1:25 am UTC
This guide is excellent in my view! It is informative,frank,clear and to the point. Many of these issues are the same everyone in this position has to work through. Had I known of the resources provided on this site and in particular this guide, it may have saved me so much time, mental anguish and pain. I am however still a proponent that if you can persuade yourself to use condoms at all times it is really worthwhile for you and anyone you have sex with.
HIV replicates astronomically quickly if even slightly out of control and so mutations that are ARV resistant are very likely.
According to Prof Racaniello, virology@virology.ws: "because over 1016 HIV genomes are produced daily, thousands of potentially resistant viral mutants arise for any combination of ARVs. The HIV-1 genome can exist as (10 with 6020 zeros) different sequences. In perspective: there are (10 with only 11 zeros) stars in the Milky Way."
So in order to ensure effective control of viral activity and future effectiveness of ARV's for persons that may still be infected it is essential to keep one's own virus strains quarantined as far as possible and not to allow even remote re- or co- infection to be possible. For this reason I believe condoms and other safe sex practices are also not negotiable.
Add Your Comment:
(Please note: Your name and comment will be public, and may even show up in
Internet search results. Be careful when providing personal information! Before
adding your comment, please
read TheBody.com's Comment Policy
.)