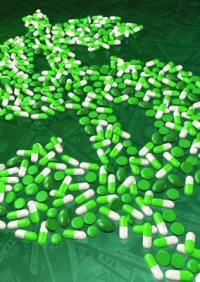 President Obama has vowed to bring major health care reform to the U.S. Not since President Clinton's administration has such a major overhaul been attempted. That failure halted any other attempts to date.
There are an estimated 39 to 41 million Americans currently without health insurance, including one-third of all Hispanic-Americans, 19% of all African-Americans, and 10% of white Americans. Millions more are underinsured. In addition, U.S. health care expenses are more than double those of other industrialized nations.
Yet despite this higher cost, we have little to show. The U.S. scores low on a variety of health indicators, such as infant mortality, immunization, and life expectancy. And we spend 31 cents of every health care dollar on administrative costs. This staggering overhead is due in large part to the paperwork involved with billing the numerous private insurers.
Advertisement
After the economy, health care is poised to be the top issue of the Obama administration. The Obama-Biden plan will build on existing health care systems and promote the following tenets:
Require insurance companies to cover pre-existing conditions
Create a Small Business Health Tax Credit to help businesses cover their employees
Prevent insurers from overcharging doctors for malpractice insurance
Establish a National Health Insurance Exchange to allow individuals and small businesses to buy affordable private health insurance
Ensure everyone who needs a tax credit for their premiums will receive one
Lower drug costs
Reduce the costs of catastrophic illnesses for employers
End anti-competitive activity that drives up prices without improving care
Another popular reform plan is known as "single-payer." A single-payer system would create a National Health Insurance (NHI) system. According to Physicians for a National Health Program, single-payer is "a system in which a single public or quasi-public agency organizes health financing, but delivery of care remains largely private." Single-payer would eliminate private insurers and be financed by ending administrative waste -- estimated at $350 billion each year. Single-payer is guided by five principles:
Access to health care is a human right.
Health insurance should not be tied to employment.
Patients should have free choice of providers.
The "free market" and profiteering have no place in health care.
Decisions in health policy and budgeting should be made by the public.
Advocates argue that single-payer would ensure universal coverage. In particular the true-out-of-pocket (TrOOP) costs of health care would drop. Currently, most people in the U.S. must pay a deductible or co-payment to obtain care. But even a nominal payment of $10 is a real barrier for many. Failure to obtain preventive care in order to avoid TrOOP expenses affects the overall health of patients, and raises costs when they must get care later in their illness.
Reform could also have a major impact on HIV care. Many people with AIDS need long-term care, and most prefer to receive it at home or in a community-based setting, avoiding lengthy hospital stays. NHI would increase this option and provide services for friends and family acting as caregivers (an estimated 7 million people). NHI could also significantly lower drug costs by negotiating with drug companies and purchasing in bulk. The freedom of choosing a provider would mean that people with HIV would no longer be forced into health care networks that may not fit their needs.
One version of single-payer, the National Health Insurance Act (H.R. 676), has been introduced in Congress every year since 2003, and currently has 69 cosponsors in the House of Representatives. The principles outlined in the Obama-Biden plan and the single-payer plan would be advantageous for many people with HIV. We are pleased that Jeffrey Crowley, newly appointed Director of the Office of National AIDS Policy, has strong expertise in Medicaid, Medicare, and health policy. We must ensure that, whichever approach is eventually adopted, the health and well-being of people with HIV is protected.
Want to read more articles in the Spring 2009 issue of Achieve? Click here.