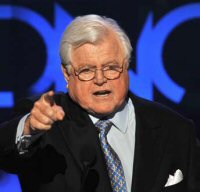 After decades of leadership in American politics, Senator Ted Kennedy succumbed to brain cancer in September of 2009. Throughout his career, Senator Kennedy demonstrated a passion, ability, and dedication to utilizing his privileged position on behalf of the underdogs of the American political system. He worked since the 1960s to build the foundation for health care reform, was at the forefront of civil rights and fair housing advances, stood side by side with immigrant rights groups, created cornerstone HIV legislation at the height of AIDS hysteria, and supported expanding LGBT rights. His staunch progressive leadership earned him the title "Lion of the Senate," while his ability to work across the aisle is evidenced by his legislative accomplishments. He will be remembered as a consistent ally to many.
Since he was elected to the Senate in 1962, Kennedy took on the tough, meaningful issues that shaped the country we live in today. In advocating for the 1964 Civil Rights act, he said, "We should use our powers not to create conditions of oppression that lead to violence, but conditions of freedom that lead to peace." He worked to abolish poll taxes in 1964, to pass the Voting Rights Act of 1965, and to enact the Fair Housing laws in 1968. He took the lead on eliminating racist and anti-Semitic immigration quotas, a victory realized in the 1965 Harts-Sellers Immigration Act. In his work on health care, he recognized the geographic and economic barriers to crucial services. In 1966 he championed community health centers in low-income neighborhoods, and he has fought for comprehensive national health insurance since 1969. As an advocate for women's equal access to education and employment, he worked to make Title IX of the 1972 Civil Rights Act a reality.
In the arena of health care policy, which he called the "cause of my life," he connected the personal to the political, and authored foundational legislation. He recognized that the health plan available to members of Congress protected him and his colleagues from the tough decisions often forced on the middle class and from the lack of access faced by the poor and working class. In Senate committee hearings, he shared the struggles of those with whom he sat in hospital waiting rooms, and brought the funeral processions of people who died from AIDS to the Senate floor. He spoke on behalf of those who had no voice in the Senate.
Advertisement
In 1987, when he became chair of the Health committee, the AIDS crisis was in full force, accompanied by a federal policy of deliberate neglect. Senator Kennedy used his position to secure much needed, though belated, funding for the AIDS epidemic. He introduced legislation that in 1990 became the Ryan White CARE Act, the federal program that provides access to the lifesaving care needed by people with HIV and AIDS. In addition, he fought against the barrage of anti-gay amendments promoted by former Senator Jesse Helms, who epitomized the homophobic political climate of the time.
Senator Kennedy sided with smart immigration policy and supported alternatives to the HIV travel ban. Instituted in 1987, the ban promoted unsound public health policy and discriminated against HIV-positive people attempting to immigrate or even visit the U.S. In response to attempts to strengthen the ban, Kennedy noted that these "unfair" policies stemmed from "a past where people feared HIV as a contagious disease." We know he would be proud that the ban will finally be lifted on January 1, 2010.
Senator Kennedy's leadership did not waver over time. His more recent achievements in the area of health care included safeguards for the unemployed, women, people of color, children, and people with special needs. He ensured that NIH grants included women and racial minorities in all new medical testing and development, thanks to a bill passed in 1993 and reauthorized a decade later. He succeeded in expanding his 1985 COBRA legislation (a law ensuring temporary health insurance extensions when people lose their jobs), to even more people in 1995. The passage of the State Child Health Insurance Program (SCHIP) in 1997, and its reauthorization in 2007, brought medical care to poor children across the country. Senator Kennedy also labored to expand Medicaid coverage to include people with special needs.
Senator Kennedy was a staunch defender of civil rights, and sought to expand them to include LGBT equality and protection from hate crimes. He was a strong supporter of marriage equality, opposing "civil laws to deny any American the basic right to be part of a family." He worked on the recently passed Matthew Sheppard Hate Crimes Bill, as well as the Employment Non-Discrimination Act, which would provide critical protections to LGBT Americans.
Ted Kennedy leaves a legacy of working for racial justice, workers and immigrants' rights, civil liberties, and health care access. His leadership and courage will be missed, and his legacy must be carried on by our political leaders. This is a moment of opportunity to honor his memory by securing the progressive priorities -- such as providing health care to all Americans -- that he kept at the forefront of American politics for decades.
Want to read more articles in the Fall 2009 issue of Achieve? Click here.