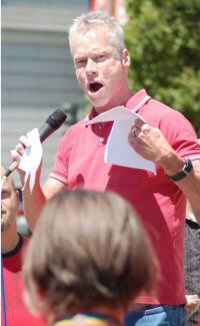 I have fond memories of my July birthdays as a kid. Those hot Texas summer days were spent leisurely in my grandparents' backyard making homemade ice cream beside the plum tree weighted down with fruit. Now that I have become officially a "senior," I look back on those times with a mixture of sadness and longing. My time has passed so quickly it is hard to believe that I have had AIDS half of my life.
On turning 50 I was perplexed about exactly how I was supposed to feel. I struggled with the feelings that I am very lucky and privileged to have survived AIDS twenty years, but in reality I still just felt ... old.
This time of my life has been thought-provoking yet confusing. Aging has sort of snuck up on me. It has been hard to accept growing older while living with HIV in our judgmental and antagonistic society. As an older person with HIV, I face the unknowns of a longer life with a virus that, despite successful treatment, continues to smolder within an aging body and immune system. There is really no precedent for the situation that many people, like myself, find themselves in. Yet, as the clock ticks on, I remain committed to my own fight against AIDS.
Advertisement
My background in activism started in early adulthood when I wanted to speak out against social injustice. In the early eighties, when I had barely come out, I joined the gay liberation movement. One of my first protests was against the anti-sodomy laws. I remember massive protests in Greenwich Village following the U.S. Supreme Court's 1986 upholding of these laws in
Bowers v. Hardwick
. We marched through those muggy city streets blocking traffic on each avenue as we marched east across the city.
Gay coming-of-age coincided with my youth. Gay men partied and played before there was the PNP of today (PNP means party and play -- code in personal ads for using crystal methamphetamines). Bathhouses were a new revelation. We celebrated our post-Stonewall freedom with guiltless abandonment. Clinic visits for venereal diseases -- as we called them then -- were common. We took the shots or pills and were back in the mix as soon as the drip was gone.
Then the mirrored disco ball came crashing down. Before we knew it, the horror of AIDS hit us, many in the prime of our lives. There is no way to describe the horror of those times adequately, and all I can offer is my own perspective.
Having lived in New York City and Los Angeles in the late seventies, I was immediately aware of my own risk of contracting what was then called "the gay cancer." I moved to Dallas in 1981, and I remember Larry Kramer's first commentary on the growing numbers of this new rare illness striking gay men in major U.S. cities. A few of us mobilized by drawing chalk outlines on the city hall plaza to symbolize those who had died or would die, and staked white crosses in vacant lots in Oak Lawn, Dallas's gay neighborhood.
We were literally shaken to the core with sickness and death after the abandoned celebrations of sexual liberation and self-indulgence in the '70s. This was a complete shock to our collective being; one that I realize is hard for younger generations to comprehend. Our strategy quickly became learning how not to get infected, and how to find out anonymously if we were.
My own diagnosis was a surprise despite all the fear in the community. I drove home all the way home from the only anonymous test site in Oklahoma City in tears because of my deep denial. I assumed I would be negative but know now that gay men should anticipate a positive diagnosis and not assume otherwise.
We taught ourselves about clinical trials and drug development in order to fight for treatment, as we would wait nearly a decade and a half before the emergence of the effective HIV drugs we have today. People were trying anything they could get their hands on, even smuggling unproven, yet hopeful, drugs from Japan, Europe, and Mexico.
We are fortunate to be alive, especially when so many of us were unprepared to reach 40, let alone 50 or 60. Those of us who have gotten here wonder where all the time went.
Tragically, so many are gone now. Yet some have survived and are thriving as we face the unexpected phenomenon of aging with HIV. We are fortunate to be alive, especially when so many of us were unprepared to reach 40, let alone 50 or 60. Those of us who have gotten here wonder where all the time went. Most likely it passed us by while we were fighting to save our friends' lives and worrying about our own survival.
Some in our community have simply lost perspective as the time has flown by, past the ACT UP protests, combination HIV therapy, and the "hit early, hit hard" era. We dealt with the scary body shape changes thought to be caused exclusively by protease inhibitors and partied through the crystal meth maze -- losing even more friends and sometimes our livelihood. Then all of a sudden we realized that we had actually survived!
Many of us have regained our health, living on a strict schedule of popping HIV meds and seemingly constant blood draws. Others are less fortunate, often due to socioeconomic factors that limit or deny access to HIV health care delivery and severely curtail the quality of care.
Now we live, only to be stigmatized by our age. There is constant bombardment of cruelty against the aging population, HIV positive or not. Add an incurable, persistent virus to all the other layers of discrimination, and you have stigma on an overwhelming scale.
Gay hook-up sites are rife with the use of blatant language to separate us such as "18-45 ONLY," or "disease-free." Sadly, even HIV-positive men discriminate based on age.
Older HIV-positive gay men face further and increased stigmatization within the gay culture where youth, good looks, and a perfect body are valued more than being whole. Gay hook-up sites are rife with the use of blatant language to separate us such as "
18-45 ONLY
," or "
disease-free
." Sadly, even HIV-positive men discriminate based on age. I have witnessed guys with lipodystrophy treated as freaks by younger poz men. It is sad. As a former dancer I watch as my misshaped belly grows as I age and remember the days I was younger, agile, and was probably joking about older "trolls." It's a vicious circle, I admit, and maybe our survival may teach us some humility.
This stigma can only create further isolation and loneliness, leading to depression and substance abuse. We have to speak out and tell our community that this behavior by our own is offensive and should not be tolerated.
AIDS activism has led directly to the creation of entitlement programs to support our community. Many individuals depend on these programs to improve their quality of life or to have a safety net against further loss. And as we age with HIV, many more of us will need support. Also, thanks to the success of HIV treatment, some of us are able to participate in a range of social activities. Aging HIV-positive men must make sure to take care of themselves and engage with social networks. Being isolated and immobile creates loneliness and can have a negative impact on mental health. Being active and engaged after all the years of sickness and death will help us support each other through the many healing processes. We must build strong communities and develop the resources to ease many of the problems aging HIV-positive people now face.
Although we do not know all of the medical and social implications of aging and HIV, we must be as positive about the future as possible. We must work, collectively and individually, to change the status quo despite the unknown challenges. There is much hope for people living with HIV as we reach the third decade of the epidemic. Management of chronic HIV will become better understood as information continues to accumulate. HIV meds are becoming easier to take and more tolerable. There is ongoing "functional cure" research that offers the promise of enabling people with HIV to control their virus without the need for daily meds.
There is no question that by working together we can create solutions and break down the barriers that older people with HIV face. We can mobilize and demand the future we envision. That is what we did from the beginning of our movement, and we bring that dedication with us into a new age.
Want to read more articles in the Fall 2009 issue of Achieve? Click here.