Introduction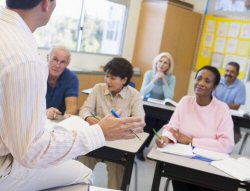 Myths die hard. Up until a few years ago, the idea that older people were at risk for HIV, or that younger people with HIV were living long enough to become older people, was generally dismissed or ignored. Even among service providers and medical professionals, the thought of grandma having an active sex life or doing drugs was uncomfortable. AIDS organizations clung to the youth-focused approach developed in the early days of the epidemic, even as some of their clients approached Social Security age.
Only recently, notably with the 2006 release of ACRIA's landmark Research on Older Adults with HIV (ROAH) study, has the issue of HIV and aging begun to receive serious attention. In New York City, with the support of the MAC AIDS Fund and the New York City Council, and working with a consortium that includes the Council on Senior Centers and Services, Gay Men's Health Crisis, GRIOT Circle, Services and Advocacy for GLBT Elders, the Hispanic AIDS Forum, and Una Sola Voz, ACRIA has provided training to HIV service providers, aging service providers, and faith-based organizations across the city and helped to build bridges between the organizations. Sessions ranged from two-hour trainings on HIV basics to comprehensive four-day trainings, technical assistance, and capacity-building.
Our efforts went national in 2008, again with MAC support for intensive technical assistance and capacity building assistance packages for aging and HIV service providers in Miami and New Orleans. In 2009, MAC supported similar efforts in San Francisco and Washington, D.C., and also brought together a national policy meeting of ACRIA, SAGE, GMHC, and GRIOT Circle.
Since 2007, ACRIA and its partners have conducted more than 450 trainings for over 5,000 HIV and aging service providers throughout New York City. In addition, we are conducting an ongoing prevention program called Community PROMISE that works directly with seniors. So far, over 60 seniors have created narratives to bring the prevention message to their peers. On the national level, we have provided training and technical assistance to over 80 HIV, aging, and faith-based organizations, sowing the seeds for a national network of providers interested in open and honest dialogue regarding sexual activity and drug use among adults over 50. Here's some of what we've learned.
Starting the Conversation
The first hurdle was that many aging service organizations were not ready to have any conversation about HIV. At the same time, many HIV service providers told us their caseloads were graying and that they had newly diagnosed clients who were over 50. Most reported having never seen any prevention messages for older adults.
It's easy to assume that HIV service providers know the basics of HIV, but we have found that that isn't necessarily the case. So we've learned to stack our building blocks carefully. We ask participants to rate their knowledge of HIV on a scale of 1-10. HIV service providers often respond with a resounding 9 or 10, and the senior service providers generally between 3 and 5. But during an exercise on HIV transmission, it often becomes clear that this topic is needed for both groups -- it gives the aging services providers a starting point, and for those who know more, it's often a wake-up call that there are grey areas when it comes to their knowledge.
Initially, there was a lot of resistance: "I can't talk to my grandma about sex!" or "Old people don't have sex or do drugs." We had to convince some providers that sexual desire and activity es not disappear with age. And most importantly, there is a serious HIV knowledge gap among many seniors.
At one of the first trainings, at a health center in the Bronx, the level of HIV knowledge was low and the stigma around older adults having sex high. The staff laughed about it, but also seemed bothered by the fact that their residents were having sex. They reported that on "check day" young girls would come to the center. Their dismissive attitude toward the residents' sex lives interfered with the learning process.
At one large city agency that provides financial assistance to people with HIV, a trainer was told he was being disrespectful and offensive because the audience was a mix of men and women. The staff felt that mentioning vaginal secretions and semen was not acceptable in mixed company, that talking about safe sex was not in their job descriptions, and that talking to a senior about sex would be inappropriate. At a senior center in Queens, one staff member was unable to use the words "vagina" and "penis." She used pet names instead, which made everyone uncomfortable.
Sometimes it was the clients who weren't interested in hearing about the topic. One workshop was scheduled in place of bingo, which did not sit well with some of the seniors. After the training began, one angry participant announced that they all wanted the trainer to leave because the topic was unimportant and irrelevant, and what they really wanted was to play bingo!
But we also heard stories from senior service providers about clients that they knew were at risk. For example, one director shared the story of an older man at her center. He frequently paid for a prostitute, while still having sex with his wife. And he didn't use condoms with either. Another director shared her experience on check days. "I often see a mattress outside the building when I know that they've gotten their checks." Service providers also mentioned noticing used condoms around staircases in senior residential facilities, and many senior center directors reported being certain that their seniors were sexually active.
"Aha!" Moments
Sometimes participants shared very personal experiences. These most often related to the stigmas of age and HIV. At the end of one training, a woman said, "I have a new boyfriend. I'm 68 and he's 72. He's very nice to me and I am thinking about being intimate with him. I never thought safer sex was important, but after today I know that it is. But I don't know how to start the condom conversation with him." She looked at the rest of the women and asked, "What would you do?" Another woman stood up and addressed all of us. "This has been so helpful to me," she said. "My niece recently told the family that she was HIV positive. I have to admit that I've been very nervous around her since then. Now I know that I can't get HIV from her just by hugging her, eating with her, or talking with her. I am so happy that I got this information."
Other "Aha!" moments had to do with how you can and can't get HIV. The most notable moments came as we dispelled common myths about HIV, answering questions like "Can both men and women get it?" and "Can men get HIV from women?" The most common misconception was that you can get HIV from using a public restroom.
One of the funniest moments came at a peer training, when one woman in her late 70s commented on her sex life by saying, "I may be old, but I ain't cold!" We found this to be a compelling statement, showing that many seniors want to discuss these issues but have not been given the opportunity.
One woman in her 60s said very somberly, "I think the best thing for us to do is to abstain." Another woman, about the same age, turned to her and said "No, you abstain!"
At a nursing home in Queens, one woman in her 60s said very somberly, "I think the best thing for us to do is to abstain." Another woman, about the same age, turned to her and said "No,
you
abstain!"
At a workshop at the LGBT center in Manhattan, groups were formed by age. The over-70 group was the most vocal and was clearly enjoying the topic of sex and seniors. When each group reported back on their discussions, the spokesperson for this particular group stood up and said, "There's no expiration date on sex ... sex ends when you die!" The group cheered.
One activity, "Forced Choices," asked participants to agree or disagree anonymously with short statements like "70-somethings are sexy" or "older adults should encourage their HIV-positive children to have babies." Participants then exchanged papers and were asked to defend each other's responses, whether they agreed with them or not.
More than a few providers found it difficult to detach themselves from their opinions and beliefs -- for example, that older adults don't have sex or abuse drugs -- but some were able to acknowledge how these beliefs may negatively affect the services they provide. The "How to Talk to Seniors about Sex" section gave participants the opportunity to define healthy sexuality along a broad spectrum of age groups, often coming to the conclusion that age is not an indicator of a person's sexual desire or practices.
Overall, senior service providers in New York City have been fairly open to this issue, but some resistance does exist, most often due to cultural and religious reasons coupled with ageism. At some senior service providers, the subject of HIV and aging is initially greeted with shock, and sometimes avoidance and discomfort. But in others, directors have become very committed to the issue, scheduling sexuality education sessions and making condoms available at their centers. One director got tested for HIV in front of all the seniors, to make them more comfortable with the process and to encourage them to get tested.
When we've asked senior centers to host trainings, resistance hasn't been solely about discomfort -- often it is a logistical issue relating to a lack of space at the center. Many senior centers are small and don't have a lot of extra space that can be used for the extended period of time that is required for some trainings. Another issue is that senior centers may share space with other organizations, which can cause logistical problems in setting up trainings.
Different Orgs, Different Approaches
Aging service organizations generally have fewer staff members than HIV services organizations. This became an issue when we tried to do full-day trainings at senior centers -- most were not able to allow staff members to attend multiple-day trainings. As a result, we had to tailor the trainings and make them shorter. Sometimes senior centers would allow for multiple-day trainings as long as each did not last not longer than two hours.
We also had to take the time to learn each other's language. HIV providers, for example, often use jargon and acronyms without considering that workers in the other field may not be familiar with them. Those working with seniors may assume that HIV providers have a greater knowledge of the ailments of aging than they actually do. Another significant difference is that in aging services, older adults are often defined as those 60 and older. In HIV services, an older adult is defined as a person who is over 50.
Aging service organizations tended to be more culturally conservative with regard to discussions about sex and HIV, although this was not always the case -- some did welcome the conversation. When they talked about health, it meant diet and nutrition, exercise, and preventing diabetes and hypertension, etc. -- not HIV. Overall, it was more often the providers who were not ready to discuss sex and HIV transmission rather than the seniors themselves.
Highs and Lows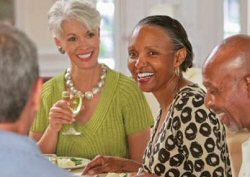 In the past three years, we've been able to create a strong group of trainers throughout New York City and to begin dispelling common myths about HIV transmission among aging services providers. Most importantly, we've created a national network of providers interested in increasing HIV health literacy and prevention among older adults.
Some service providers came into trainings saying things like "I don't buy bottled water on the street because I'm afraid that people inject HIV into the bottles before selling them" -- revealing a great fear of HIV as well as a lack of knowledge about how HIV is transmitted. We have been able to have frank discussions about these concerns, which we hope will translate into better services to clients.
We found a real fear of HIV among some seniors, and some were unwilling to change their beliefs regarding HIV transmission. One woman claimed she had been a nurse for many years and used that experience to try to convince the group that they should be concerned about getting HIV from a toilet seat.
What Have We Learned?
Most older adult agencies do not provide adequate HIV services to the high-risk 50- to 65-year-old group, and many serve only clients who are over 60.
Participants identified a need for more targeted prevention messages.
Agencies that provide services to older adults are not convinced that those with HIV should use their services.
Aging services organizations are largely unaware of the aging HIV population.
Significant cultural differences between HIV and aging services organizations create barriers to needed collaboration.
HIV stigma is significant among staff and clients at senior centers.
What Works?
Targeting older adults service providers
Partnerships between HIV service organizations and agencies serving older adults
Encouraging networking between HIV service providers and older adult agencies, locally and nationally
Increasing knowledge, changing attitudes and beliefs, and monitoring this with evaluation tools
Addressing HIV stigma and ageism as two separate but related issues
Mainstreaming HIV services into older adult services
Recommendations
Provide the material in "bite-size" morsels that make it easy to digest. Busy senior service providers have to cover many aging issues, not just HIV.
Give service providers activities and materials they can use with their clients directly.
Start with the basics -- it's astounding how many myths are still out there, even among people who have worked in HIV.
Don't be crude -- when working with people who are not in the HIV field, be sure to use language that they're comfortable with. They may not use "street" terms and may not respond to graphic descriptions of sexual acts.
HIV service organizations must collaborate with aging service organizations and be willing to engage in open dialogue about the issues and ways to integrate services.
Continue integration through creative methods, particularly in conservative senior centers that may not be open to candid dialogue about drug use, sexuality, and HIV. This is one of the most important factors in successfully running these types of programs.
The authors are trainers and consultants for ACRIA. Karol Markosky is HIV/AIDS Education Coordinator for CSCS.
Want to read more articles in the Fall 2009 issue of Achieve? Click here.