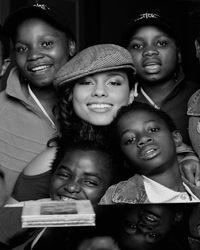 Alicia Keys
On World AIDS Day, Alicia Keys performed for a sold out crowd in New York City, and proceeds from her performance went to the Keep a Child Alive foundation. During the hour-long show, Keys performed fan favorites and her biggest hits, as well as songs from her upcoming album, ending with a guest appearance by Jay-Z. The two of them performed "Empire State of Mind, Part 2," together, to enthusiastic cheers from the New York crowd.
But through the concert, Keys never let the 1,900-person audience at the Nokia Theatre forget the real reason for her performance: the fight against HIV. She encouraged fans to send donations to Keep a Child Alive, spoke about how her trips to Africa and announced a contest to bring five people with her on her next trip.
Keys has been an AIDS activist since 2002, when she took her first trip to Africa. She co-founded the Keep a Child Alive foundation, which provides HIV medication, care, and support to HIV-positive children and their families in Africa and India. She also performed and recorded with U2 singer Bono for World AIDS Day in 2005, and in 2008 released Alicia in Africa: Journey to the Motherland, a documentary about her experiences.
More clips of Keys' World AIDS Day concert are available on her YouTube channel.
(Please note: Your name and comment will be public, and may even show up in
Internet search results. Be careful when providing personal information! Before
adding your comment, please
read TheBody.com's Comment Policy
.)