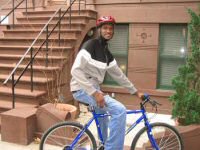 Stand Up Harlem resident Stanley, getting ready for a bike ride outside of the residence
If you live in Harlem, you might see Joe C* riding by on his bicycle. He bikes seven days a week from his home at Stand Up Harlem House down to 96th Street. He puts his music on (really low) and heads south for 45 minutes, enjoying the camaraderie of fellow riders along the way.
Joe doesn't own a bicycle, but as a resident of of Stand Up Harlem, one of Housing Works' residences for low-income people living with AIDS in New York City, he can check out a bike any time he wants. He represents one of the first satisfied customers of a pilot program that brought bikes to the residents. While Joe is the most avid rider of the group, other residents have also enjoyed biking.
"It's really freeing for me," Joe said. "You see your city in a different way. I feel healthier. When you walk after riding a bike, you feel sexy." Joe was diagnosed with HIV in 1993, and said he's in the best shape that he's been in since, thanks to the daily exercise.
Advertisement
The biking program is the brainchild of Housing Works CFO Andrew Coamey. Inspired by public biking programs seen throughout Europe, Coamey thought residents at Housing Works facilities should enjoy the benefits of biking. He hoped the program would encourage exercise among residents and give them freedom to explore the neighborhood.
Through the Housing Works donations department solicited the four bikes for Stand Up Harlem. Coamey is hoping to expand the program to Housing Works' other housing units throughout the city.
Studies have shown that exercise is beneficial for people with HIV/AIDS, improving endurance, boosting energy levels and even stabilizing or preventing declines in CD4 cell counts. However, while there are numerous bike-a-thons to raise money for people with HIV/AIDS -- and there's even a group called Positive Pedalers -- Housing Works' program is the first known program in New York to provide bicycles to HIV/AIDS low-income housing facilities.
While any resident can use a bike, Joe said everyone knows which one is his -- the Raleigh made in England. "I bought a basket for it," he said, laughing. Joe and the other residents sign the bikes out with a staff person at Stand Up Harlem, who provides them with locks and helmets, and checks the bikes' safety. When the residents are done riding the bikes they return them to Stand Up Harlem.
While some critics in New York have accused the city's emphasis on biking as elitist, Joe said he finds such claims "ridiculous."
"I see all kinds of people riding bikes. We always speak and look out for one another," he said. "Biking is something everyone can enjoy."
"Joe C." asked that his real name not be used because of stigma associated with having HIV.