This Positive Life: An Interview With Enrique Franco
November 11, 2009
This podcast is a part of the series This Positive Life. To subscribe to this series, click here.
Listen to Audio (33 min.)

Please note: These files can be quite large. Allow some time for them to download.
Table of Contents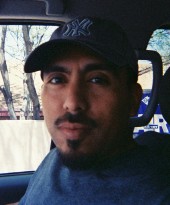 Enrique Franco
About Enrique
Home: Tucson, Ariz.
Diagnosed: June 2007
The U.S. military's "don't ask, don't tell" policy got Enrique Franco kicked out of the Army. It also, oddly, was the reason he found out he was HIV positive. As Franco explains in this moving interview, diagnosis turned his life upside down, but he's now standing tall. "This is my body, this is my life," he says. "I'm not going to stop living. I refuse to put my head down."
Finding Out
How did you find out that you were HIV positive?
It's an interesting story. I was about to get out of the United States Army on a chapter for homosexual conduct, which I self-admitted. I had to take a physical -- everyone has to take a physical when they leave the service. I asked for a blood check, just to make sure everything was straight.
It took about a month. Then they called me back to the hospital and said that my paperwork had to stop. I was very curious. I didn't ask why, but when the doctor sent me down, I kind of put two and two together and I let him do the rest of the talking. I pretty much figured out what he was going to tell me.
Do you have any hint how you got infected?
That one is another question for myself. I was pretty promiscuous when I was younger, but I always made sure that I used protection because I knew it was just going to be a one-time shot with some guy that I was with. But my last relationship was with another soldier and I fell in love really bad, and we stopped using protection.
To be honest, he was the only one that I never used protection with, but I don't think he gave it to me. Honestly, if he did, I wouldn't be as mad at him as I would if it were a stranger.
You haven't really spoken to this person about the issue?
No. We parted ways pretty difficultly and we haven't spoken since.
What happened when you first found out? What was your reaction?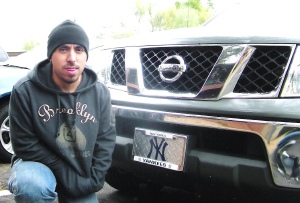 Enrique is a die-hard Yankees fan. Here he is in front of his truck.
When I first found out, I immediately asked myself, "What do I have to do to fight this thing?" I teared up, though I didn't cry at all; I haven't cried yet. I want to be able to cry over this thing, but I immediately responded like a soldier.
What I mean by this is that when we deploy, when we go out to some place, it's real difficult on my family. But I always told them, because I've been deployed three times. The first time, I said I'm not going to call, I'm not going to write, I'll appreciate the stuff that you guys give me, but I'm going to focus on my mission at hand. When I come back home, then I'll do all that stuff.
I treated it like that. I treated it like -- I have HIV, I have to fight this thing now. I came up with all these plans of what I had to do, actions I have to take. Then maybe when I'm in the hospital and I'm dying, maybe then I'll start crying and letting it all out, but honestly, I see it like I don't have time for that right now.
Telling Others
Did you tell anybody about it initially?
Initially, I told one of my closest friends. It was kind of by accident. He was one of my soldiers at the time. A week after I found out, he had to be put in the hospital for spinal meningitis. I was his squad leader and I had to go visit him to make sure he was OK.
"I was so paranoid when I first found out I had HIV. I was really, really paranoid about getting germs and I wanted everything clean, and I didn't want to eat out anymore using the forks and stuff. I went to go see him and I had the mask on and white surgical gloves on and everything."
I was so paranoid when I first found out I had HIV. I was really, really paranoid about getting germs and I wanted everything clean, and I didn't want to eat out anymore using the forks and stuff. I went to go see him and I had the mask on and white surgical gloves on and everything.
He asked me several questions. He said, "Why do you have all that stuff on?"
I said, "Well, I'm just trying to protect myself, bro." That's when I said, "I've got to tell you something. I'm HIV positive."
He gave me a look of concern, not like he was mad or anything; he just said, "OK," and that was it.
Have your feelings about having HIV changed over time?
It has, yes sir. Initially, I was paranoid. All of a sudden, I didn't want to hug people. I felt like I was an alien or whatever. I didn't want to get anybody sick or anything like that. By the same token, I demanded people hear me say, "Hey, I have HIV now!"
My mom, still gets on me; she says, "Your HIV does not make who you are as a person. It does not define you."
Advertisement
Today, honestly, I can say that I treat HIV like it's a pebble in my shoe. I have it, and it's going to be there, and I can't take off the shoe and dump the pebble out. It's just going to be there. It bugs me sometimes, but I just have to learn to live with that.
How soon did you tell your family about the diagnosis? How long did it take you to talk to them?
That one was pretty difficult. I was stationed in the middle of Texas and on the way from Texas back to California is El Paso, and my baby brother lives in El Paso. I did not want to tell my family over the phone, but the first person I wanted to tell was my mother. It took about a month, because after that diagnosis, it took another month to fill out the paperwork. That month felt like forever for me, to keep the secret from my mom like this. It was very, very difficult. But I told myself, I'm not going to tell anybody over the phone because I'd be selfish if I did that. I had to see her in person.
When I was driving to El Paso to stop at my brother's house, I knew he was going to be mad at me after it all came out. But I knew if I would have told him, he would have told my mother on the phone before I got home, and my mom would have been very upset with me when I got there, so it was either my mom being mad at me or my little brother being mad at me for not telling him at all. So I didn't tell him, and I waited until I got to California to tell my mom.
Can you tell us a little bit about how that happened? It's a very powerful story. You spoke to your mother? How did she respond? How did you feel at that time?
It's interesting because my brother has trouble with the law sometimes and he was having trouble at that same time. When I went home, they were like, "OK, here comes Chico and he's a big sergeant. He's going to get on his brother's booty and get on him and everything."
They always thought of me as that strict military die-hard Republican type, loved the president and all that. When I went home, it was kind of hard. I don't like doing that with my mom especially. She's my confidant. But I had to tell her everything because she's my confidant. I knew she would understand, but I didn't know how she would react to it.
It wasn't as bad with the coming out with me being a homosexual. It was more so when I had to tell her I was HIV positive. She just had a single tear drop from her eye, and I didn't want to get mad at her, but I said, "Ma, don't worry about it. I know what I've got to do." She just had that one little tear, and she just shook her head, and that was it. I'm pretty sure that there were other things going on after I left the house, but they won't let me see it.
It was a difficult moment.
It was extremely difficult. I didn't want to disappoint her. Everything I'd accomplished -- I just didn't want to go home like a loser.
You have to understand: She's my mom; she will never see me like that. After everything was over and said and done, she still accepted me. My other family members -- they don't like it -- but they see her as an example, as the leader of the family because my dad's not around.
What about your brother? What did he say when you told him finally?
My mom didn't tell me. He shook it off like it was nothing. My mom told me later on -- like a month later -- that he was in his room crying for a couple of days, nonstop all-night crying, and that he was worrying about me. He is more machismo than I am. He won't ever show it.
I'm going to head over back to California for my birthday, and I'm just not even going to mention that. I don't want to deny it, but there's a time and place and I don't think it would be appropriate to mention that. I'll just live my life. I'd be more than happy to talk to him, but he's more machismo than I am, so ...
You've also told some friends, right?
Yes.
Have you gotten any bad responses from people when you told them?
I've only gotten one. It's kind of funny to me now, but I only got one bad response so far. It wasn't even from a friend, it was from a nurse when I was checking in over at the VA [U.S. Department of Veterans Affairs]. She asked me what I have and I said I'm HIV positive. Then she goes immediately after, "Are you homosexual?"
I started laughing openly, and she's like, "What's wrong with the question?" She couldn't even see for herself the way it came out. It was comical for me, because I can laugh at myself, but if I was there now, I would have been offended. But it was just comical to me.
More From This Resource Center
---

This article was provided by TheBody. It is a part of the publication
This Positive Life
.
---
Add Your Comment:
(Please note: Your name and comment will be public, and may even show up in
Internet search results. Be careful when providing personal information! Before
adding your comment, please
read TheBody.com's Comment Policy
.)