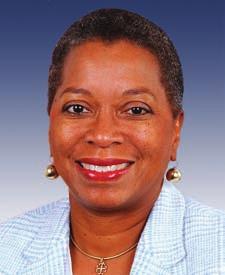 Rep. Donna Christian-Christensen is fighting for territories' parity in U.S. health care reform, but she can't do it alone!
This very minute health care reform looks like it's going to pass with some sort of health care co-op as a public option. But it's less certain if people living in the U.S. territories will reap the benefits of a public option.
The House legislation announced Thursday allows territories to opt into the public option, with people making up to 300 percent of the poverty level receiving subsidies (as opposed to those stateside who get discounts if they make 400 percent). But the Senate Finance committee bill completely excludes the territories from participating in the health exchange co-ops, citing the cost.
"In total we're only talking about 4.5 million people in the territories. To say it costs too much to extend the subsidies to the territories makes no sense," Rep. Donna Christian-Christensen (D-VI) told the Update. Christian-Christensen is a nonvoting representative of the House representing the Virgin Islands.
Advertisement
Sens. Chuck Schumer (D-NY), Bob Menendez (D-NJ) and Jeff Bingaman (D-NM) offered an amendment that would include territories as part of a larger health exchange amendment in the finance committee last month. While the larger amendment was voted down as part of broader opposition to the co-ops, now that Senate Majority Leader Harry Reid has stated support for a public option, the co-op exchanges -- with parity for Puerto Rico -- is back on the table.
More Medicaid Funding, Please
Health care reform is an opportunity for Congress to address a longstanding inequality in the territories. While the U.S. government covers at least 50 percent of the bill for states' Medicaid funding, it caps the amount of Medicaid dollars it will give to U.S. territories. This discrepancy severely limits territories' funding streams. Only the poorest citizens qualify for Medicaid and people, including those living with HIV/AIDS and other chronic diseases, are the ones who suffer. In the Virgin Islands, for instance, only 20 percent of people are eligible who would be eligible in the States.
This situation is particular dire to Puerto Rico, which is dealing with an HIV/AIDS crisis and accounts for 4 million of the 4.5 million people living in the territories. Increasing Medicaid for Puerto Rico would be a major step forward in fighting the AIDS epidemic there. Insufficient Medicaid funds force many Puerto Ricans living with AIDS to rely on programs funded by the Ryan White Care Act. Ryan White has been notoriously mismanaged on the island, a situation that has resulted in a lack of access to AIDS medications through the Ryan White-funded AIDS Drugs Assistance Program (ADAP).
The House bill partially addresses this disparity by including $10.73 billion in Medicaid funding for the territories over ten years, which would give it 90 percent of full parity, and would allow the Health and Human Services Secretary to change their match. The Senate bill would only give a one-time infusion of a 30 percent increase in Medicaid dollars.
"Getting territories full state-like parity is a major step forward, but we need to call for full parity," Christian-Christensen said.
How You Can Help
Because the U.S. territories don't have voting members of Congress, we need to make sure all other members of the House and Senate call for full parity in health care reform. Call the Congress switchboard at (800) 826 3688 to speak to your reps. Don't know who represents you? Find out!