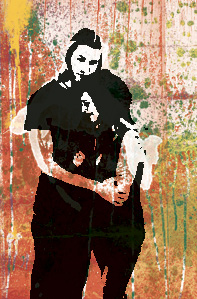 One might wonder how much our friends and family influence our lives. Being HIV-positive, we rely on our social network for advice, emotional support, and information. In order to receive this support, we have to disclose our HIV-positive status. Disclosing one's status almost always has some risk attached to it. We might be rejected by the friend or family member, or might suspect discomfort from them when they find out about our status. The advantages of disclosing one's positive status are well known, and one of them is that there is a "practice effect." After carefully considering when and to whom to disclose, we might receive a positive response from our social network. This positive experience could encourage us to disclose our status to others as well.
On the other hand, negative experiences like rejection, and sometimes even physical abuse, contribute to one's perception about the social environment's views on HIV. The main thing affecting a person's perception of HIV stigma is the HIV-positive person's awareness of HIV-related actual or potential social disenfranchisement, limitation of opportunity, and negative change in social identity.
Perceived stigma may lead to various outcomes, including negative changes in self-concept and emotional reactions toward those who may invoke the stigma.1 HIV-positive individuals are likely to inform their significant others once they perceive that the rewards of the disclosure outweigh the associated costs.2
Disclosing an HIV-positive status can result in the gain of emotional, physical, and social resources. The emotional benefits include social support, relief that comes from sharing a burdensome secret, and the built-in reward of educating others about HIV.3 Reasons for nondisclosure are identified as fear of rejection, fear of stigma, privacy, self-blame, and missed sexual situations.4 These reasons are justified by the discloser's desire to reduce negative consequences.
In my recent research study, I assessed how HIV stigma and social support influence the readiness of HIV-positive individuals to disclose their status to their sex partners. The study provided possible scenarios in which individuals rated their level of willingness to disclose their HIV-positive status.
The primary purpose of this study was to explore and gain an understanding of factors that facilitate HIV disclosure to sex partners, as well as the barriers that prevent disclosure, from the perspectives of HIV-positive gay men.
The study sample was drawn from a social service agency in Chicago that provides a variety of programs to HIV-positive people. Participants were between the ages of 18 and 63, all indentified as gay, more than 90% of the participants identified themselves as white, and more than 60% reported having been diagnosed with HIV more than four years ago. Despite the long duration since diagnosis, more than 60% of the individuals were not aware of their CD4 count, and 80% of them reported receiving HAART treatment. There was no significant relationship between the lengths of diagnosis; presence of HIV-related symptoms or medication-related side effects; race or age demographics; or health status indicated by a CD4 count and perceived HIV stigma; social support; or confidence to disclose one's HIV-positive status to sex partners.
"I've told all but family, who have issues."
The individuals in the sample were found to have a wide range of perceptions of HIV-related stigma. Perceived social support was not associated with readiness to disclose HIV-positive status to sex partners. As previous studies have indicated, there are other predictors for HIV disclosure to sex partners, such as type of sexual relationship and adult romantic attachment style. Moreover, because this study did not inquire about the context of the participants' social support networks, it is possible that many members of these networks may be individuals who are HIV-positive themselves. This might be the case in this particular study, because all of the participants were recruited from an organization which offers opportunities for HIV-positive people to meet each other and engage in formal and informal interactions. This would be consistent with what has been reported by older HIV-positive individuals, with their friendship networks often including a large number of HIV-positive older adults.
The findings showed that individuals in the study who indicated a greater level of social support experienced a reduced level of HIV stigma. It appears that social support is critical for individuals to lower their perception of negative attitudes regarding HIV status. It was therefore determined that a higher level of social support was associated with lower levels of perceived HIV stigma, and that social support possibly played a significant role in how stigma was perceived.
The study did not find a relationship between social support and readiness to disclose one's HIV-positive status to sex partners. Moreover, disclosing one's HIV-positive status to sex partners is important from the standpoint of informing the sex partner about risk; however, disclosure alone is not enough to induce safer sex practices. It is possible that individuals who are confident enough to engage in safer sex practices are doing this as a way to avoid disclosure. Even though they will not admit their HIV-positive status, they feel initiation of safer sex practices fulfills their moral obligations. The study found a relationship between social support and self-efficacy to initiate safer sex practices. Although there is not direct evidence from this study, this tendency can be interpreted to mean that individuals perceive safer-sex practices as a secure approach to address their HIV-positive status. To initiate safer sex practices rather than disclosing one's HIV-positive status might indicate that the positive partner has had negative experiences with disclosure, and is not willing to risk the consequences that a disclosure could potentially cause. Social support, which likely originates from other HIV-positive gay men, provides encouragement for individuals to initiate safer-sex practices with sex partners, but doesn't increase the tendency to disclose HIV-positive status. It appears that this community endorses a sense of moral obligation to protect sex partners and thus initiate protected sexual activity. This hypothesis deserves attention in future research.
Another interpretation suggests that HIV-positive individuals seek out partners who are also HIV-positive. This might be the case, especially if one considers that most of the individuals in this study had been diagnosed with HIV longer than four years ago. During this time, they might have been involved in a social group comprised mainly of HIV-positive members whose status is well known to others, which makes disclosure unnecessary and commencement of safer-sex practices extremely important. It's also possible that belonging to such a social support group provides opportunities for better general communication skills, which might be associated with better communication about safer sex practices. Also, individuals in this sample may have learned to incorporate safer sex behaviors into their activities without the need to disclose their HIV status. The goal of communication about protective sexual behavior is not necessarily self-protective in the case of HIV-positive individuals; rather, such communication may be selfless in nature, stemming from a desire to protect others.
Disclosing one's HIV-positive status may contribute to improved psychological well-being if those disclosed to respond in a helpful manner. It is likely that a group of HIV-positive individuals could also provide a wide range of valuable resources, both physical and emotional. For example, HIV-positive gay men can provide information about treatment options, financial assistance, sick care, emotional support and reassurance that one is loved and valued within the gay community despite his HIV-positive status. HIV-positive gay friends can also provide empathy, familiarity and trust to someone with the same HIV status. Disclosure to individuals whose HIV-positive status is known or assumed does not, however, always help individuals develop the skills necessary to disclose HIV-positive status to individuals with an unknown or HIV-negative status.
Additionally, personal remarks on six questionnaires included comments about HIV-positive status disclosure, such as, "I think love must protect him; I'd love to be strong;" "I've told all but family, who have issues;" and about HIV, "I'd like to kill the fucker, but until then, I've learned to get on, getting on."
Disclosure is intimately related to how communities stigmatize or accept HIV and how individuals perceive themselves, their identities, and their roles within the community. The need to express thoughts and feelings about this experience was evident by the personal comments on the questionnaires. It appears that studies which assess HIV-positive individuals' experiences in a non-judgmental manner are welcomed and appreciated within the HIV-positive gay community.
Zoltan Nabilek is a doctoral candidate at the Illinois School of Professional Psychology and has worked in the HIV field for four years. Originally from Hungary, he organized social support groups and wrote the monthly feature "Thinking Positive" in a Hungarian gay magazine for two years.
References
Got a comment on this article? Write to us at publications@tpan.com.