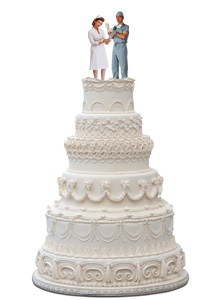 When searching for a new doctor, remember that the process is not much different than searching for a mate. Consider how your relationship with your partner, husband or wife was established. There were the nerves about meeting someone new, the fun of the courtship, the familiarity, those little things he/she does that make you crazy, the 3-year itch (get a prescription if it's that 3-year itch!), not getting what you feel you need, and sometimes even "you don't bring me flowers anymore." The same steps can be followed in finding your ideal medical provider, but how can you avoid ending up a statistic in that 50% "divorce rate"?
Let's say you've gotten a referral to a doc and you're about to make an appointment for your "first date." A blind date with lots of unknowns, right? Will he/she have a likeable personality? ('cause my previous blind dates have been like George Bush). Is the office easy to get to? ('cause I'm not getting on a train and two buses). Could I afford to continue dating this person? (will they take my insurance or government plan?). Are the hours convenient? (because I have the kids all day).
So, like with any blind date, you're nervous. Very nervous. Trust me, if it's a good match, those nerves will eventually subside.
Advertisement
Above all, be on time! There's nothing ruder than keeping a date waiting when he could have had another date with someone prettier.
You finally meet your date and you have some very serious interview questions. You're actually hiring this person to help you take care of yourself!
"What are your qualifications?"
"How much experience do you have?" (Maybe not a question you'd want to ask a real date!)
"How many HIV-positive patients does your practice see?
"Do you regularly attend medical conferences?"
Listen closely to this doctor. Notice if he/she is actually listening to you or talking over you. Do your opinions seem to matter? Do you feel that you'll be in on the decisions? Do you feel too rushed? Is he/she respectful? Are you being respectful? Is he/she optimistic or all gloom-n-doom? Do you sense a judgmental attitude? Do you prefer "cutting edge" or more conservative? Do you feel comfortable about confidentiality issues?
Rate this doctor's bedside manner on your own scale of expectations.
Some of the things I often hear, just like in a relationship, are: "he never touches me" or "she's cold and won't look me in the eyes." Maybe you'd prefer more frequent exams or a bit morecompassion. "He talks in a language I can't understand." Perhaps, to him, so do you!
Ladies! Is your male doctor va-jay-jay-friendly and knowledgeable? No need to whip her out, just ask how many female patients he sees. Ask his opinion on how treatment or side effects for females can differ from males.
Men! Same question: are you and your female doctor comfortable when talking about your (insert pet name here)? And believe me, it will be talked about!
It can be very difficult on the first visit, but, by the end, you should have some feeling as to whether this doctor could be a match for you. Is this someone that you can be totally transparent with? You'll need to feel comfortable enough to discuss everything with this person, including recreational drug use, sexual activities and relationships.
Keep in mind, the first doc might not be the right one for you. It's not uncommon for patients to switch providers down the road.
Let's say you've found the perfect match and you're ready to commit. Remember, time with your provider is precious and limited. Don't waste it. Here are some tips on how to make the most of each appointment.
Get to know the office staff. This will benefit you in the future. Above all, be nice and it's more likely that they'll be accommodating when you need something.
Never miss an appointment without calling to reschedule or cancel, well in advance, if possible. Not only is it common courtesy, but someone else might have really needed the appointment.
Be prepared with questions. Keep a notebook to jot down things you want to know about. That way, you won't forget what you wanted to ask.
You have a right to your medical records and lab results. Ask for a copy if you want to track them.
If possible, make morning appointments. That way, you're more likely to be seen on time. The clinic won't have already had late patients causing their schedule to be backed-up.
Get informed! The more educated you are about HIV, the more important questions you can ask. Use the Internet, support groups, and HIV educational classes. Doctors appreciate educated patients!
Communication can sometimes be challenging with health care providers. Establish trust; be open and honest. Don't tell your doctor what you think he wants to hear, but what you need him to hear.
Your goal is to build a mutually trusting relationship and establish the best health care plan for you.
Above all, remember that your doctor is only human. They treat, and care for, people with different and complex diseases, thus making their jobs very challenging and often stressful.
Here's to your life-long journey with your new partner ... to have and to hold, in sickness and in health ... you know the rest.
Got a comment on this article? Write to us at publications@tpan.com.