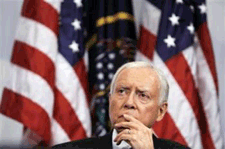 Tell Hatch and his colleagues abstinence-only funding is un-American!
The Senate Finance Committee recently approved two amendments to the health care reform bill -- one creating a comprehensive sex education program for the states and the other extending the ineffective Title V abstinence-only-until-marriage sex-ed program. We need to ensure Congress only funds a comprehensive approach to sex education and does not fund ineffective abstinence programs that leave young people at risk.
The Responsibility Education for Adulthood Training amendment offered by Chairman Max Baucus (D-MT) provides $75 million for states for evidence-based, medically accurate, age-appropriate programs to educate adolescents about both abstinence and contraception for the prevention of unintended pregnancy and STIs, including HIV/AIDS, as well as for research and evaluation. The amendment passed 14?9 with Republican Senator Olympia Snowe (ME) joining all the Democrats voting in favor.
Outrageously, the committee also passed an amendment proposed by Senator Orrin Hatch (R-UT) to reinstate $50 million per year to the failed Title V abstinence-only-until-marriage program. The amendment passed by a razor-thin margin of 12?11 with Democratic Senators Blanche Lincoln (AR) and Kent Conrad (ND) joining all the Republicans, including Senator Snowe, on the Committee in favor of the amendment.
The Title V abstinence-only-until-marriage program expired on June 30 and, at that time, had been refused by nearly half of the states both because of the restrictive nature of the program and the fact that overwhelming evidence has proven these programs to be ineffective and a waste of taxpayer dollars.
Tell your Senators that continuation of this funding is unacceptable! Fill out this easy e-mail form and just e-mail it off to your senator. The letter was developed by the No more money coalition, which advocates for the U.S. to eliminate all funding for abstinence-only education. Coalition partners include Advocates for Youth, Housing Works, NARAL Pro-Choice America and Union for Reform Judaism.