An Interview With Lisa Dunkle, M.D.
There's nothing like hearing the results of studies directly from those who actually conducted the research. In this interview, you'll meet one of these impressive HIV researchers and read her explanation of a study she presented at the 49th Interscience Conference on Antimicrobial Agents and Chemotherapy (ICAAC 2009).
I'm Dr. Lisa Dunkle, the senior author on the paper. I'm executive director of the HIV clinical research group at Schering-Plough Corporation. This paper reports on the second 48 weeks of our phase 2 trial.1
The first 48 weeks was a double-blind, dose-selection study of two doses (i.e., 20 mg and 30 mg) of vicriviroc [SCH 417690; SCH-D] versus placebo, on top of an optimized background regimen. At the completion of those 48 weeks, any patient who wanted to was allowed to go on to the open-label extension of 30-mg once-daily vicriviroc.
Advertisement

Lisa Dunkle, M.D.
Eighty-five of the original 114 patients went on to the extension. That's what we're reporting here: the safety and long-term efficacy in those 85 patients. The baseline characteristics are reasonably comparable to most other studies of patients that are HIV treatment experienced.
Could you go through the patient characteristics a little bit?
The mean age is about 45 years. We did have 20% women. The study was heavily conducted in Latin America, so there's a heavy representation of Latin Americans and multiracial patients. Baseline CD4 count was around 350. This is after having started at about 250.
They really had done well during the double-blind phase of the study. They were mostly pretty well suppressed. Their mean HIV RNA at the end of 48 weeks, at the beginning of this study, was down to two and a half logs. More than half of the patients were fully virally suppressed (i.e., to less than 50 copies). About three quarters of the patients were below 400.
The patients continued on vicriviroc 30 mg, once daily, with their optimized background regimen. We have a mean duration of exposure of 13 months in this portion of the trial.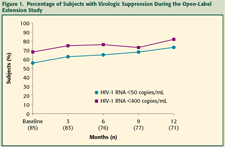 Lisa Dunkle et al. ICAAC 2009; abstract H-923. Reprinted with permission.
Click here
to view the full presentation.
Patients' viral suppression remained pretty stable in the 75% to 80% of patients that were suppressed to below 400. There continued to be an increase in CD4 counts over the 48 weeks of this portion of the study. The adverse-event profile was very encouraging, without any serious, medically significant adverse events -- no seizures, no hepatotoxicity.
What was the most common adverse event?
The most common were upper respiratory infections. About 13% of patients had that. This does not constitute anything that I'd be very concerned about.
Were there any GI [gastrointestinal] events?
No, not really. No seizures. The rate of malignancy was comparable to this population in general. Only one patient during the second 48 weeks of the study went from R5 to dual/mixed virus in tropism.
By and large, patients have done quite well on this drug for a good long period of time. We're very, very encouraged by the whole outcome.
How does this CCR5 inhibitor compare to maraviroc [MVC, Selzentry, Celsentri]?
It has the same mechanism of action. Its major differentiating features are the pharmacokinetics, which allow for a single, once-daily dose of 30 mg without any necessity to adjust the dose depending on what other drugs are in one's regimen.
It's a small, once-a-day pill. As far as the safety profile, we've not seen the cardiovascular or hepatocellular toxicity that has been described with maraviroc.
We think it probably has a somewhat nicer convenience and safety profile, but in terms of mechanism of action, it's the same.
How is vicriviroc's resistance profile compared to maraviroc?
The resistance profile is probably reasonably comparable. Resistance is slow to emerge. It's very infrequent. I think we only had three or four patients in this whole study who became resistant to the drug.
Is there cross-resistance between maraviroc and vicriviroc?
We've tested it in a couple of isolates and it appears that there is. It may be something that's variable. I'm not sure enough of the isolates have been tested to really understand that.
In terms of viral suppression, is vicriviroc comparable to maraviroc?
It has roughly the same potency, yes.
Shifting gears a bit, are you excited about the new genotype test that's going to be used for determining tropism?
We are. When one needs a tropism assay, we'd like for it to be easier to get, be reasonably priced and give the answer as quickly and as accurately as possible.
We've actually been looking at alternative tropism assays for several years. We don't have any particular interest in whose assay it is. We just want the patients and doctors to have the best test available to them.
How soon is it expected that vicriviroc will be approved?
We expect to have a submission sometime early next year. We still have to talk with the FDA [U.S. Food and Drug Administration] about the dossier and so forth. How soon it would be approved is hard to predict.
Have you only done studies in treatment-experienced patients?
We actually have an ongoing phase 2 trial in treatment-naive patients that looks at a novel paradigm of treatment comparing vicriviroc plus boosted atazanavir [ATV, Reyataz] versus tenofovir/emtricitabine [TDF/FTC, Truvada] plus boosted atazanavir. That's looking very promising.
We anticipate a phase 3 trial in that same treatment design to start next year. We think there's a real role for this drug and this mechanism of action in early lines of treatment.
It's curious that there were only 85 people in this trial. Usually there are many more people in a trial of a new drug.
This is a phase 2 trial and the original number was 114. Eighty-five of them rolled over into the extension. We have two phase 2/phase 3 trials ongoing that will be completed in the next few months. Those are much larger.
Thank you very much.
This transcript has been lightly edited for clarity.
Reference
Dunkle LM, McCarthy MC, Suleiman J, et al. Vicriviroc long-term safety and efficacy: 96-week results from the VICTOR-E1 study. In: Program and abstracts of the 49th Interscience Conference on Antimicrobial Agents and Chemotherapy; September 12-15, 2009; San Francisco, Calif. Abstract H-923.
View poster: Download PDF