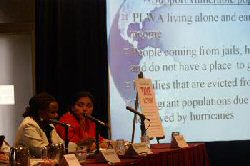 Panelists at the May recent North American AIDS Housing Summit
The
National AIDS Housing Coalition's
Housing & HIV Regional Research Summit is coming to Columbia University on October 2.
Register now
to participate in an interactive day-long summit that will bring the best of AIDS housing research close to home.
The National AIDS Housing Coalition has hosted annual national summits for four years, where researchers and AIDS advocates come together to share knowledge about the health, prevention and financial benefits of housing people with AIDS. But the regional meetings are a new project that is funded by the MacArthur Foundation. The next regional meeting will take place in Seattle in the fall. More regional meetings throughout the country will be announced in the upcoming weeks.
"The goal of the regional meetings is to take the recent evidence, particularly cost estimates, and disseminate this knowledge more broadly and hopefully provide people with actual tools they can use," said Ginny Shubert, a researcher with Shubert Botein Associates.
Leading researchers on AIDS housing, including Angela Aidala of Columbia University and David Holtgrave of Johns Hopkins University will present their studies about the cost-effectiveness of AIDS housing.
This meeting is geared towards researchers, providers, policy makers, advocates, consumers in the New York tri-state area, so stakeholders can increase their understanding of the scientific evidence documenting the impact and cost-effectiveness of housing for the prevention and treatment of HIV/AIDS and other chronic health conditions.
There is limited availability! Register to attend by September 25. Cost is $15 for NAHC Members; $50.00 for non-NAHC Members (Fee includes materials and box lunch). Scholarships available
(Please note: Your name and comment will be public, and may even show up in
Internet search results. Be careful when providing personal information! Before
adding your comment, please
read TheBody.com's Comment Policy
.)