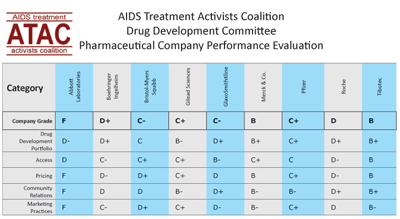 Research Methodology
ATAC's Drug Development Committee completed its independent review of the pharmaceutical industry in June 2009. The information in the HIV/AIDS Report Card was gathered from interviews with pharmaceutical companies and data taken from publicly-available sources. Each company was assigned an ATAC representative who led the data collection and reporting for that company. All voting ATAC Drug Development Committee members then suggested a grade for each company in each of the five areas (drug development portfolio and plans, access to drugs, pricing, community relations and marketing practices), all of which were averaged.
Criteria Used for Scoring Each Report Card Category
Drug Development Portfolio and Plan
has active development pipeline for HIV -- including new targets
has active development of treatments for viral hepatitis
treatment development plans are rational, ethical and expeditious
drug development plans include both naïve and treatment experienced patients
provides access to researchers who clearly describe the company's development plans
complies with all FDA required post marketing studies
initiates and supports wide range of company-sponsored and investigator-led postmarketing studies that increase knowledge about drugs used in clinical practice
makes efforts to accrue and retain women, people of color, and people with common comorbid conditions (such as coinfection with viral hepatitis) in all phases of research and in numbers representative of the U.S. epidemic
has an active pediatric R&D program
includes community representatives in DSMBs, investigator meetings, reviewing informed consent documents, etc.
Access to Drugs
has effective patient drug assistance program (PAP); inclusive co-pay and relevant patient support programs
expanded access program(s) initiated in a timely manner
has worked to improve formulations of existing treatments
has shown willingness to cooperate with other drug manufacturers in combination trials and coformulations
has provided free drugs to the ACTG and other networks for research purposes
Pricing
has not broken industry precedents for pricing within a drug class
has not priced new drugs substantially higher than the other drugs in the same class
has not used price hikes or other predatory practices to protect market share of its drugs
does not increases drug prices frequently (eg. more than once per year)
Community Relations
provides access to scientists, marketing executives, community liaisons
seeks input from a diverse range of opinions and voices in the U.S. HIV community
seeks timely community input and implements community recommendations
responds to correspondence in writing
supports unrestricted educational grants for ASOs
Marketing Practices
does not use scare tactics in advertising
models used in advertising are representative of individuals living with HIV in the U.S.
has not received warnings about improper advertising practices from the FDA
advertises and actively informs communities about patient assistance and co-pay programs
Definitions for Each Letter Grade
A = Excellent performance, demonstrates corporate leadership in this area.
B = Very Good, demonstrates actions beyond the expected.
C = Acceptable, within expectations.
D = Poor, performance subpar compared with peers.
F = Failure, performance significantly falls below minimal expectations of corporate performance.