I have lived in Manhattan for 25 years. I was diagnosed with HIV in 1988, but I'm sure I was positive before then. During the first ten years after my diagnosis I spent very little time thinking about HIV. I was healthy and had a good job and a fulfilling social life to keep me busy. I was doing administrative work at a major investment bank in the city and spent the majority of my time working or having fun.
In 1998 my doctor suggested that I start Epivir, Zerit, and Ziagen. Although I was not sick, my CD4 count was lower than the doctors liked to see, so they put me on meds. I had never been sick until I began taking HIV medications. I was doing fine for a while, but then I started having side effects, like elevated liver function tests and feeling weak. So in 2000 my doctor had me switch to Kaletra, Videx, and Zerit, which I stayed on for about eight years.
I didn't want to tell my supervisor I was positive for fear I would have problems on the job or be fired. I had no other choice but to power through the side effects and try my best to complete my work.
I was now working at a law firm and began to experience the side effects of these new drugs. I was plagued with lipodystrophy and gastrointestinal problems. This made it hard for me to do my job, but I felt uncomfortable informing my supervisors about my HIV status. I didn't want to tell them I was positive for fear I would have problems on the job or be fired. I had no other choice but to power through the side effects and try my best to complete my work.
Advertisement
These medicines gave me stomach pain and other gastrointestinal problems that were almost crippling. As corporate Manhattan was not known for its compassion, I continued to keep my HIV status a secret from my coworkers. The pain got so bad that my doctor even tested me for Crohn's Disease, and I consulted with a nutritionist to see if there were any foods that I could avoid to stop the pain. I lost 15 or 20 pounds and it began showing in my face. Coworkers began to comment on my appearance.
I had a long conversation with my doctor, and he changed my dosing schedule to one that was much more complicated. I was on the same meds, but now had to take them at three different times each day and keep a very strict eating schedule because the Videx had to be taken on an empty stomach. This complicated drug and meal schedule made it tough to take part in social events unless I had full control of the situation. There was always a risk that my stomach would act up or a mealtime would be rearranged. Someone would offer me a snack and I had to think, "When did I eat last? When is my next dose?" It became so difficult to spend time with friends that I ended up cutting myself off for the most part. I lived the quiet life of a church mouse for quite some time.
By early 2008 I was fed up with the side effects. I had lost weight, my body shape had changed, and I had high cholesterol from the medicines and all the food I was eating to gain weight. My quality of life at this point was very low due to all the restrictions the medications put on me. I was tired of enduring years of side effects. I discussed going off the meds with my doctor. He explained that HIV medications had changed a lot since I started, and that maybe it would be a good idea to change some things around. I was thrilled when he agreed it was time for a change, and stopped the HIV meds until we could find a regimen I could live with.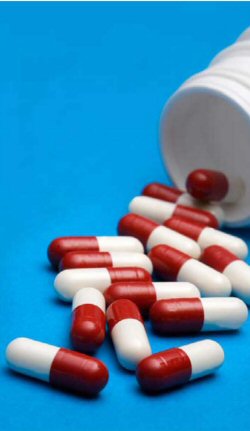 I was intent on researching what worked for my peers so that I could find out which meds were right for me. The research took longer than expected, and my viral load was climbing and my CD4 count had dropped to 150. I went to GMHC to ask for a case manager, but they wouldn't give me one because my income was too high. Fortunately, I spoke with some of the treatment adherence staff, and they connected me with other services that I could benefit from.
In early 2009 my doctor suggested that I start taking Bactrim because I was no longer taking any HIV meds and my CD4 count was below 200, putting me at risk of PCP pneumonia and other infections. I started that medicine but had an allergic reaction and was bedridden for several days.
But last March I finally began a new HIV drug regimen. I am now taking Truvada and Reyataz with Norvir. This regimen has given me few side effects, and I am slowly putting weight back on. That's a pleasant side effect, since I had lost a lot of weight in my arms, legs, and face as a result of my previous regimen. My face has begun to fill in, and I haven't felt the need for facial fillers. When I first met my doctor, I was going to ask about them but I saw that he had a large birthmark covering half of his face! I felt that if he could live with that, I could handle some sunken cheeks. My non-gay friends don't seem to be concerned about how I look -- it's only in the gay community that I feel pressure to do something about the way I look.
My relationship with HIV meds has been a tumultuous one, but I think I finally have a good regimen that can keep me healthy.
I still live in my New York City apartment but currently spend several days a week working on Long Island. This gives me the opportunity to spend time with my family and be surrounded by the beautiful scenery on Long Island. For now I am happy with my current regimen. So far, the side effects are minor compared to the benefits. I hope I continue without major side effects so that I can take advantage of the social opportunities that I missed out on in the past ten years. My relationship with HIV medications has been a tumultuous one, but I think I finally have a good regimen that can keep me healthy.
To anyone who is having problems with the older HIV meds, I say switch! The newer ones are less toxic -- they still have side effects, but they're more manageable. And once-a-day dosing is far easier than what I had to go through. I'm getting back into social scene, and particularly want to connect with other people who are living with HIV. I need the kind of support you can get only from people who have been where I've been. Stay tuned!
Want to read more articles in the Summer 2009 issue of Achieve? Click here.