Group to Submit Nearly 60 Adult Films From 16 California Production Companies Filmed Without Condoms That Demonstrate Unprotected Exchange of Bodily Fluids; Several Former Porn Actresses From Pink Cross Foundation to Join AHF's Call for Condoms in Porn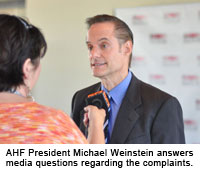 As part of its ongoing campaign to require the use of condoms in porn films shot and produced in California in an effort to reduce the spread of STDs including HIV, AIDS Healthcare Foundation (AHF) will host a press conference tomorrow, Thursday, August 20th at 10:30 AM Pacific to announce its filing of 'Notice of Safety or Health Hazards' complaints with Cal/OSHA (California's Department of Industrial Relations, Division of Occupational Safety and Health), the state's health and safety regulatory and watchdog organization, over the industry's blacklist on the use of condoms in porn. AHF will support its complaints with the submission of nearly 60 adult DVDs filmed in California and in which the performers do not wear condoms. AHF's Cal/OSHA complaints will assert that the films demonstrate unsafe -- potentially life-threatening -- behavior in a California workplace, as the sexual acts filmed without participating performers using condoms depict the unprotected exchange of bodily fluids.
"As a global HIV and STD medical provider operating treatment clinics and prevention facilities here in California, we see it as our duty to pursue action on the issue of safety in the workplace -- in these instances, unprotected sex acts taking place in albeit non-traditional workplaces -- porn sets located throughout the San Fernando Valley that are churning out billions of dollars of adult fare every day," said Michael Weinstein, President of AIDS Healthcare Foundation. "This is why we are filing workplace health and safety complaints with Cal/OSHA today: to press for the enforcement of state and local workplace regulatory guidelines which would require the use of condoms in all adult films produced in California."
AHF is hosting its press conference -- which will feature prominent display of the aforementioned adult DVDs -- in conjunction with the Pink Cross Foundation and its founder, Shelley Lubben, as well as several other former porn actresses from the adult entertainment industry. The performers will announce that they are joining AHF's call for condom use in the production of all adult films in California as well as the filing of the Cal/OSHA complaints.
Advertisement
"We are also honored to be joined today by several former actresses in the porn industry as we continue our push to require the use of condoms in all adult films shot in California," added AHF's Weinstein. "As they share parts of their stories today, each will put a compelling human face on the underbelly of the industry. For decades, the San Fernando Valley has been, and continues to be, the epicenter of the industry. Over the past several months, AHF has been spearheading a multi-pronged campaign pressing for condom use in adult films, and we are grateful that these courageous women are lending their voices and speaking out in this cause and in support of our complaints."
"I was a porn star living the glamorous life. Drug overdoses, herpes, suicide attempts and abuse at the hands of the porn industry," said Shelley Lubben, former porn actress and founder of the Pink Cross Foundation, an IRS approved 501(c)(3) public charity dedicated to offering adult industry workers emotional, financial and transitional support for those who want out of the adult industry. "In my time in the industry, I did some very hardcore movies, and only drugs and alcohol could get me through them. I played a crazy game of Russian roulette with my life. The industry did not and still does NOT enforce condom usage, so STDs and HIV were and still are a high risk among porn actors and actresses. While my own life has taken an entirely new and profoundly fulfilling direction and I now work to help performers leave the industry altogether, I wholeheartedly support AIDS Healthcare Foundation's call to require condom use in the ongoing production of adult films in California."
"It breaks my heart to acknowledge that during my time as a porn star, I've done a scene with 25 men and even though I was assured that all of the STD testing had been taken care of by the producers, in my heart I realize now that this was probably a lie because I never saw the tests for myself," said Jan (Meza) Merritt, former porn actress and member of the Pink Cross Foundation. "There are thousands of porn stars actively working in the adult industry. Can AIM say in all honesty that they are able to accurately test and regulate all of these performers' health? I think not. How is AIM certain that their tests are foolproof when nothing in this life is guaranteed, not even the use of condoms, contraceptives and other prophylactics? And how much higher is the risk of getting HIV and other STDs in an industry where you have not only one sexual partner per day, but several or more and condoms are looked at as an unnecessary, negative component of this industry? Enough is enough! How many more HIV incidents will occur in the adult industry before changes are made once and for all? 22 reported cases of HIV. How can anyone say that's a small number? We are talking about human lives! How can you put a price on life?"
"While working in the industry, I performed in over one-hundred triple-X hardcore movies. Some of my experiences on the porn set include me being totally wasted and porn producers allowing me to be -- and even providing -- alcohol and drugs for me. I experienced rough sex scenes and have been hit by male talent and told them to stop, but they wouldn't stop until I started to cry and ruined the scene," said Michelle Avanti, a former adult entertainment actress and member of the Pink Cross Foundation in a statement. "As I continued to do hardcore porn, I started catching STDs all the time. My lower body hurt so badly and at times my private area felt like it was a blazing fire. I could no longer work because I caught so many STDs and infections. I believe that if condoms had been allowed to be used in my own films, I would not have suffered so many physical ailments and infections. I am pleased today to lend my support to AHF's call to require condom use in adult films produced in California."
At the conclusion of the press conference AHF officials will depart in a caravan from the hotel to deliver the complaints and the supporting DVDs to the body informally known as Cal/OSHA: California's Department of Industrial Relations, Division of Occupational Safety and Health, 320 West 4th Street, Suite 850, Los Angeles CA 90013.
Background DVD Materials for AHF's Complaint to Cal/OSHA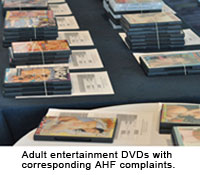 In support of its complaint to Cal/OSHA asserting that film sets where condoms are not used provide unsafe California work environments, AIDS Healthcare Foundation officials undertook a review and analysis of nearly 60 adult films produced and/or distributed by the industry. AHF will submit the DVDs to Cal/OSHA in support of its workplace safety complaint regarding these California film sets. Among AHF's findings:
58 adult entertainment (porn) DVDs purchased;
16 production and/or distribution companies represented;
15 DVDs depict double penetration (two penises) WITHOUT a condom; one portrays unprotected double penetration in one orifice (anal, a particularly high risk behavior for possible tearing of the membrane and lining of the anus);
7 DVDs featuring Spanish language and Latino/Latina performers; in one of these DVDs, CONDOMS ARE USED
5 DVDs (primarily) featuring African Americans; in one of these DVDs, CONDOMS ARE USED
2 DVDs featuring Asian women
3 gay and/or bisexual BAREBACK (no condom) DVDs
Following is a list of the production and distribution companies represented in AHF's industry analysis:
PRODUCTION/DISTRIBUTION Companies

Location of 'Custodian of Records' for Companies

Anarchy Films
Backend Productions
Blue Pictures
Critical X (also: Unplugged/Ctritical X and Raw Flesh)
Hustler Video (also: All Media Play/LFP Video)
Heatwave Entertainment
Immoral Productions
Latin Media
Legend
Mayhem
Maverick Entertainment
Raw Flesh (Critical X)
Sin City
Top Dog/Magnum Productions
Vivid Entertainment
Club Jenna (Distributed by Vivid)

Chatsworth, CA
Chatsworth, CA
North Hollywood, CA
Canoga Park, CA
Beverly Hills, CA
Sherman Oaks, CA
Chatsworth, CA
Chatsworth, CA
Chatsworth, CA
Chatsworth, CA
North Hollywood, CA
Canoga Park, CA
Chatsworth, CA
Chatsworth, CA
Los Angeles and Van Nuys, CA
Los Angeles, CA
History of AHF's Advocacy for Condom Use in Porn Films in California
As part of an ongoing campaign to require the use of condoms in adult films shot in California, AHF has been mounting a high profile advocacy campaign directly targeting the industry, including key players like Hustler's founder Larry Flynt; it has publicly pressed Los Angeles County political and health officials to comply with the law as far as legal reporting of HIV and STD cases -- including those found among performers in the industry -- and to require the use of condoms on sets in LA County; and it has also recently sued the County to achieve this aim.
AHF filed the lawsuit after exhausting all other methods to compel the County to fulfill its obligation to protect the public's health in the wake of the revelation in mid-June that an actress working in the adult film business had tested positive for HIV. At that time, AHF had urged the County to better monitor HIV and STD prevention in the region's adult film industry -- and require condom use -- or to shut down porn sets.
Since the June 17th reporting of the latest HIV outbreak -- and the subsequent reporting by the LA Times that as many as 22 porn performers may have tested positive in the last five years -- no action has been taken by the County to halt the spread of STDs on LA porn sets or to conduct the proper and legally required public health follow-up with those thought to be infected.
"By recommending -- but not requiring -- condom use on porn film sets, Los Angeles County has basically abdicated its responsibility to perform its main function -- which is to protect the public health," said Whitney Engeran-Cordova, Director of AIDS Healthcare Foundation's Public Health Division. "The County's laze faire attitude on this issue prompted us to prepare a 'Notice of Safety or Health Hazards' complaint for Cal/OSHA. We hope that Cal/OSHA investigators see this as the straightforward workplace safety issue we believe it to be, with the knowledge that thousands of STDs could be prevented in Los Angeles County with the mandated use of condoms on porn sets."
AHF, the US' largest non-profit HIV/AIDS healthcare provider, which operates the largest community-based alternative HIV testing program in California conducting more than 14,000 free HIV tests annually, has also been trying to sponsor legislation in Sacramento that would mandate the use condoms by actors performing in films produced by the California industry. AHF believes a so-called 'condoms in porn' bill should be drafted as a worker safety provision of California's Labor Code akin to how the Labor Code currently requires the use of hard hats and other garments and barriers as safely precautions on certain California work sites and locations. To date, the legislators approached have been unwilling or unable to author such prudent public health legislation
STDs in the Industry in Los Angeles County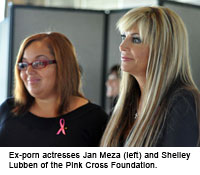 Los Angeles County's Department of Public Health is aware of an ongoing and pervasive sexually transmitted disease crisis in LA's pornography industry, a fact that is well documented. DPH has cited numerous figures confirming an STD epidemic among performers in adult films, including the fact that performers in hardcore pornography are ten times more likely to be infected with a sexually transmitted disease than members of the population at large.
According to figures cited by DPH, there were 2,013 documented cases of Chlamydia among LA porn performers between 2003 and 2007. In the same period, 965 cases of gonorrhea were documented. Many performers suffer multiple infections. In the period April 2004 to March 2008 there have been 2,847 STD infections diagnosed among 1,884 performers in the hardcore industry in LA County. DPH attributes the epidemic of sexually transmitted diseases in the porn industry to a lack of protective equipment for partners, including condoms. The agency recommends condoms be used during production, but has never taken steps to ensure their use, or to protect the performers who are essentially required to endanger their health in order to remain employed.
"This is not just about one industry, but about our entire community, as the spread of disease among adult film performers endangers themselves as well as their sexual partners in and outside the industry," added AHF's Weinstein. "Los Angeles County Public Health officials cannot keep passing the buck on this by playing ping pong on this with the state and the industry itself. That is why we are filing these complaints with Cal/OSHA today."
This article was provided by AIDS Healthcare Foundation.