Crowley Meets With Housing Works Clients and Staff; Advocates Give High Marks to His Latest Appointments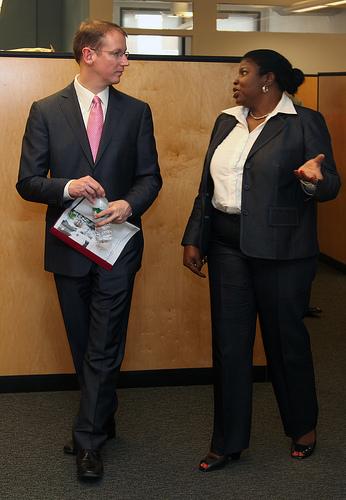 Housing Works Senior Vice President of Prevention and Services Linney Smith fills in Crowley about Housing Works prevention services and Job Training Program.
photo by Daniel Tepper
White House Director of AIDS Policy
Jeff Crowley
stopped by Housing Works last Friday and got an earful from clients and staff about HIV/AIDS housing, syringe exchange funding, transgender issues undocumented immigrants and other topics that affect their lives. Crowley asked for patience, saying "we have a lot on our plate," and promised action, starting with a somewhat overdue response to the Ryan White CARE Act Reauthorization.
Crowley visited Housing Works as part of a one-day jaunt that included visits to Gay Men's Health Crisis and Harlem United, in anticipation of a series of town hall meetings on the creation of a National AIDS Strategy. The first official town hall will be on August 25 at the National HIV Prevention Conference in Atlanta. Crowley said there will be a meeting in New York, though the date is not set because his office is coordinating the schedules of Congresspeople who want to attend.
Crowley said that he is working to expand the fight against HIV/AIDS beyond traditional stakeholders, as part of the Act Against AIDS Leadership Initiative.
Advertisement
"People were criticizing us, saying 'Why are your giving money to NAACP? They don't care about AIDS.' But that's
why
we're giving them money, so they will care about AIDS," Crowley said.
In Housing Works' informal meetings, participants pressed Crowley to understand that housing for people with AIDS would work to achieve all of the goals Crowley has set forth for a National AIDS Strategy -- reducing health disparities, reducing new HIV incidence and expanding healthcare and primary care.
"Women are out there selling their bodies because they're homeless. They have nowhere to go," said Rita*, one of a dozen Housing Works clients who met with Crowley at the Housing Works headquarters in Brooklyn. "And when we get housing, they have us in the ghetto. We're not getting enough to get out of the shelter."
"Have you heard about the HIV housing declaration?" Housing Works Vice President of Housing Operations Ken Robinson asked Crowley in an elevator ride during a tour of Housing Works Stand Up Harlem, a group of renovated brownstones with 12 apartments for individuals and families living with HIV/AIDS.
Crowley hadn't, but said he wanted to learn more. Robinson promised to send him information about the declaration, which states "we hereby demand that policy makers address the lack of adequate housing as a barrier to effective HIV prevention, treatment, and care; and we further demand that all governments fund and develop housing as a response to the AIDS pandemic." Advocates are working to get this resolution passed in Congress and in the United Nations.
Crowley said, in response to the numerous questions about housing, "Housing is a problem in this country, period. We need to do a good job of showing why people with AIDS are specifically in need of housing."
Staffing Up
Crowley admitted that his position is a "challenging job" and that not everything is done as quickly as activists would like.
"The White House is working on a response to the Ryan White Care Act's expiration date on September 30, but we've been busy," Corwley said.
Hopefully, these delays will lessen now that Crowley, who has been an army of one in the White House Office of National AIDS Policy, has finally been able to hire staff. New hires include Greg Millett, a CDC researcher and James Albino, former director of national advocacy at the Hispanic Federation.
Both men have been praised for their commitment to the AIDS movement. Albino is a longtime AIDS advocate, formerly with the National Minority AIDS Council, who helped draw attention to Puerto Rico's HIV/AIDS crisis and abuse of Ryan White funding.
Millett is a CDC researcher and ACT UP alum who conducted groundbreaking research that showed that although black men who have sex with men are more likely to become infected with HIV then their white counterparts, they are no more likely to engage is high risk behaviors.
Walt Senterfitt, a Community HIV/AIDS Mobilization Project board member, praised Millett's hire. "He has worked for a long time -- both doing research and helping to publicize the research that make it amenable to policy change, and to particularly highlight the centrality of the epidemic to gay and Latino men," Senterfitt said. "And as a black gay man, and one of Caribbean heritage, he has a personal urgency he brings to a solid professional background."
*name changed