US' largest AIDS Group, a key partner in the Lamvelase Help Centre in Manzini providing HIV/AIDS medical care and lifesaving antiretroviral treatment, kicks off ambitious "Love Condom" campaign and stepped-up free HIV testing effort in hard-hit African nation.
Swazi group produces four compelling safer sex print ads promoting condom use and regular HIV testing; one features the Honorable Owen Nxumalo, Manzini City mayor.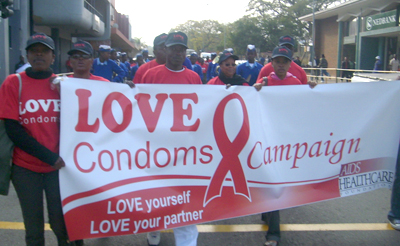 Manzini, Swaziland -- AIDS Healthcare Foundation (AHF), the largest AIDS organization in the US and which currently provides HIV/AIDS medical care and/or services to more than 100,000 individuals in 21 countries worldwide in the US, Africa, Latin America/Caribbean and the Asia Pacific Region, recently kicked off an ambitious free condom and HIV testing campaign in Manzini, Swaziland, the site of the Lamvelase Help Centre, one of AHF's free AIDS treatment centers. The campaign, which features AHF's own specially-branded 'Love Condoms' which are being distributed for free as well as public service advertisements and posters that encourage regular HIV testing, kicked off last Thursday with an official press conference and community march in Manzini. The Swazi group produced four compelling safer sex print ads promoting condom use and regular HIV testing; one ad features the Honorable Owen Nxumalo, the Manzini City Mayor, who urges people to get tested for HIV every three months in his ad.
Advertisement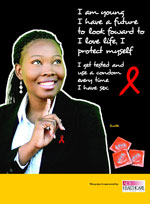 "The launch of our innovative 'Love Condom' campaign here in Swaziland last week has been met with unprecedented enthusiasm and has reignited a keen interest among both the media and the general public about HIV prevention, condom use and the entire rapid HIV testing process," said AHF's
Dr. Nduduzo Dube
, Medical Director, Lamvelase Help Centre, Manzini, Swaziland. "The demand for our 'Love Condoms' is overwhelming: all the people who have seen us on TV and in the paper are asking for these condoms. And throughout the weekend, our free HIV testing event drew more and more people as word spread about the campaign and our free condoms."
Swaziland, which has the world's highest HIV/AIDS prevalence rate, 33.4 percent of adults aged between 15 and 49 are HIV positive, has limited HIV/AIDS and ART services. Before the opening of LaMvelase Help Centre, Manzini, the largest city in Swaziland, had only one hospital providing ART.
The launch of AHF's 'Love Condom' campaign has been well covered by the Swazi media in part because of the involvement of one of King Mswati, III's, Senior Wives, Inkhosikati LaMbikiza, who sent a representative to deliver a speech on the day of the campaign launch.v Dr. Dube and the campaign have been featured on national TV twice in a space of four days to explain more about AHF and the campaign. He appeared on the 'Kusile Breakfast Show,' a program that airs at about 6.30am daily. In addition, articles on the campaign launch and AHF's ongoing free weekend HIV testing event have been published in 'The Times of Swaziland' and 'The Swazi Observer.' The launch was even featured on national radio in Siswati, and officials from Swazi TV called to encourage the AHF Swazi team who produced the ads to produce another advertisement in the Siswati language. On Monday, an editor of 'The Times of Swaziland,' one of the most respected publications in the nation, also called asking for 30 000 Love condoms to be distributed free in the newspaper.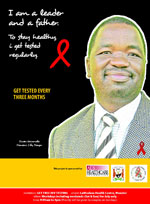 "The HIV prevention and safer sex posters produced by our local AHF team in Swaziland are magnificent, and I offer my heartfelt compliments and thanks on the successful launch of the 'Love Condom' campaign. Swaziland is the first country to launch our 'Love Condom' campaign. It is no surprise that the campaign has been met with such a welcome response and that demand for the 'Love Condoms' is high. And very special thanks must go to Mayor Nxumalo, for his courage and leadership in appearing in one of these advertisements," said Michael Weinstein, President of AIDS Healthcare Foundation. "We look forward to sustaining this campaign in Swaziland as we look to roll out this prevention and testing campaign in many other countries around the globe."
HIV/AIDS in Swaziland
In 2004, U.N. Special Envoy for HIV/AIDS Stephen Lewis announced that Swaziland had recorded the world's highest HIV/AIDS prevalence, surpassing nearby Botswana (Kaiser Family Foundation's Daily HIV/AIDS Report, March 22, 2004). The country of roughly one million people had a prevalence rate of approximately 33.4%. There is also significant prevalence of HIV and TB co-infection, with 80% of people with TB also co-infected with HIV. Swaziland's epidemic has been fueled in part by poverty, unemployment, a large and mobile migrant population, conservative religious and traditional beliefs against condom use and frequent multiple sexual partners. It is estimated that 30,000 individuals may be in immediate need of treatment and, as of September 2006, only 15,000 people were on ART.
The government of Swaziland has demonstrated a high level of political commitment to the fight against HIV/AIDS. The Swaziland National AIDS Program was established in 1987. In 1999, the King of Swaziland declared HIV/AIDS a national disaster and established an HIV/AIDS Cabinet Committee to coordinate the country's response to its epidemic.
This article was provided by AIDS Healthcare Foundation.