"Fifty-two percent of Black people above age 18 reported having been tested."
An estimated 21 percent of people living with HIV in the U.S. -- or 232,700 people -- are unaware of their infection.11 We don't know the exact racial breakdown of those nearly quarter of a million undiagnosed infections. But because Blacks account for such a large share of the epidemic, it is likely that they account for a large number of the undiagnosed, as well. If we assume Blacks account for the same share of undiagnosed infections as they do diagnosed ones, then more than 100,000 Black Americans are walking around with HIV and don't know it.
But that's a conservative estimate. Definitive data on the population of undiagnosed people may be unavailable, but existing clues suggest that the number of HIV-positive but undiagnosed Black Americans is significantly higher than 100,000. This section describes what is known -- and still not known -- about who gets tested in Black America, when they get tested and what they think about it all.
Better, but Not Enough to Save Us
Here's the good news: A remarkable number of Black people are taking steps to learn their HIV status. On average, Black Americans are significantly more likely than other racial/ethnic groups to report having ever been tested for HIV. According to national health interviews conducted by CDC in 2007, 52% of Black people above age 18 reported having been tested, compared with 38% of Hispanics and 34% of whites.12 In another CDC study, the share of Blacks who reported getting tested in the previous year was double the national rate.13 (See "Black HIV Testing and Transmission in America")
Advertisement
But here's the bad news: Despite these higher-than-average testing rates, the share of Black Americans who haven't been tested is still significantly higher than other groups. How can that be the case? Largely because HIV prevalence -- or, the amount of HIV present among a given population -- is far higher among Blacks than among other racial/ethnic groups. In other words, Black America's marginally higher testing rates are still insufficient to ensure an appropriate and commensurate public health response to the AIDS crisis in Black America.
That fact becomes clear when you look closely at the numbers. For example, in Washington, D.C. -- where Black residents account for more than half of diagnosed cases of HIV or AIDS -- health officials estimate that between a half and a third of residents are unaware of their HIV status.14 A 2008 survey of low-income Black Washington, D.C., residents living in neighborhoods with high HIV prevalence found that 5.2% of participants were HIV-positive, but nearly half (47.4 percent) did not know their HIV status.15 The study also found that nearly 40% of study participants had not been tested in the prior 12 months.16 This is alarming data, given that the same study found this group engaged in considerable amounts of sexual and drug-related activity that could expose them to HIV.
In a 2004-2005 survey of gay and bisexual men in five U.S. cities, a shocking 46 percent tested positive and two-thirds of them were previously unaware of their infection. In this CDC-sponsored study, the rate of undiagnosed HIV infection was nearly four times higher among Black men than among their white peers.17
Black America is experiencing a much worse epidemic, and therefore the testing response also has to be much more robust -- and sustained.
Why Traditional Testing Falls Short
America as a whole seems to have what is known as a "concentrated" epidemic.18 That means HIV infections are densely clumped in certain sub-populations, rather than spread widely across the entire national population. In the case of the U.S., the specific populations are gay and bisexual men, and injection drug users.
Black America, by contrast, suffers from a "generalized" epidemic,19 with extremely high rates of infection across a broad cross-section of the community. As we reported in Left Behind, conservative estimates indicate that HIV prevalence among Blacks exceeds 2 percent, which is well above the threshold UNAIDS uses to define a generalized epidemic.
In March, for instance, Washington, D.C.'s public health officials announced that HIV prevalence among Black residents is a whopping 3 percent -- and that's counting only the people who have been tested, not the undiagnosed. Seven percent of Black men were positive, and 3 percent of Black women. "Our rates are higher than West Africa," Shannon L. Hader, director of the D.C.'s HIV/AIDS Administration told the Washington Post. "They're on par with Uganda and some parts of Kenya." Significantly, Hader added, "We have every mode of transmission going up, all on the rise, and we have to deal with them."20
Furthermore, although HIV infection for the U.S. as a whole is largely concentrated in urban settings nationwide, many Black rural communities are experiencing extremely high HIV infection rates, as well.21 Everything we know about the Black epidemic points to one that is generalized and spread across the broad population.
Federal, state and local health departments have, however, used the lens of a concentrated epidemic in their response to HIV in America, focusing public health efforts on gay men, drug users, and others known to be at high risk for infection. This approach is far too limited for Black America, where HIV infection is broadly dispersed, extending well beyond so-called "high-risk" groups.
Risk-based targeting of HIV testing efforts inevitably misses many Blacks who are either living with the virus or at risk of becoming infected. A CDC-sponsored study in South Carolina -- a state where Blacks account for nearly three out of four people living with HIV -- estimated that risk-based testing would miss 79 percent of HIV infections.22 Similarly, a separate CDC study of rapid HIV testing in emergency departments in Los Angeles, New York and Oakland -- in which Blacks represented 51% of newly diagnosed individuals -- found that testing only "high-risk" individuals would have missed almost half (48%) of HIV-infected individuals.23
A major reason for the inadequacy of risk-based targeting is that it fails to capture the sex partners of so-called "high-risk" individuals. For example, Black Americans account for a disproportionate share of injection drug users, and Blacks also likely account for the large majority of such individuals' sexual partners. Risk-based testing would target only the drug user; a more generalized testing strategy would capture both the user and his or her sex partner.
In the generalized epidemic in Black America, everyone is potentially at risk. Clearly, for Black America, narrowly targeted HIV testing is the wrong strategy.
What Blacks Say About Testing Options
"For Black America, narrowly targeted HIV testing is the wrong strategy."
Surveys consistently demonstrate that many Black Americans prefer testing approaches that do not involve the taking of blood. In a multi-ethnic, multi-site study of testing preferences among people at high risk for HIV infection, Blacks were significantly more likely than other racial or ethnic groups to prefer urine or other non-blood testing.
24
Among the more than one-third of Black Washington, D.C., residents who were not tested in the prior 12 months, more than one-third (34 percent) said that an important reason for avoiding testing was their personal aversion to needles.
25
Another potentially important reason Blacks avoid HIV testing is the traditional wait to receive test results. According to surveys, Blacks appear to prefer rapid testing techniques that obviate the need to wait for results.26
Are We Losing Ground?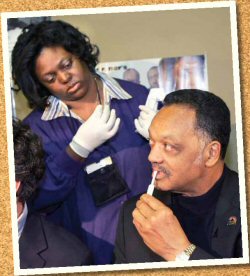 Rev. Jesse Jackson takes an HIV test at Cook County Jail in Chicago on February 23, 2007. Dozens of prisoners lined up for the tests behind Jackson, who was at the jail to demonstrate how easy the tests are. He is supervised by Jeannette Bailey. Photo: Charles Rex Arbogast, AP.
The combination of inadequate testing and extremely high HIV prevalence means that many Black Americans who are HIV-infected are unaware of their HIV status. Worse, even as AIDS continues to devastate Black communities across the U.S., disturbing signs suggest that testing rates among Blacks have stagnated or even declined in recent years.
According to surveys of Black Americans conducted by the Henry J. Kaiser Family Foundation, the percentage of Black people under age 65 who report having been tested for HIV in the prior 12 months remained stable between October 1997 (39%) and March 2009 (40%).27 But a New York University analysis of results from the CDC's Behavioral Risk Factor Surveillance System suggests that testing rates among Blacks may actually be falling. According to this analysis, the percentage of Blacks who reported having been recently tested fell from 30% in 1999 to 25% in 2007.28
It's important to remember that testing's failures echo well past preventing the virus's spread. Yes, when people are undiagnosed they cannot take steps to protect their sex partners from infection. But they also cannot get treatment for themselves. HIV-positive Black Americans fare much worse than their peers in other racial and ethnic groups, progressing from HIV to AIDS and dying at higher rates. Research suggests these trends are driven at least in part by the fact that so many Black Americans have not been tested and, thus, are only diagnosed once they become sick -- when treatment is much less likely to succeed. In South Carolina -- where 73% of new AIDS cases are among Blacks29 -- 41% of AIDS cases reported between 2001-2005 were in people who had been diagnosed with HIV within the previous year.30
The Evolution of HIV Screening: Faster, Easier Testing
Twenty-five years after the development of the first test to detect antibodies to HIV, an impressive battery of technologies exists for diagnosing HIV infection. These advances have reduced or eliminated many of the technical weaknesses of first-generation HIV tests -- making it far easier for patients to take HIV tests, and giving providers far more tools for catching new infections quickly. Here's an overview of the evolution of testing.
In the Beginning ... Standard Antibody Tests
The primary method for diagnosing HIV does not test for the virus itself but instead screens for "antibodies" for the virus. The ELISA test (short for "enzyme-linked immunosorbent assay"), is used to screen for HIV antibodies in the blood or other body fluids. A positive result on an ELISA screening test is subsequently confirmed by a second test, called the Western Blot. Standard antibody tests are most commonly administered on blood, although federal authorities have also approved HIV antibody tests in oral fluids and urine.
The two-step, standard antibody tests are highly accurate, with only a remote risk of a false positive result. Standard antibody tests have long been common in a variety of venues, including physicians' offices and stand-alone HIV testing and STD clinics.
An individual will test positive on a standard HIV antibody test only if antibodies to infection have appeared. The Food and Drug Administration advises that detectable antibodies tend to develop within two to eight weeks after exposure, with 22 days representing the average time it takes for antibodies to appear.
This interval between HIV infection and appearance of detectable antibodies is known as the "window period." Because individuals are especially infectious immediately after becoming infected, the window period has been a major weakness of traditional antibody tests and an important vulnerability of HIV screening efforts overall. In the first decade or so after the development of the antibody tests, individuals who tested negative were advised to seek follow-up testing at least six months later to confirm that they were, in fact, uninfected. Over time, however, antibody testing technologies and laboratory expertise have significantly improved, leading authorities to conclude that virtually all cases of infection are detectable by standard antibody tests within three months of exposure.
Because the ELISA screen must be confirmed, standard antibody testing has traditionally involved a wait of up to two weeks before individuals receive their test results. Standard antibody testing has historically been accompanied by pre- and post-test counseling that aims to ensure that individuals understand the purpose of an antibody test and are educated regarding the importance of HIV risk reduction.
A Revolutionary Development ... Rapid Testing
Historically, a significant portion of people who have had blood drawn for HIV tests have failed to return to receive their test results. This weakness in standard antibody tests has largely been addressed through the development of rapid HIV tests that deliver results during the same office visit in which testing occurs.
Since approval of the OraQuick Rapid HIV Test in 2002, the Food and Drug Administration has approved six tests for the rapid detection of HIV. All of these tests may be used with whole blood, but only one is available for use with blood and/or saliva. All are available for use in point-of-care and non-clinical settings. These tests have proven to be reliable, at levels comparable to standard antibody tests. They've also proven to increase both testing and the likelihood that individuals will actually receive their results.
Like standard antibody tests, rapid tests detect antibodies to HIV but not the virus itself. As a result, rapid tests share the drawback that they are unable to detect the virus during the window period between exposure and the emergence of antibodies. However, rapid tests have demonstrated their ability to ensure receipt of test results among individuals who might otherwise have failed to return for their results.
Like traditional antibody tests, rapid test results must be confirmed. To accelerate swift confirmation and immediate referral for follow-up care, some providers use a combination of rapid tests rather than the more time-consuming Western Blot. CDC has yet to endorse this strategy.
Rapid tests that use oral fluid have been shown to be particularly effective in boosting testing. According to clients of a major testing center in New York City, 90 percent of individuals prefer testing with oral fluids as opposed to blood. The New York center's move to oral fluid testing resulted in a 30 percent increase in testing since 2005. Although most rapid tests that have received FDA approval are blood tests, approval has also been given for rapid tests for oral fluids and urine. In addition, FDA has also approved tests that use fingerstick or dried blood spots.
The New Cutting Edge ... Non-Antibody Tests
Non-antibody testing technologies now enable clinicians to diagnose HIV infection within days of exposure, before detectable antibodies are present. Unlike antibody tests, these non-antibody technologies actually test for the virus itself. Making the window period for HIV as short as possible is a critical public health priority, as people in the very early stages of HIV infection play an outsized role in the spread of infection within social networks.
RNA-based tests are the optimal method for diagnosing early HIV infection. These tests identify the actual genetic material of HIV rather than antibodies to the virus. RNA testing can identify infection well before a newly infected individual would test positive under standard antibody testing. RNA testing has long been used to screen the U.S. blood supply, but has only been commonly used for diagnosing HIV in individual patients in recent years.
Another method for diagnosing early HIV infection is testing for the presence of a protein that is part of HIV, called the p24 antigen. The p24 antigen is typically detectable a few days after viral genetic material can be identified but before the appearance of HIV antibodies.
Although these non-antibody tests have significantly increased clinical capacity to identify early infection and thereby prevent unknowing HIV transmission, they are infrequently used for diagnostic purposes due to several factors.
One factor is cost: These tests are more complex and costly to perform than standard antibody tests. One way to reduce that cost is what's called "pooled" RNA screening. Pooled testing involves the application of a single RNA test to multiple specimens that are divided into separate pools. If HIV is detected in the master pool, the lab technician identifies which of the individual pools has the infected specimen. RNA tests are then performed on each specimen in the identified pool until the HIV-infected, antibody-negative specimen is identified.
Another impediment to widespread use of non-antibody tests is the failure of many clinicians to order a test in the first place, even when one is clearly called for. In one study of 46 individuals with acute HIV infection, most came to the attention of a medical provider, creating an opportunity for immediate diagnosis of HIV during the most infectious stage of the disease. But only 25 percent of those who saw a doctor during their seroconversion were correctly diagnosed.