Hundreds of People to Rally in Canada, U.S. This Sunday to Call for End to U.S. Travel and Immigration Ban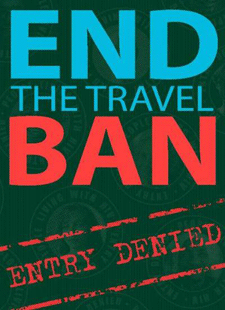 The discriminatory U.S. HIV travel and immigration ban is the closest it's ever been to being lifted. This Sunday, if you're anywhere near Surrey, British Columbia or Fort Erie, Ontario, you can join advocates in crossing over the border from Canada to the U.S. to emphasize the discriminatory nature of the HIV travel and immigration ban. Unfortunately, HIV-positive Canadians aren't yet legally allowed to take the journey.
The Obama administration has proposed lifting the two-decades-old ban on people living with HIV entering the U.S. The U.S. is very close to lifting this ban; national and international voices are needed to ensure that this is done.
The rallies will take place at Peace Arch Park, Surrey, British, Columbia, the last stop before the Canadian U.S. border AND Veteran's Way, Fort Erie Ontario, by the Peace Bridge across the bridge to Buffalo, New York.
Advertisement
The Surrey, BC event takes place August 16 from 10:30 am to 1:30 pm PST. The Buffalo event takes place on Aug. 16 from 2:30 pm to 3:15 pm EST. Hundreds of people living with HIV and their supporters from Canada and the U.S. will be there. Speakers at the Surrey, BC event include Surrey Mayor Barinder Rasode, Vancouver Centre Member of Parliament; Dr. Hedy Fry and Housing Works President and CEO Charles King. Speakers at the Fort Erie event include representatives from local AIDS Service Organizations from both Canada and the United States, including Rosetta Menifee, the co-vice president of the Ryan White CARE Network, who lives in Buffalo.
Menifee is HIV-positive, and she describes the "injustice" that she can freely cross the U.S.-Canada border, while people with HIV/AIDS in Canada cannot.
"If we say all people should be created equal, that's how we should treat them," Manifee said. "As I should be able to travel, so should others.
For more information about the British Columbia event contact Martin Rooney, (604) 584-6475 or rally@martinstorm.com; for more information about the Niagara event contact Doulton Wiltshire, (613) 876-0819
Can't make it up? Submit a comment in favor of the proposed ban fix, electronically via the Internet to http://regulations.gov or via email to Part34HIVcomments@cdc.gov. Or even easier, lend your name to Immigration Equality's comment.
Travel ban background information
United States law bars non-citizens infected with HIV or AIDS from entering the United States as visitors, and from becoming U.S. citizens. The U.S. is one of only 13 countries that has a ban on people with HIV entering the country. The other countries are Brunei Darussalam, Oman, Qatar, Sudan, United Arab Emirates, Yemen, Egypt, Iraq, Singapore, Tunisia, Turks and Caicos Islands.
The HIV entry ban dates back to a 1987 amendment sponsored by U.S. Senator Jesse Helms, the late North Carolina Republican. Senator Jesse Helms directed the Department of Health and Human Services (HHS) to add HIV to its list of "dangerous contagious diseases" that preclude people from entering the country.
In 1993, when HHS considered removing this restriction, Congress passed a law codifying the ban. This law was overturned by Congress in 2008, and President Bush was expected to remove HIV from HHS's list of "dangerous diseases." But this was held up because of bureaucratic delays.
The ban's continued existence was once again brought to national attention in June when 60 Canadians were banned from entering the U.S. to attend the North American Housing and HIV/AIDS Research Summit in Washington, D.C.
Then on June 29, 2009, the Obama administration took the first steps to lift the ban, and published a proposed regulation which will remove HIV from its list of "communicable diseases of public health significance." Once the comment period closes on August 17, HHS will review the comments and issue final regulations.