Activists Expand Demands Around Syringe Exchange, Calling on Obama to Lift Ban on International Funding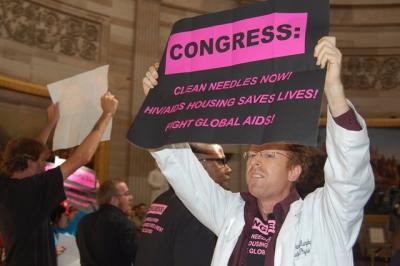 Activists hope pressuring Congress on domestic needle-exchange could have global implications.
Capitalizing on the momentum around lifting the federal ban on syringe exchange funding, a coalition of AIDS advocates are ramping up the pressure on the Obama administration to reverse the Bush-era policy that bans the use of the President's Emergency Plan for AIDS Relief (PEPFAR) funding for syringe exchange programs.
Ten days after 26 activists were arrested at the U.S. Capitol over the domestic ban on syringe exchange, Health GAP, Physicians for Human Rights, the Global AIDS Alliance, Treatment Action Group and other organizations issued a joint press release this week taking President Obama to task for not honoring his public and written campaign pledges that the policy on international funding for syringe exchange would be changed.
Advertisement
The president's new Global AIDS Coordinator, Dr. Eric Goosby, gave advocates a well-timed opportunity to highlight Obama's foot-dragging when Goosby dodged questions over the syringe-exchange funding ban at the International AIDS Society meeting this week in Cape Town.
According to ScienceSpeaks
, Goosby, while heralding Obama's support for syringe-exchange, asked for "a few more weeks" before addressing the issue.
"We Don't Have Time to Be Patient"
Could Goosby's plea for more time been a reference to the impending action on the domestic ban on syringe exchange funding? Asia Russell, Health GAP's director of international policy, says that the White House has consistently indicated that it wants action on the domestic syringe-exchange front first.
Either way, Goosby's answer doesn't sit well with Russell. "The international policy fix is straightforward," she said. "Fixing the problem is little more than changing two sentences of PEPFAR. The White House has to show leadership."
While the domestic ban on syringe exchange funding must be lifted through an act of Congress, the White House could simply provide new guidelines for PEPFAR funding.
Action from Obama is especially important because countries that receive PEPFAR funding have only a limited time to submit their plans for 2010. If the ban on funding syringe exchange is not lifted, it will be at least another year before desperately needed syringe exchange programs can be put into place internationally.
"Goosby's answer amounted to 'Be patient.' But we don't have time to be patient," Russell said.
Housing Works President and CEO Charles King joined advocates calls for quick action. "I'm disappointed that Secretary of State Clinton has not taken the lead on this issue," he said. "Over the years, she has stated her support for syringe exchange and said that we need to have spine. Here is yet another chance for her to show her spine."
According to Health GAP, drug use accounts for the majority of HIV infections in dozens of countries in Asia and Eastern Europe. In many countries outside Africa, the largest number of new infections occurs among injection drug users. In addition, in several sub-Saharan African countries, injection drug use is emerging as a new source of HIV transmission.
Although PEPFAR funds are not able to be used for syringe exchange, PEPFAR does fund medication-assisted therapy (MAT) drug treatment, also known as opioid substitution therapy. The forefront of PEPFAR's MAT work is in the Ukraine and Vietnam, where, in 2008, PEPFAR funded pilot MAT centers for injection drug users.