In this IAS 2009 press conference, Paula Akugizibwe, Treatment Literacy and Advocacy Coordinator for the AIDS and Rights Alliance of Southern Africa, summarizes her talk "Legal Challenges and Successes in Overcoming HIV Stigma and Discrimination to Expand Uptake of Services."1 To view the webcast of her complete presentation, click here.
Paula Akugizibwe: Before I get to the content of my presentation today, I'd like to start off by drawing everyone's attention to the bottom line. Because everything that you're going to hear at this conference, or that you have already heard, over the next few days comes down to one thing, and that is money. So before I get into it, I'm going to ask the tech to put in the video. [Video plays. See embedded video clip below.]
Right now, we're standing in a sinkhole, with regards to HIV and TB [tuberculosis] treatment in the region. We're standing in a sinkhole and making presentations and doing data and carrying on research studies. All of that is very important. But the fact remains that right now, particularly in the African region where our work focuses, there is no money to provide even the most basic interventions for HIV and TB.
Advertisement

Paula Akugizibwe
© International AIDS Society / Simon Deiner / SDR Photo
You've probably all seen the
World Bank
and
UNAIDS report
that was recently issued, warning that in the next 12 months, more than 60% of the people who are currently on treatment may see that access threatened.
In the region, we've already started seeing some pretty severe cutbacks. Tanzania cut its HIV budget by 25% a few months ago. Botswana, which is one of the model poster children for ART [antiretroviral therapy] in the continent, has warned that its treatment program is not sustainable, and that beyond 2016, it will no longer be able to enroll new people in treatment. Not that HIV is going to stop growing; but apparently, there's no money to finance the treatment for it.
Swaziland's new national strategic plan has reduced universal access targets from 60% in 2011 to 50% for 2011. Uganda is turning away patients from facilities because there are no drugs. These are patients with CD4 counts of under 200.
So while we welcome initiatives to up the initiation threshold, the fact is that we're still failing to meet the needs for half of the people at the current thresholds of 200 in the region. This is why I say that unless we address the bottom line, which is money, all the other talk that we hear at conferences like this really has no point.
Zambia has had their aid cut from two major funders, including the main funder of the national TB program, the Dutch, because of $2 million that went missing from the Ministry of Health. Mozambique has received no money at all from the Global Fund this year.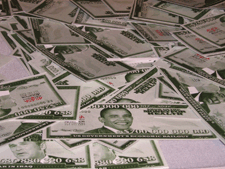 Fake money representing the wasted money in Africa
So, we hear there's no money for health. ARASA [AIDS and Rights Alliance for Southern Africa] went on a little retrospective treasure hunt, because we know that there is some money out there.
In case you're wondering what this stack of dollar bills is, which you're welcome to help yourself to afterwards, it's some comparisons of where the money in our world, and in our continent, is really going. You've seen some of the figures in this video we have. Robert Mugabe's birthday party: $250,000 -- equivalent to 10,000 TB treatment courses. We have the annual cost of corruption on the African continent: $148 billion -- equivalent to one year's ART for 704 million people.
We have private jets for the president of Uganda, where patients have been turned away from health facilities because there are no drugs; $48 million could buy more than 200,000 people treatment for one year.
A presentation depicting the amount of treatment that could be paid for with the amount of money spent on extravagant purchases and events by political leaders.
We have Obama -- not because we don't love him, because we all still do -- but the fact is that he has essentially flatlined AIDS funding for the next two years, while spending more than $700 trillion in bailing out banks, a fraction, less than 1%, of which could have been used to close the funding gap.
We also have some ghosts from nightmares past, George Bush and Dick Cheney, just to illustrate that what we are seeing right now is not nearly the result of the economic crisis. Because we're going to keep hearing that health is at risk because of the economic crisis, which limits funds. But this situation has been going on for a very long time. Money has been diverted to other priorities, while health has been consistently neglected. So the economic crisis may be the catalyst that's going to aggravate the situation; but the real challenge is the underlying, longstanding moral crisis that has failed to prioritize health over many years.
Back to my point for the day, which was the legal and human rights challenges to scaling up access to testing and treatment: this is one of them. Because if the right to health is not granted in our legislative frameworks in the constitutions, then we don't have any framework for holding governments accountable. This is something that needs to be pushed by donors who are giving money to countries, because when this money is mismanaged and civil society doesn't have access to records of the way the finances are being spent, it is impossible for us to work to hold our governments accountable.
Additionally, some of the barriers that we see in legislation to scaling up treatment include the entrenchment of stigma and discrimination in law. ARASA does a biannual report that does a survey of human rights in HIV norms across the SADC [Southern African Development Community] region. And in the SADC region, nine of the 14 countries criminalize same-sex relationships. So a particularly high-risk group is effectively barred from accessing prevention services and treatment services because of this. We see the same thing for sex workers. We see it for drug users.
In addition to that, we also find that there is popular endorsement of stigma and discrimination by leading influential figures. Some of us may have seen the Swaziland Member of Parliament who called for HIV-positive people to be branded on their buttocks. We may have seen the recent furor over the Rwandan government's proposed reproductive health bill, which had initially proposed compulsory HIV testing for all people about to enter into marriage.
The fact is that we may have all these theoretical discussions, and we may have all this knowledge. We may have it at research levels. We may have it in conference rooms. We may even have it at policy levels in countries. But until we do some serious work, and invest money and time on creating human rights sensitization, including sensitization on the right to health, and the imperative of governments to fund this right, then everything else we're doing is essentially self-defeating.
So please do attend the special session on human rights at 1 o'clock, where I'll be speaking further about this topic of how human rights are so critical to the success against HIV.1
Craig McClure: Thank you very much, Paula. [Applause.] Thank you for giving us the bottom line. I think everyone's hearing loud and clear from last night through to your talk today, and will continue to do so, that the commitments made by high-income countries through G-8 commitments, and other OECD countries, and the commitment from governments themselves in low- and middle-income countries, are not being met.
This transcript has been lightly edited for clarity.
Reference
Akugizibwe P. Legal challenges and successes in overcoming HIV stigma and discrimination to expand uptake of services. In: Program and abstracts of the 5th International AIDS Society Conference on HIV Pathogenesis, Treatment and Prevention; July 19-22, 2009; Cape Town, South Africa. Abstract MOSS203.