Study Summary by Reuben Granich, M.D., M.P.H.
There's nothing like hearing the results of studies directly from those who actually conducted the research. In this summary, you'll hear Reuben Granich, M.D., M.P.H., medical officer for the World Health Organization (WHO)'s HIV/AIDS Department, summarize his plenary talk "HAART as Prevention."1 It is followed by a question from a reporter.


Reuben Granich, M.D., M.P.H. © International AIDS Society / Simon Deiner / SDR Photo
Reuben Granich: I first want to mention that Dr. Brian Williams is our senior author on the paper, and the person who did the modeling. I presented a theoretical model today. It doesn't represent WHO policy, but what it does show is that if you test people [for HIV], on average, once per year, and start them on ART [antiretroviral therapy] immediately, we see a 95% reduction in incidence of new HIV cases in 10 years. This included combined prevention of about 40%, in addition to ART.
A translation of that 95% reduction in incidence means a 15,000 to 20,000 per million incidence is reduced to 1,000 per million. And the prevalence goes down to about 1% by 2050.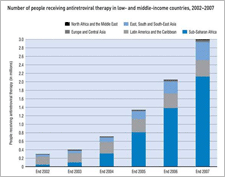 Reuben Granich et al. IAS 2009; abstract MOPL101. Reprinted with permission.
Click here
to view the full presentation.
Advertisement
We used data from sub-Saharan Africa. We used it from a number of different countries. It's a model that is specifically designed to look at questions among a heterosexual epidemic, and hasn't been applied elsewhere. I would emphasize again that it's a theoretical model, and
doesn't
represent a change in WHO policy.
But it does, perhaps, represent a change in the way that we think about ART and hopefully raises some thoughts, or some consideration, of the fact that ART is good, not only for treatment, but also for preventing HIV transmission.
We looked at the costs, and we did a very rough costing. But the costs are within what UNAIDS estimates would be needed for universal access for a population of this size. Again, it's a theoretical costing. We will be calling stakeholders together for a meeting in November to discuss the issues with the model and with what we're thinking about in terms of ART for prevention.
Then finally, what I would want to emphasize is that when you're talking about HIV testing for such large numbers of people, it's very, very important to keep human rights in mind. We're not talking about any sort of coercion, or any sort of mandatory testing or anything of that sort. Nothing like this could ever work in the distant future, if it would work, without community engagement and participation.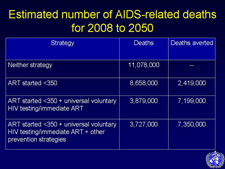 Reuben Granich et al. IAS 2009; abstract MOPL101. Reprinted with permission.
Click here
to view the full presentation.
Thank you for your attention, and I'm happy to answer any questions.
Reporter: Dr. Granich, if you could just explain a little bit more about what will change your recommendation from a theoretical potential to WHO policy. I just wonder what's likely to happen between now and the November meeting.
Reuben Granich: The November meeting actually will be to bring together stakeholders. This is a technical paper, a model that was published in Lancet. WHO is a member state organization. We have a number of key stakeholders that we need to call together in November to basically discuss the technical model, and then to lay out a pathway for how to move forward on this. But there will be no changes between now and November. We're in a very early period, in terms of looking at this model.
What is clear is that prevention is critical, and that we're not keeping up with the treatment demands that are out there. We're only reaching about 30% of people who need to be on ART, even at very low thresholds. There are 2.7 million new infections a year, and 6.7 million people who need treatment. That was at the end of 2007.
So we must all think about ways to come together to do combined prevention. Our model used a combined prevention approach -- combined prevention that would include ART, but also many other interventions (like couple's counseling and male circumcision, for example) to get ahead of the epidemic, and prevent transmission.
One other point is that our model showed, as well, that for a theoretical scenario [involving a CD4 count of] less than 350, you see a HIV prevention benefit. That's actually where the paradigm shift comes, in that people are starting to realize that HIV treatment is not only about saving people's lives, which is important, and keeping them out of the hospital, which is, of course, critical, and allowing them to live a productive and longer life; but it's also about preventing transmission to others. So that's actually the thing that comes out of the model.
This transcript has been lightly edited for clarity.
Reference
Granich R. HAART as prevention. In: Program and abstracts of the 5th International AIDS Society Conference on HIV Pathogenesis, Treatment and Prevention; July 19-22, 2009; Cape Town, South Africa. Abstract MOPL101.
View slides: Download PowerPoint