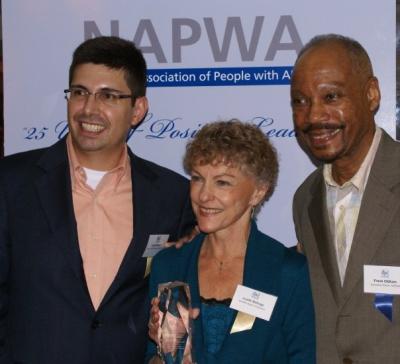 Munar, former NAPWA president Judith Billings, and Oldham at AIDSWatch 2008
Last spring's Denver Principles Project was supposed to address the National Association of People with AIDS' crisis of vision and finances. That membership drive was intended to give people with AIDS more ownership of an organization largely funded by pharma and government grants. Today, however, NAPWA is in even worse shape than before.
The organization's lack of leadership and commitment to the people it is supposed to serve has prompted many former allies and partners to reluctantly leave the organization. Former board chair David Munar resigned last week, and a crucial partnership with POZ magazine is disintegrating. Veteran activist Sean Strub, who was contributing his star power and skills to the Denver Principles Project, has also parted ways with NAPWA.
Advertisement
Many people were unwilling or reluctant to comment on this recent series of catastrophes because they don't want to undermine NAPWA, the only national organization meant to serve PWAs. But numerous people, both inside and outside the organization, have called on NAPWA to take a more public stance advocating for PWAs and to include more people unaffiliated with pharmaceutical companies and AIDS organizations on its board of directors.
Neither POZ nor NAPWA would comment on the crisis. But people familiar with the situation say POZ and NAPWA are both lawyered up and working toward terminating their relationship. NAPWA will no longer have its monthly feature in POZ and the last mention of NAPWA on POZ.com was a tough op-ed by Housing Works President and CEO Charles King entitled How to Renew PWA Ownership of NAPWA, which was also featured in the Update. POZ is still featured on NAPWA's website, and some familiar with the situation say that NAPWA's slow response to the situation with POZ puts its financial future in jeopardy.
Before the Denver Principles Project started, NAPWA had less than 100 paying members, although that has grow to at least 300 since the Project's inception. Its ambitious goal is to have 100,000 new members.
A Chorus of Disappointment
Sean Strub, POZ's founder who largely conceived of the Denver Principles Project, wouldn't comment on NAPWA and POZ's relationship but said, on a personal level, "NAPWA doesn't seem very interested in working with me."
"I'm very disappointed," Strub added. "I think NAPWA has abandoned its principles. I'm continuing to support the Denver Principles Project, and I hope it fosters support in the AIDS community. But NAPWA is failing to reform its principles and bring in unaffiliated PWAs."
These sentiments were also conveyed by King.
"It's now very clear that NAPWA is not prepared to live up to its promise to PWAs," King said. "Without question this is the fault of the leadership of the organization, including the board and its executive. From the outside it seems apparent the board isn't open to turning over substantive, democratic leadership by PWAs. It's exercise with POZ was nothing more than a marketing gimmick looking to raise money."
Munar wouldn't comment on his resignation but released the following statement: "All I can say is that I remain fully committed to PLWHA advocacy and empowerment. NAPWA is a vitally important organization to give voice to those of us directly affected by HIV/AIDS."
Sources said that Munar wanted NAPWA to make changes but faced resistance by Executive Director Frank Oldham and the board of directors.
Housing Works National Field Organizer and an HIV-positive member of NAPWA's board of directors, Larry Bryant, said "to see David walk away is a significant blow to the organization and its purpose."
He added, "NAPWA is the one group that's made up of PWAs, but it doesn't seem like its goal to [represent us] is being truly addressed. It's one thing to address AIDS policies, but we jump right over people's actual day-to-day concerns. As a Black man living with HIV, if I were involved with an issue of criminalization, who would I call?"
Michael Rajner served as a volunteer with NAPWA but resigned this week. He criticized the organization for failing to issue a statement commending the AIDS activists who were arrested in the Capitol rotunda. He was removed from the Federal AIDS Policy Partnership listserv after a representative from NAPWA contacted the listserv's moderators to inform them that Rajner was no longer affiliated with NAPWA.
"My time is too valuable to be struggling with an organization I want to support but can't be a vehicle for our community's voice," Rajner said. "I don't see it as the AIDS community's voice. I see it as the voice of some special interests. There's some good people involved, but it's time that this organization really take a look at itself."