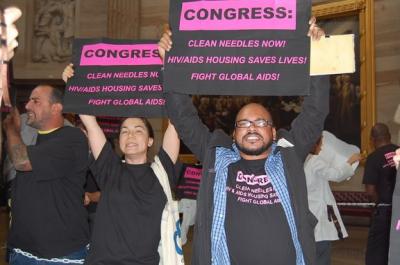 Eddie Santiago, Emily Metzner and Johnny Guaylupo, all of CitiWide Harm Reduction, convincing Congress that clean needles save lives
Last Friday, the day after activists got arrested in the Capitol, Rep. David Obey (D-WI) announced his decision to lift the ban on federal funding for syringe exchange. Today at 9 a.m., the House Subcommittee on Labor, Health and Human Services, Education, and Related Agencies will vote on the budget, which includes the ban language. Activists have been pushing hard to make sure the bill passes without any amendments that would weaken existing syringe exchange programs.
"I want to call it a baby step, but it's really a huge first step," AIDS Action Political Director Bill McColl said in a conference call with advocates on Tuesday about today's vote. Although Obey was planning on lifting the ban before activists' arrests, McColl credited the arrests for drawing necessary attention to the issue."""Outside pressure reinforces Rep. Obey's understanding of the situation," McColl told the Update. "It's important for them to know that a lot of people care about this issue. We definitely support the pressure to keep the pressure on."
Advertisement
Congress is receiving pressure not only in the HIV/AIDS and hepatitis community, but from public health advocates and law enforcement officials including the National Black Police Association, the American Public Health Association and the American Psychiatric Association. The media has also
kept the heat on.
No Amendments, Please
Advocates don't know what amendments, if any, members (likely Republican) of the House committee will attempt to tack onto the bill today, or later, once it reaches the full House. But most concerning is a rider that was recently offered by Republican Rep. Jack Kingston of Georgia and accepted by the Democrat-led Appropriations Committee. It would bar District of Columbia syringe exchange programs from distributing clean needles or syringes within 1,000 feet "of a public or private day care center, elementary school, vocational school, secondary school, college, junior college, or university, or any public swimming pool, park, playground, video arcade, or youth center, or an event sponsored by any such entity." This rider would completely undermine D.C.'s syringe exchange efforts, which were finally authorized by Congress in 2007.
"Assuming these limitations, the only place was near the Capitol and on the national Mall. Unfortunately it's not going to meet the needs of the community," said Physicians for Human Rights National Field Organizer Jirair Ratevosian. Another possible amendment would make syringe exchange programs pledge to oppose the legalization of drugs (a violation of the right to free speech).
On the Ground
Since 1989, Congress has prevented the use of federal funds for syringe exchange programs, using the Labor, HHS Appropriations bill and other legal provisions to carry out the prohibition. Numerous studies have proven that syringe exchange program are cost-effective, save lives, do not promote drug use, and provide a conduit to primary health care for hard to reach populations. Annually, nearly 8,000 Americans contract HIV/AIDS and approximately 12,000 Americans contract the hepatitis C virus directly or indirectly from sharing contaminated syringes. Nationally there are more than 200 syringes exchanges are operating in 36 states, D.C. and Puerto Rico.
Emily Metzner works as a community program assistant at CitiWide Harm Reduction in New York and was one of the 26 activists arrested in the Capitol last week. She said she sees every day how syringe exchange programs positively impact CitiWide's clients.
"The primary reason for syringe exchange programs is eliminating blood-borne illnesses, but it works on many, many levels," Metzner said. "Syringe exchange programs serve to build community and connect people to care who otherwise would be on their own."