Teaching teens who are living with HIV about sex is no easy task. But when it comes to subjects like making smart choices about sex and the risks of passing HIV on to others, the consequences of not getting through can be huge.
So how do you make sure that important information sinks in? A team of U.S. researchers thinks it has an answer: video games. Christine Markham, Ph.D., and her colleagues at the University of Texas School of Public Health and Baylor College of Medicine have developed a multimedia game called +CLICK. "It's a way of helping to get sexual risk reduction information and skills across to young people in an interactive and fun way," Markham explains. "Teens, young people, are very into media, video and computer technology. We thought it was really great to get more of an interactive format for them. ... It's set up in a very entertaining, captivating way that we think people will like."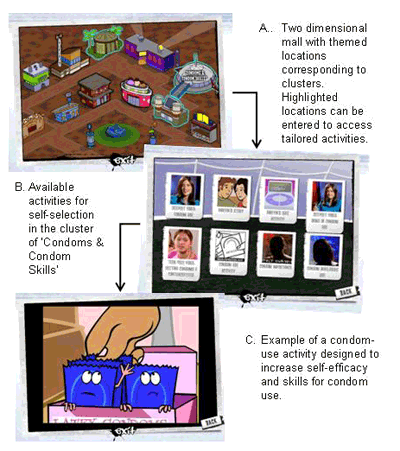 Images from +CLICK
+CLICK is set within a virtual shopping mall. But in
this
mall, each store is an educational activity: The interactive game includes plenty of multimedia, such as videos in which young people with HIV discuss their experiences, or in which HIV experts dish out advice.
The game is designed to customize itself to each person who plays: It starts by asking players simple questions, such as their age, gender and sexual experiences. Then it provides a tailored experience based on what that teen needs to know. +CLICK focuses on sexual behavior: It provides teens with the knowledge and tools they need to make informed decisions about issues such as whether to have sex or abstain, how and when to disclose their HIV status, and how to use condoms or other forms of contraception.
Markham has worked with young people for a decade, initially doing HIV prevention programs in classrooms. She shifted her focus to HIV-positive youth once she realized that there wasn't a lot of information out there for them. "There's a lot of materials out there on the Web for HIV-positive individuals, but not all of them are tailored especially for youth," Markham explains.
Also, young people are a group that clinicians and doctors often struggle with. "In a clinic setting, they weren't really sure if the information they were giving to teens about condom use was getting across to their [HIV-positive] clients," she says. By contrast, with its specific focus on young, HIV-positive people, +CLICK aims to helps get teens more engaged in learning important skills, like making wise decisions when it comes to sex. In fact, Markham expressed hope that the game could become an important tool in those very health care settings where doctors have trouble reaching teens. "We designed it to be used in a clinic setting: when a teen comes in to a clinic for a regular visit, this could be woven into the time in between waiting for blood draws or waiting to see the clinician or waiting to see the social worker," she says.

Images from +CLICK
Markham and her colleagues have high hopes that +CLICK will make a real impact on the young people who play it. Based on the pilot study they conducted, they have reason to be optimistic.
The study included 32 teenagers, more than half of whom had been HIV positive since birth, and almost two-thirds of whom were female. Before they began playing +CLICK, they filled out short questionnaires about their sexual knowledge -- issues that would be covered by the game itself. After completing the game, they answered a similar set of questions.
The feedback was extremely positive: Most players seemed to internalize what the game taught them well, and considered the content trustworthy. Many players also said that they found the game easy to use, would tell their friends about it and would consider playing again.
Not only did the lessons work, but there was an added benefit: The researchers discovered that players who thought of new questions about sex while playing the game felt more comfortable asking them to doctors and clinicians afterward. Also, care givers found it easier to talk with teenagers who had played the game.
Programmers are tweaking +CLICK slightly before its public release, which is slated for early next year. Most of the changes simply fix glitches, but some are alterations based on feedback from the pilot test. One big difference is in how the game will be accessed: Teens who tested it said they wanted the ability to use it from outside the clinic or doctor's office. As a result, the final game will be online and available to anyone with an Internet connection.
The feedback on +CLICK has been so positive that Markham and her colleagues have begun work on a second game, this one dealing with HIV medications and the importance of adherence. They've begun limited testing for the adherence game, with hopes that it will be ready for a pilot test by the end of the year.