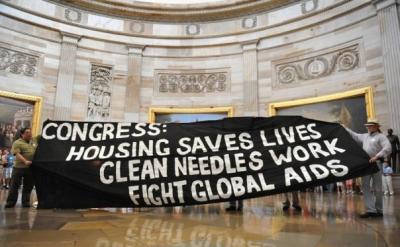 Action in the U.S. Capitol pays off -- now let's finish the job!
Last week, AIDS activists staged a civil disobedience protest in the U.S. Capitol rotunda, demanding Congress lift a senseless federal ban on syringe exchange funding. Twenty-six people were arrested. Worldwide media attention played a role with pressuring Congress to take a big step toward lifting the ban the very next day.
Annually, nearly 8,000 Americans contract HIV/AIDS and approximately 12,000 Americans contract the hepatitis C virus directly or indirectly from sharing contaminated syringes. Syringe exchange programs are proven to be cost-effective and lifesaving, do not promote drug use, and provide a conduit to primary health care for hard to reach populations. Since 1989, Congress has banned the use of federal funds for syringe exchange programs, by attaching a rider to the Labor, Health and Human Services Appropriations bill.
Advertisement
In a historic move on Friday July 10th, Chairman David R. Obey (D-WI) and the Labor, Health and Human Services Appropriations Subcommittee removed the ban from the FY 2010 appropriations bill. In a statement issued Friday, Obey championed the authority of local communities in deciding this issue, stating, "The judgment we make in this bill is that it is time to lift this ban and let State and local jurisdictions determine if they want to pursue this approach."
But the fight is far from over. We need your help to ensure that the ban is not reinserted or to prevent new restrictions on syringe exchange from being added during the Appropriations process. The time is now. The full Appropriations Committee will vote on the bill on Friday and it will quickly go to the House floor.
This is our opportunity to end the ban and restore science and justice to national HIV prevention efforts. Help us prevent an amendment to reinstate the ban from passing. Contact key representatives on the Appropriations Committee immediately to urge him or her to block such an amendment and support syringe exchange programs. To use AIDS Action's quicksend form, please enter your zip code.
This bill is targeted directly to members of the full Appropriations Committee. If your representative is not a member of the Appropriations Committee, you will not need to send this alert. However, please be prepared to send an alert when the bill comes before the full House as early as next week.