A Discussion With Elizabeth Stringer, M.D.
In this study summary, Elizabeth Stringer, M.D., of the University of Alabama at Birmingham discusses a multi-country cohort study exploring the impact of hormonal contraception on HIV disease progression. After the discussion, there will be a series of questions and answers.
Elizabeth Stringer: There are about 15 million women worldwide who are HIV infected. Most of these women are in childbearing years and they need access to contraception. There are estimated to be 100 million women using hormonal contraception worldwide. Two studies have suggested that hormonal contraception may accelerate HIV disease progression: One was a cohort study in Mombasa, Kenya, and one was a randomized trial we did in Zambia. But this was not the primary outcome of those two studies.

Elizabeth Stringer, M.D.
The purpose of our study that I'm presenting today was to look at the impact of hormonal contraception on HIV disease progression.
1
We looked at data from the MTCT [mother-to-child transmission] Plus cohort. MTCT Plus was conducted in 14 sites around Africa and in Thailand. It was a treatment program for HIV that was implemented before governments scaled up their national programs. We looked over 4,000 women in the cohort. They were enrolled and followed from 2002 through 2008.
Advertisement
We looked at three different exposures. There was a non-hormonal, or no hormonal, exposure group: These women either used no contraception or a non-hormonal method, such as IUD [intrauterine device], lactational amenorrhea or condoms.
We also looked at two different hormonal contraceptive groups. One was called progesterone only. This included women using an implant or injectable contraception. Then there was the combined estrogen and progesterone group, which was women using oral contraceptive pills.
We defined HIV disease progression as either becoming eligible for ART [antiretroviral therapy] or death. Then we performed a variety of analyses looking at the impact of different methods of hormonal contraception on HIV disease progression. We performed both crude analysis and multivariable analysis where we controlled for baseline WHO [World Health Organization] stage, age parity, CD4 count, BMI [body mass index] and a host of other factors.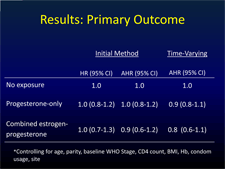 Elizabeth Stringer et al. CROI 2009; abstract 175. Reprinted with permission.
Download the full slide presentation.
In none of those analyses did we see a correlation between hormonal contraception and HIV disease progression. We also controlled for site in those multivariable analyses. When we looked at the individual sites in this outcome, we saw a similar result: Hormonal contraception did not appear to impact HIV disease progression.
In conclusion, in this large cohort analysis, hormonal contraception appears to be safe in HIV-infected women. But we still believe that more research needs to be done in this area.
Reporter #1: Dr. Stringer, I'm interested to know. This is a largely international population, I think. What proportion were on HAART [highly active antiretroviral therapy]? What's the interaction between hormonal contraception and HAART? Can this be applied? Is this something that we should be thinking about in North America and Europe, as well as in the developing world?
Elizabeth Stringer: For this analysis, women on HAART were excluded. We only looked at women who are ART-naive, and then we looked at their becoming eligible for ART. In the MTCT Plus cohort, ARVs [antiretrovirals] were provided free, so all the women who became eligible were started on ART. I think that may be the more interesting population to look at this in.
It's still yet to be determined if there is an impact of hormonal contraception on HIV disease progression. I think that based on the data we saw presented a couple of days ago on immune activation, there could be an interaction there between hormonal contraception and immune activation -- although this hasn't really been explained in great detail.
Reporter #2: I have a question of whether you had any finer measures of disease progression than just progression to death, or to eligibility.
Elizabeth Stringer: Across the board in the MTCT Plus sites, viral load monitoring was not available, so we don't have information on the impact on viral load.
This transcript has been lightly edited for clarity.
Reference
Stringer E, Sinkala M, Giganti M, et al, and the MTCT Plus Initiative. Effect of hormonal contraception on HIV disease progression: a multi-country cohort analysis. In: Program and abstracts of the 16th Conference on Retroviruses and Opportunistic Infections; February 8-11, 2009; Montréal, Canada. Abstract 175.
View slides: Download PowerPoint