Capitol Demo Brings Worldwide Attention to Obama Inaction on AIDS Housing, Global AIDS Efforts and Needle Exchange
Protestors chanted for 45 minutes before police shut down the demo
Twenty six AIDS activists from across the Northeast U.S. were arrested today after staging a raucous demonstration inside the Capitol Rotunda on the eve of key Congressional votes on appropriations for life-saving AIDS programs and one day before President Obama's first trip to Africa since his election.
The activists decried the Obama administration's failure to make good on a range of AIDS campaign promises including his pledge: to lift the federal ban on funding syringe exchange, to fully fund lifesaving global AIDS programs, and to fully fund AIDS housing programs in this year's budget. The activists demanded Speaker Nancy Pelosi, Senate Majority Leader Harry Reid and other Congressional leadership fix President Obama's flawed budget proposal.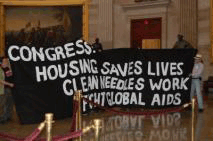 Activists' demands
"HIV is not in recession, so why are we bailing out the bankers but breaking promises to fund life-saving programs here in the U.S. and around the world?" asked Omolola Adele-Oso of DC Fights Back. Informally titled Sound the Alarm, the protest underlined the fact that every nine and half minutes someone in the U.S. is infected with HIV, yet Obama refuses to respond to this urgency.
Housing Works President and CEO Charles King, who is living with HIV, was among the activists who were arrested. "Obama can no longer the ignore the promises that he made in order to win the support of Americans who care about ending the AIDS epidemic. So far, he has let us down on all fronts," he said.
The activists demands will surely reach the White House. Thanks to tweeters and media outlets including Politico.com and the Associated Press, news of the protest instantly spread across the country. See photos of the demo and video (below).
How the demo went down
Around 50 activists, who had obtained tickets for tours of the Capitol, gravitated to the majestic, tourist-filled rotunda at 10am. A designated activist revealed a T-shirt saying "Congress: Clean needles now! HIV housing saves lives! Fight global AIDS!" and began chanting "AIDS funding now!" and "Needle exchange now!"
The 26 people who planned to participate in the civil disobedience action then revealed their protest tees, gathered together, and used zip ties to link themselves with white plastic chains (befuddling police who later had to scramble for bolt cutters to break the chains).
Several activists then unfurled an enormous banner bearing the same message as the T-shirt, parading it around the Rotunda.
Capitol Police instantly began clearing the Rotunda of curious tourists, media (who were tipped off before hand) and the activists who had hoped to provide support, legal and otherwise. The demonstrators managed to chant their message for 45 minutes before being hauled away by police. They were charged with disorderly conduct, unlawful gathering and loud and boisterous behavior.
All of the activists were released in the afternoon.
The protest, which included representatives of Housing Works, D.C. Fights Back, New York AIDS Housing Network, Health GAP, ACT UP Philadelphia and other groups, was intended to bring attention to three issues where the administration has failed to live up to its promises:
AIDS housing funding
Obama's budget flatfunds the Housing Opportunities for Persons With AIDS Act (HOPWA), the only federal program that funds housing for people living with AIDS -- even as the number of people with HIV in the U.S. is rising. Housing is proven to reduce the spread of the disease and save money on shelter and emergency room costs. Activists want to see HOPWA funding increased from $310 million to $360 million.
"We are here because we know that our friends, families, and communities are still dying," said Larry Bryant of Housing Works, who was arrested. "From D.C. to California to Zambia people living with AIDS need Congress to act this week and need the administration to make good on its promises."
Gustavo Pedroza, of the New York City AIDS Housing Network commented, "Housing is one of our most basic needs and a critical part of HIV treatment, care and prevention. Without it, other strategies to fight HIV simply don't work. Given the rising cost of housing, President Obama's proposal to flat-fund federal AIDS housing programs will mean low-income people with HIV will lose their housing, not to mention longer waiting lists for a life-saving home."
Needle-exchange funding
The activists also denounced the administration's failure to lift the ban on syringe exchange funding. "Thousands of people have died in the past decade because clean syringes aren't available," said Jose De Marco, an HIV-positive member of ACT UP Philadelphia and Proyecto Sol Filadelfia. "President Obama, who many of us worked to elect, promised to follow the science and lift the federal funding ban on needle exchange, but his budget explicitly included the ban. Now it's up to Congress to show real courage where the President has not."
And some members of Congress have gotten the message.
"I don't know if that's the most effective way to do it, but it does draw public attention to the issue," Rep. Jim McDermott (D-WA) said in an interview with The Hill. "I think with the cost involved with someone getting AIDS, needle-exchange programs are actually cost-effective. "So conservatives ought to be for it. What they're really saying is that we want them to die. And we want them to spend a lot of money while they're dying."
Global AIDS funding
Activists noted that despite campaign pledges to increase bilateral global AIDS (PEPFAR) funding by $1 billion a year and fully fund the Global Fund to Fight AIDS, TB and Malaria, the Administration's budget proposal essentially flat-lines global AIDS funding. Unless President Obama and Congress keep their promise to fund the U.S.'s fair one-third share of the Global Fund's needed $6 to 8 billion, the Global Fund will have to cut billions of dollars worth of lifesaving grants.