A Discussion With Taha Taha, M.D., Ph.D.
There's nothing like hearing the results of studies directly from those who actually conducted the research. In this study summary, Taha Taha, M.D., Ph.D., of the Johns Hopkins University Bloomberg School of Public Health discusses the results of a study he presented at CROI 2009 examining the protective benefits of maternal highly active antiretroviral therapy [HAART] on postnatal HIV-1 transmission after infant antiretroviral prophylaxis is stopped. After the discussion there will be a series of questions and answers.
Taha Taha: The question of how to prevent HIV transmission through breast milk is a very critical challenge for all of us who work in settings where breastfeeding is important. It is important for the survival of the infant where alternatives like formula feeding are not the best option available to these women.

Taha Taha, M.D., Ph.D.
Last year, we completed a clinical trial where we showed that providing prophylaxis to the infant with nevirapine [NVP, Viramune] or nevirapine plus zidovudine [AZT, Retrovir]
can
reduce transmission.
1
Giving only the infant an extended prophylaxis for up to 14 weeks can reduce transmission, and it is very effective during the time when the prophylaxis is given.
Advertisement
During the conduct of this trial, antiretrovirals became available in Malawi, where we work. We referred women who were eligible for treatment. It is important to emphasize the point here that these are eligible women -- women with a
CD4
cell count less than 250 -- so we referred them to this service that had become available. We followed these infants and these mothers after the infant had completed 14 weeks of prophylaxis and the mother received
HAART
.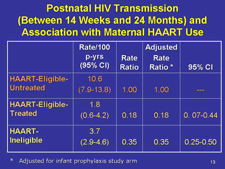 Taha Taha et al. CROI 2009; abstract 92. Reprinted with permission.
Download
the full slide presentation.
What we found is that, for women who were eligible and had the opportunity to receive antiretrovirals, the rate of transmission was substantially reduced. The association with the reduction of transmission was about 82% when the mother was eligible and had received HAART compared to a woman who was eligible but did not receive HAART.
The other group of women are women with high CD4 counts, meaning that they are not eligible for treatment. In the government program and the current recommendations, women with high CD4 cell counts do not necessarily receive treatment. The transmission among the infants of these women was very comparable to transmission among the infants of women who received HAART.
We concluded that providing HAART for women who should be on treatment does reduce transmission to the infant. In settings like in Malawi, where women come very late for delivery -- they do not come during pregnancy or prior to pregnancy, so they are not on HAART -- for these women, we could start the infant on extended prophylaxis up to 14 weeks, for example. We could then identify those women who should receive HAART based on their CD4 count and start them on HAART postpartum. We believe it is a practical strategy.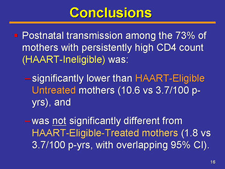 Taha Taha et al. CROI 2009; abstract 92. Reprinted with permission.
Download
the full slide presentation.
Reporter #1:
You found that compared to the eligible women who were receiving HAART, the women with higher CD4 counts among ineligible women actually had comparably less risk of transmission. My question is: Why? Would that simply be related to perhaps lower viral loads in the women with the higher CD4 counts, or were there other factors that you examined to account for that?
Taha Taha: Your interpretation is correct. To the best we know, these women certainly have lower viral load and high CD4 counts, so they are not immunocompromised as much as the women who have low CD4 counts. In all the studies we know about, the higher the viral load, the more likely that the woman will transmit. These women are, as far as their health and immune status go, much better than women who have low CD4 and eligible for treatment.
Reporter #1: Is that a correlation that you specifically analyzed in your study, or is it something that we could just more or less infer from --
Taha Taha: No, we do collect CD4 data, because of course it is one of the parameters on which we base treatment. We also have baseline viral load from this study. We also have subsequent samples to test for viral load. Unfortunately, due to cost constraints, we could only do baseline now, but data from this study showed that women with a high viral load had higher transmission.
Elaine Abrams: Note that it?s been established in multiple studies that the risk of transmission from mother to child during pregnancy, as well as postnatally, is quite directly related to her health status.
Reporter #2: Is it possible, if one adequately treats the mother, that one does not have to use prophylaxis with the infant for prevention to take place?
Taha Taha: Yes. It is actually a very important question, because giving too much of these to the infant or the mother -- there are side effects. So if the mother is receiving HAART, some studies have shown that through breast milk, the levels of these drugs will be high in the infant. It will be absorbed in the infant, and it can be shown in the infant plasma to be high -- much more, probably, than what the level of toxicity would be normally.
There are no clear guidelines on this point. Our thinking is that the infant starts with prophylaxis at time of birth and, then as soon as you can get the woman ready -- if she is eligible for treatment -- start her on treatment. Our own thinking is that the infant should not receive prophylaxis if the woman is on treatment. It is likely that if the infant receiving prophylaxis and the mother is also receiving treatment, there could be increased drug levels in the infant that might not be very safe.
This is thinking we believe: Probably just treating the mother would be enough. At that time, the infant prophylaxis should probably be stopped. If the woman was eligible and on treatment, it is unlikely that infant prophylaxis would be necessary. The rates of transmission would be very comparable.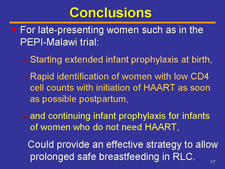 Taha Taha et al. CROI 2009; abstract 92. Reprinted with permission.
Download
the full slide presentation.
However, in settings like in Malawi, we have very few women who have been on treatment during pregnancy, or even before pregnancy. So the immediate contact with health services -- usually, for most women -- starts at the labor room, or the labor ward, or the immediate postpartum period. At that time, we believe that we can do the workup for the mother, and if she is eligible, then she should start HAART as quickly as possible.
Reporter #3: According to your results -- I mean on the opposite, for ineligible women -- would you advise treatment for the children once these 14 weeks are gone?
Taha Taha: You mean prophylaxis for the infant?
Reporter #3: Yes.
Taha Taha: We think prophylaxis for the infant should continue.
Reporter #3: Even with your results regarding the reduction of the risk, which was quite the same as treated women?
Taha Taha: Yes, because what will happen is that transmission continues. After the infant prophylaxis -- we started doing our own study at 14 weeks -- after that, transmission continued. To protect during this prolonged breastfeeding period, we believe the infant should receive prophylaxis.
It?s a very difficult discussion. The WHO [World Health Organization] and several colleagues who are working in this field are trying to come up with guidelines that could be consistent for how long should the infant be on prophylaxis. A practical answer, a very simple one, would be to give the prophylaxis as long as the infant is being breastfed. But we do not know the safety of extended prophylaxis throughout breastfeeding, so these are certainly policies that are being discussed. Hopefully, before the end of this year, there will be a consensus. Another study -- actually, probably more than one study -- are right now ongoing for maternal HAART: maternal HAART, high CD4. The results of that clinical trial probably will also provide evidence.
This transcript has been lightly edited for clarity.
References
Taha T, Kumwenda J, Cole S, et al. Effect of maternal HAART on postnatal HIV-1 transmission after cessation of extended infant antiretroviral prophylaxis. In: Program and abstracts of the 16th Conference on Retroviruses and Opportunistic Infections; February 8-11, 2009; Montréal, Canada. Abstract 92.